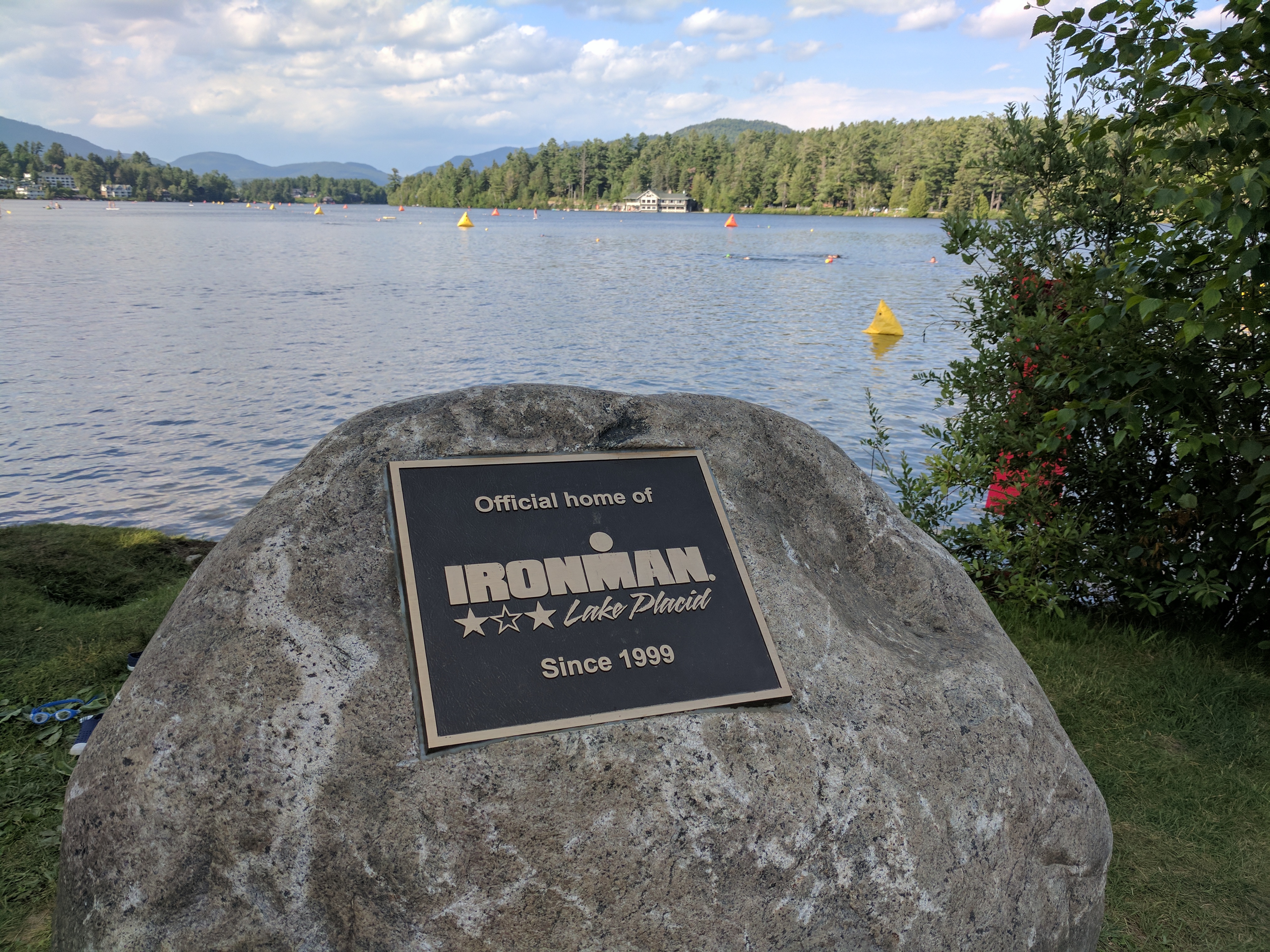 Last year for the Wilmington Whiteface 100k mountain bike race, I was staying in Lake Placid with my wife and then 1.5 year old son. At that point I had finished 6 full marathons, 2 half iron distance triathlons, and a handful of shorter triathlons. A full iron was on my list in the undefined future, and we had such a good time in Lake Placid, being such a good town to walk around and be in with a family, that I said "Whenever I do my first full IRONMAN, I should probably do it here". On top of that, it's about a 4 hour drive from home for me, and not dealing with flying with a bicycle is a plus.
It more or less went out of my head as quickly as it had entered. That is, until about a month later when my triathlon club, Northeast Multisport, sent out an email that they had 2 early entries to IRONMAN Lake Placid 2017 and would give priority to "newbies" but wanted them used before general registration opened up as the event fills quickly.
So I thought "well, here we go then" and replied that I'd like one of the spots. At the time I still was focused on the upcoming Leadville 100 MTB but it laid out the direction of what I'd be focusing on come fall.
Training
After Leadville, I all but put the bike away for the year and focused on running for a couple of marathons I had in the fall. I don't have a coach, nor do I follow any particular training plan for any of the endurance sports I do. In order to integrate my training into my life in a sustainable way that avoids injuries, I go by how my body feels, work around the weather when necessary, and do the majority of my training either early in the morning before my family is awake, when my son is napping, or sometimes commute by bike or run to or from the office. I do keep some general guidelines in mind, and do some specific workouts that I can fit in well.
I also do a fair amount of races, using them as training towards other events - to have supported training in places I don't normally go, and because I just like the atmosphere.
Having done a number of marathons each of the last few years, I felt I had that aspect of training in a good place. Swimming needed to be ramped up - but I mostly swim at lunch a half mile from my office at a YMCA, so I just needed to increase volume and get some more open water time in. I also thought there were likely some clear things to fix in my form if I worked with the right person.
I knew the real thing to focus on was going to be the bike. Since Simon was born I've spent less time on the bike in general, my FTP has dropped, and having only picked up a time trial bike I use for triathlons during that time I'd never really gotten that dialed in. It was not comfortable enough to stay remotely in aero for a 56 mile half ironman, let alone a full, and I was coming off the bike pretty tired and stiff making the run leg of triathlons no where near as strong as my stand alone runs were.
With those things in mind, once my marathons were passed in the fall, I started spending time on my Wahoo Kickr bike trainer with either Zwift or Trainerroad, and started working with my local bike shop DG Cycle Sports on slowly tweaking one thing at a time in my bike fit. I also scheduled time with Stacy at Sweetwater Swim Studio to take a look at my form and help me fix some low hanging fruit.
On running side, I extended what I normally do - long 20 mile races early in the year before a spring marathon - to also include the Maine Coast Marathon 39.3 Challenge in May, and later the Vermont City Marathon 2 weeks later, as training races.
Training Retrospective
Flash forward to late spring, and I'm really glad I started some of those slower processes when I did. 6 months of tweaking this and that, making forward and backward steps, including getting outside in the spring and making a lot more changes, my bike was finally feeling in a good state for 100 mile rides.
One of the last things to fall into place was my saddle. I had originally tried putting on a Fizik Arione when I got the bike, as that's what I use on my road bikes, and it was just numbing. I had then tried 3 other saddles over the course of time and was never really happy with any of them. But once other fit issues were resolved, and the cockpit felt good, I tried putting on a Fizik Arione Tri saddle, and it immediately felt great. No numbness or chafing even on a 100 mile ride was the confirmation. Couple that with getting off the bike and running 4 miles feeling fine was incredibly reassuring that things were right - or at the very least an order of magnitude better than they were.
On the swimming side, I hadn't been in the pool as much as I should have been to really make huge improvements based off what Stacy had seen in my form, but I had made improvements. That lead to the realiziation after my first couple of open water swims in the spring that the wetsuit I had was restricting me in a way that was holding me back from doing the things I needed to. Reaching and rotating like I could in the pool were causing immediate shoulder soreness and tiring things out very quickly. That lead to me getting a different wetsuit and testing out it with Stacy's help to make sure it worked for me. My open water swims from that point on were night and day in terms of sustainability, and opened the door to allow me to continue working on my form.
My marathons in the spring worked out better than I had planned. For Maine I was doing the half marathon on Saturday, and the full on Sunday. Originally I was planning to go easy at the half, and run faster at the full, but rainy/windy weather for Sunday made me change my plan up and run faster at the half and run what I planned to for Lake Placid for the full - which was to run keeping my heart rate at 150 for the bulk of the distance.
That worked really well, being tired from running the half marathon hard the day before going into the marathon I think made it a much better match for what the marathon would feel like at an ironman, and running the same effort I intended to was a good test. It ended up being my strongest feeling finish to any marathon I had done, with my last mile being my best.
Aside from that, in the third week before Lake Placid I swam 3 miles in open water, biked another 112 mile ride, and ran 20 miles at my target heartrate with a strong finish for the last couple of miles. I felt really good after all that, which made me really feel more optimistic about things, and then I tapered for the next 2 weeks.
Traveling to Lake Placid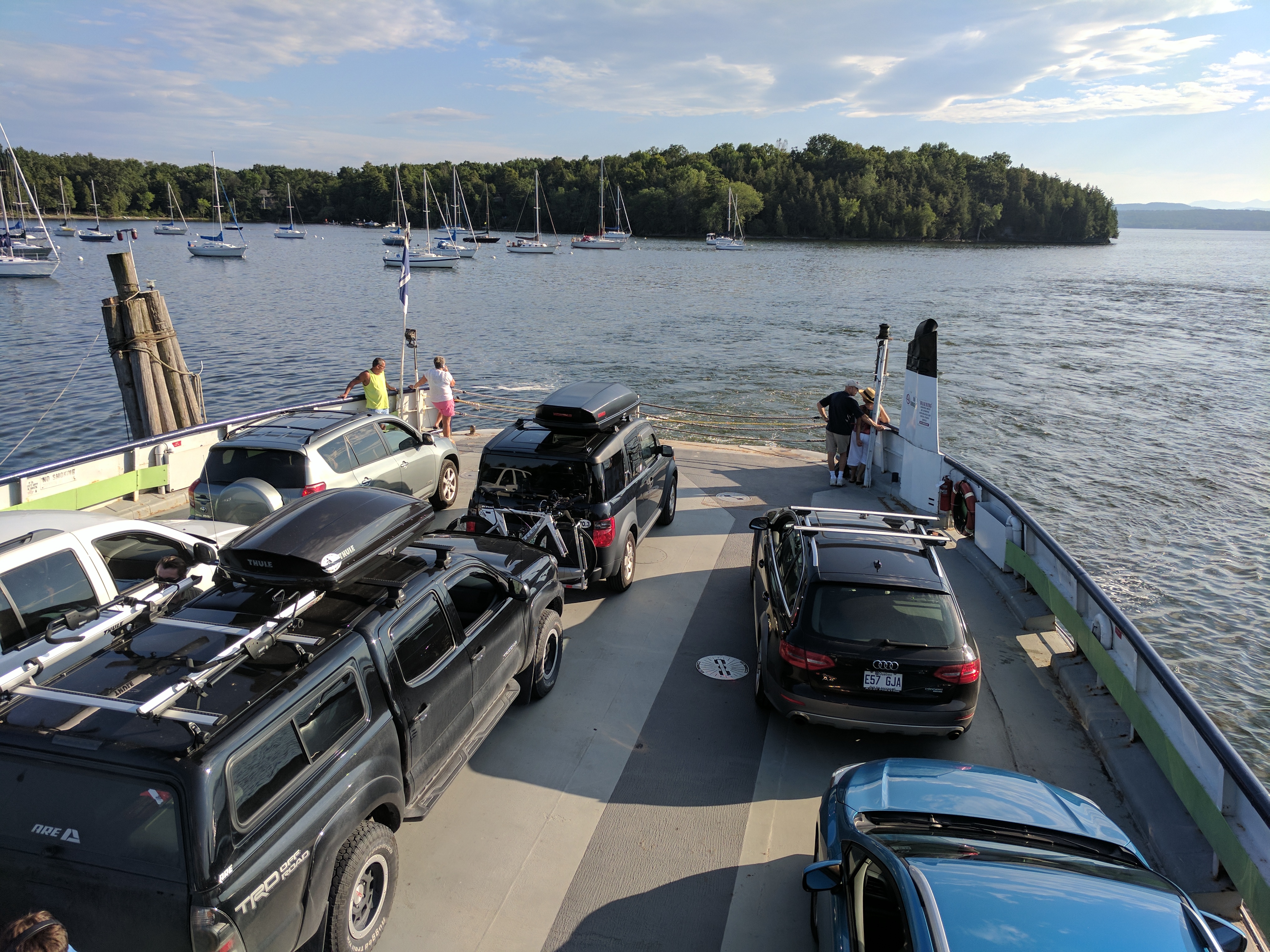 We headed up on Thursday, with the race being on Sunday. 4 hours in the car is tough for the little guy, and we had learned last year we needed to figure out a better way to break up the trip for him. He's grown quite a bit, and was at the point where his rear-facing car seat was starting to really cramp his legs. So, the night before the trip we talked to him and decided to turn his seat front-facing for the first time. The new view and comfort really seemed to help make the trip better, and it was nice for me to be able to see him in the mirror, especially if he wanted to eat any snacks during the trip.
The other change we made was to our route - a couple of friends had suggested taking the ferry from Charlotte to Essex across Lake Champlain, it's about the same total time for the trip from our house, cuts out a lot of climby gap and sometimes dirt roads, and falls about 2.5 hours in to break up the trip for Simon. It worked out perfectly. For $15 each way we took the ferry, he really enjoyed being on the boat, and it cut out all the sketchy roads we dealt with last year.
There's also a lot of things we wanted to take - Simon's stroller, a bed rail for him, toys, and everything I needed, so we ended up getting a Yakima Skybox 18 cargo box for my roof through DG Cycle Sports. It came in a week before the trip and worked out great, being simple to put onto my existing factory crossbars, and to load up. We put everything in there that we didn't need during the trip, giving us a much more comfortable ride along the way.
Hotel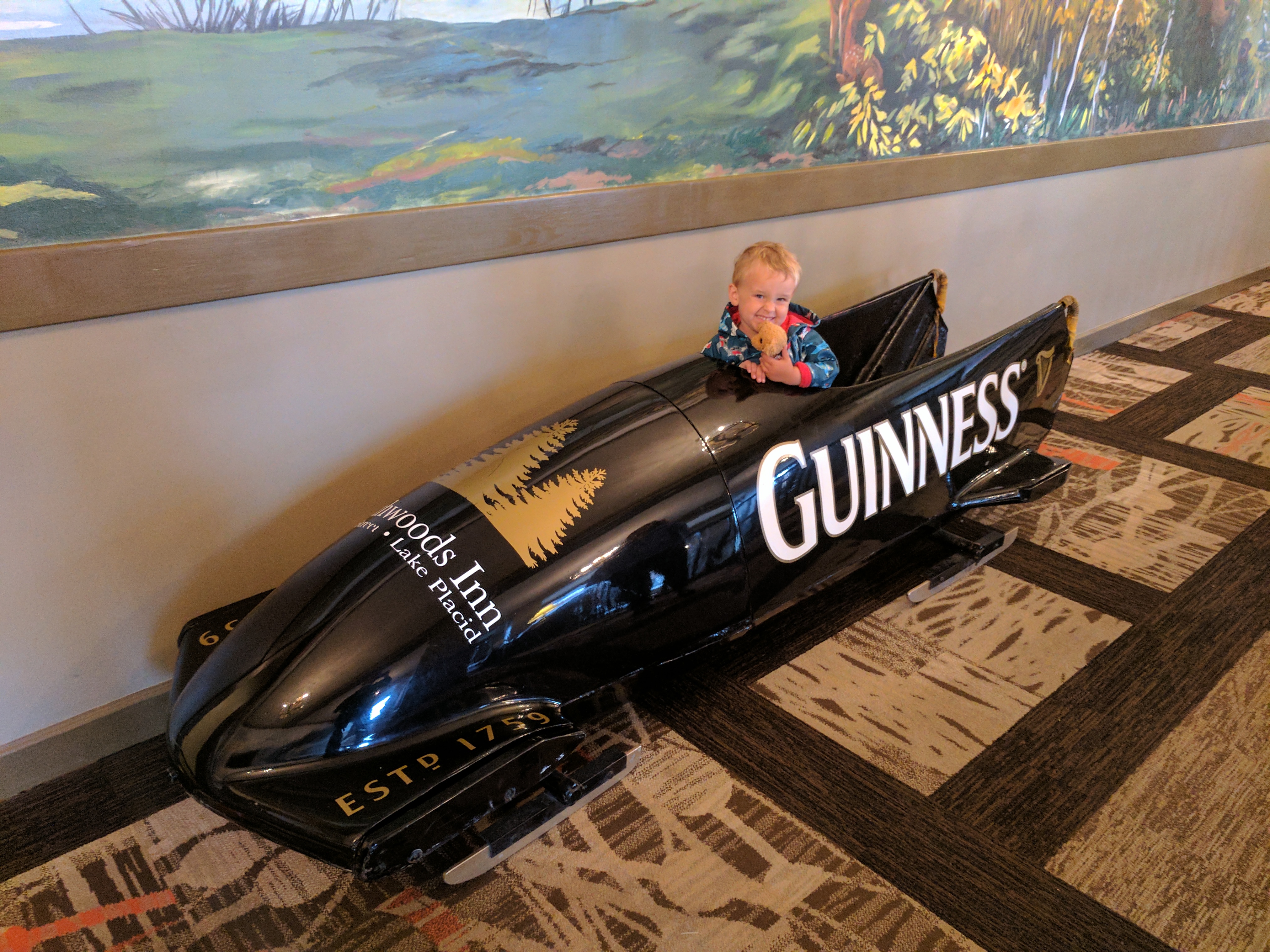 For our hotel we stayed at Hotel North Woods, which is right in the downtown strip of Lake Placid, less than a half mile away from IRONMAN Village and the Olympic speed skating oval where transition gets set up.
With a microwave and refridgerator in our room, and lots of local restuarants near by, we parked our car when we got there and didn't touch it again until we were leaving. Everything's easily accessible by foot, including the beach at Mirror Lake where the swim start/finish is.
Pre-race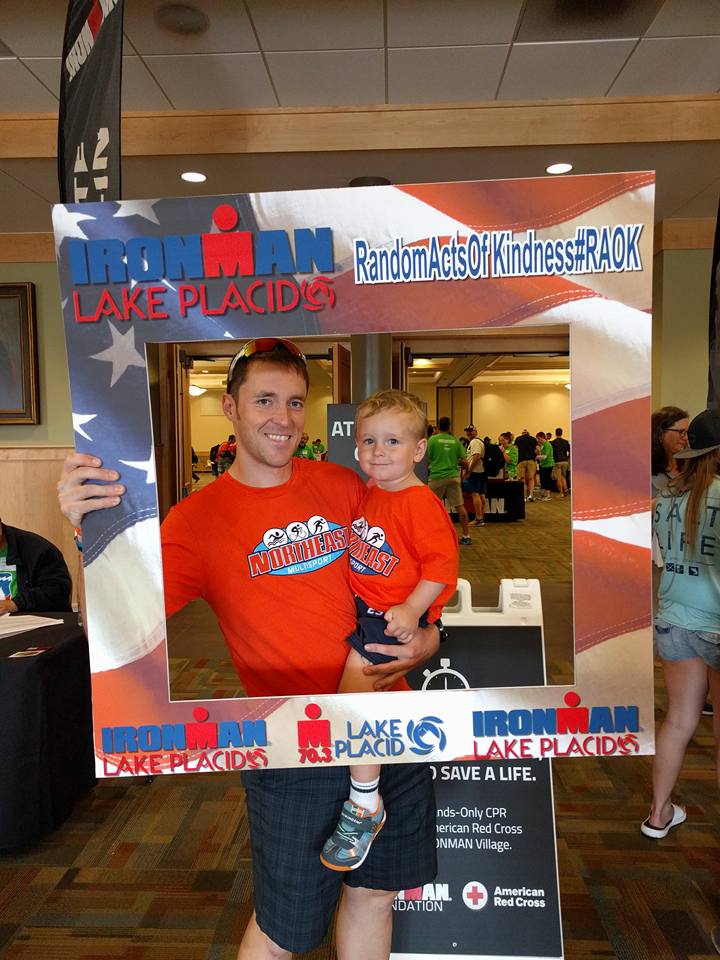 On Friday, the day after we arrived, we headed down and picked up our registrations for both my race and Simon's IRONKIDS 1/2 mile fun run, and browsed the expo in IRONMAN Village. I picked up a Rudy Wing57 helmet and visor at the expo, since I still hadn't replaced my visor that cracked at the Patriot Half and they were 50% off to partipants. I went to the mandatory atheletes briefing and the pro panel while Simon napped, and afterwards we headed to the beach at Mirror Lake.
They already had the buoys set up for the course, so I did a loop of that while Betsy and Simon played on the beach. When I got back, Simon said he wanted me to take him "wayyyy out" and hold him so he could swim. :)
That night I made a half batch of coconut blueberry chocolate chip rice cakes from the Feed Zone Portables cookbook. It's been my go-to for long bike races, both road and mountain. The only change I had to make for them here was cutting them in half to be rectangles rather than squares, so that they'd fit into my Bento Box on my top tube. I was able to fit 5 in there, and put 3 others in my jersey pockets when I was at transition.
Saturday morning I packed up my bags, dropped them and my bike off at transition, and was ready to go.
IRONKIDS
Simon had a lot of fun at his IRONKIDS 1/2 mile fun run on Friday. I ran with him and carried a Garmin VIRB 360, which recorded the video above. You can pan down and to the right to see him running along, and his steady stream of high fives to the crowd watching starts around 7:10. He actually ran the vast majority of the race, only stopping to walk 3 times briefly. Not bad for just under 3 years old. This was my first time recording a run with the VIRB 360, and the sphereical image stabilization at 4k resolution was really smooth.
Race Day
We brought an electric griddle with us so we made my typical breakfast for dinner the night before the race - pancakes, eggs, and some oatmeal. I had some of the oatmeal warmed up as I usually do on race morning, keeping things nice and consistent.
I got up at 4am, body glided and chamois creamed all the things, got my water bottles with Nuun and rice cakes out of the refridgerator, and headed down to transition a little after it opened at 4:30am.
I wore a sweatshirt down which I ended up putting in my "dry clothes" bag once I put on my wetsuit so I'd have it after the race, put my water bottles and rice cakes on my bike, and pumped my tires up to 100psi. It was pretty cool at around 55F so I didn't want to overinflate them and have them pop under the heat later in the day on the bike course.
I then headed down to the swim start, put on my wetsuit, and once the swim warm up was open, swam out to the far corner and just laid floating on my back for a while, looking up at the morning sun against the clouds floating by. That has to be one of the calmest ways to start any day.
The Swim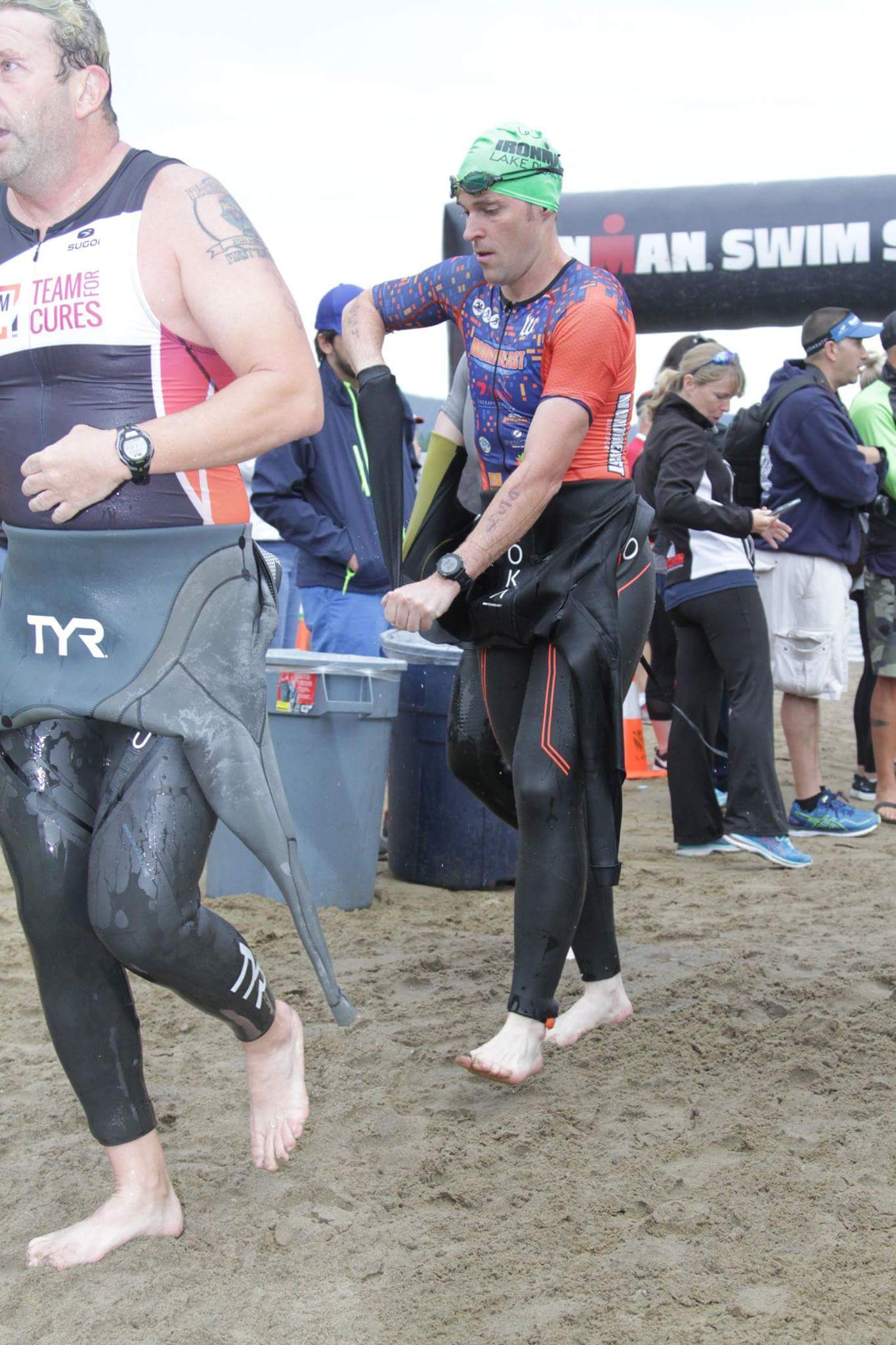 The swim for IRONMAN Lake Placid is 2 clockwise loops in the beautiful, calm, Mirror Lake, which is the center of downtown Lake Placid. Between loops you get out of the water, run across the beach, and get back in to go across the timing mats. The swim starts with the pros, followed by age groupers in a self-seeded rolling start of about 10 swimmers every 5 seconds or so 10 minutes later.
I was aiming for a 1:20 swim optimistically, since my better half iron swims have been 40 minutes. So, I lined up right at the front of the 1:21-1:30 pace sign. It took about 11 minutes from the start of the age groupers before I was in the water.
What went well:
My new Roka Maverick X Wetsuit was great, I had zero tiredness or soreness in my shoulders, and it's so much easier to rotate in with each stroke compared to my old one. Picking it up for 30% through my tri club was great, and even though this ended up being my first race in it I had swam many times in open water leading up to it so I was comfortable using something "new".
I took the inside track at the start, where I'm normally hesitant to go not being one of the faster swimmers, and it worked out well. I never was swam over by anyone, and I actually passed many folks. I ended up over the well known "cable line" under the water for a lot of the first loop, which is below all the buoys and makes it easy to follow - though I still found myself sighting a fair amount, to avoid running into folks. 2500 people in the water at once is crowded.
My first loop was 38 minutes - that's my fastest time to date for a half iron!
What didn't go well:
The second loop was even more crowded, and I didn't try hard enough to get back on the inside track when I got back in the water, and could never work myself back over - I kept getting blocked in by folks in front and on either side of me, to the point where I had to stop and go sideways at times to get around them. Being so far outside the buoys meant I swam further than I should have as well, so I took a couple minutes longer on my second lap - but I still beat by goal of 1:20 by 2 minutes, woo whoo!
Something I haven't had happen before, and I guess was related to the wrist bands you have to wear for the race, and the pressure of the wetsuit against them, was that when I got out of the water my right hand was completely numb. To the point where I couldn't even use it to open the neck of my wetsuit like I normally do. So I had to open the neck with my left hand, and then pull the cord to unzip it, and just made getting off my wetsuit take longer than usual.
Take aways:
Make more of an effort to get in the water on the inside as close to the buoys as possible, it can make a big difference in distance.
Now that I can swim without restrictions in my wetsuit, I can continue to work on my swimming. I think it's entirely possible for me to go under 1:15 next year.
In both this race and the Patriot Half, I had cuts on the front center of each side of my hips, and on the inside of each leg - right where the seams of the kit are. I haven't had issues in training biking or running (some) in it, so I'm wondering if it's related to the pressure of the wetsuit on it in the swim. Body glide didn't help, I'll have to figure something else out.
Spitting in my goggles is really reliable at preventing them from fogging up, even when I leave them on through warm up and standing in line for 20 minutes before getting in the water again.
Transition 1
I don't normally write any notes about transitions, but being a full iron distance they're a little different. Rather than laying all your things beside your bike wheel, you put bike and run gear in separate bags which are on racks you grab them from on your way into transition, then go into a changing tent to swap anything you need to, then out to your bike which is by itself on the rack.
The distance from swim exit to transition is pretty far at Lake Placid, you end up running about a half mile from swim exit to the bike mount line. From swim exit to transition they lay out carpets so it's not as harsh on the feet running barefoot, and they have wetsuit strippers at the water should you choose to use them so you don't have to run in your wetsuit to transition.
What went well:
By chance, my number ended up being in the one row of bags where there was a light post, making the row slightly wider than the others and stick out easily.
Also by chance, neither of the numbers to either side of me raced, so my bags were easy to pick out with a gap to either side of them.
In my bag I had my helmet, a few rice cakes that I couldn't fit in my bento box, a gel, and sun block. It was minimal and pretty quick to grab my things and go, popping a gel along the way.
I left my shoes mounted to my bike with elastics holding them level using my rear skewer and front deraileur. That made running through transition a breeze.
A volunteer asked my number as I came down the bike racks, and grabbed my bike for me - it was a breeze.
What didn't go well:
With my right hand being numb when I got out of the water, I had a hard time getting the neck of my wetsuit open and unzipping it. I wasn't planning to use the wetsuit strippers but made the decision on the spot to rather than fight with it myself with my numb hand.
Getting out of the water at 1:18 there were a ton of people in transition, and it took a couple minutes to find any empty space to put my bag down and swap things.
Take aways:
Towel off before putting on sun block in hopes it sticks better. Also look into a cream sunblock that might stand up to water more to put on before the swim as an extra layer.
Getting out of the water sooner might help it be less congested in transition.
The Bike
The bike out of transition in Lake Placid is a bit tricky - it's an access road leaving the high school, which starts with a fairly steep downhill into a hairpin turn, then continuing down and across to a side street. The volunteers I had talked to the day before had said there are often a lot of crashes there, and people knocking each other over.
From there there's some rolling hills and a new freshly paved out-and-back section with the first aid station at mile 6. Just before mile 12 starts a long fast, curvy at times, descent to Keene. Traffic is closed going in the same direction as the bikes along the entire course, but here it's also closed in one of the two oncoming lanes and coned off to give extra room for negotiating the descent. The pavement is mostly in good shape, with a couple sections that are a bit more beat up.
From there, it's largely flat until a couple of short climbs around mile 38, and then more climbing from mile 45 through 56. In this last section are the "three bears" - Mama Bear, Baby Bear, and Papa Bear, in that order. These are fun climbs with Papa Bear being the largest, with lots of spectators out on course and chalk messages written all over the road. It makes you feel a little like you're in the Tour de France riding up a lane between lots of people cheering you on up the climb.
You then ride along some of the run course, between the oval and hockey arena (this is where bike special needs bags are kept) and behind the high school to head out on the next loop, or to finish if you've completed your second loop.
What went well:
Running was much easier with my shoes mounted on the bike already, and I chose to run past the bike mount line down the hill to the wider section of the hairpin turn to hopefully avoid any mishaps. I jumped on with my right foot in my shoe and pushed off, and easily flipped over my left shoe and got my foot in with one motion. The Louis Garneau triathlon shoes I have don't have tongues, velcro from the bottom up, and stay open really wide which really helps with this.
I had a timer set on my watch to go off every 45 minutes on the bike, which is when I ate a rice cake. It kept me eating without me forgetting about things.
I took two water bottles and left one cage empty, and took a Gatorade from each aid station as I needed it.
All my fit changes the last 6 months really paid off, as I was comfortable staying in aero the vast majority of the time, and didn't have any issues with chaffing or numbness.
I used elastics to hold two sleeves of Clif Shot Bloks under my aerobars, they were easy to get to.
SRAM eTap is great. I really like being able to shift from both my bar ends and near my brake levers.
I ate the rice cakes in my jersey pockets first, and kept the wrappers in my right jersey pocket which I dropped any time I went through aid stations.
What didn't go well:
My neck was noticeably sore after the bike. In training I tend to look more down more often, but there were so many people I think I kept my head up a lot more, and that really worked my neck.
I planned to rely on the Gatorade from aid stations, as I only could carry 3 bottles. So I brought 2 with the Nuun I usually use, and intended to take Gatorade at any aid stations I needed it, as I drink that often without issues. The catch here is Gatorade/IRONMAN pulled off the ultimate "don't do something new on race day" by swapping to a new formula of Gatorade Endurance race weekend, with it being almost impossible to find anywhere before then to try out. My stomach was not okay with it.
I forgot to hit the button on my watch to start my bike until I was about a half mile in, which made it harder to judge what my bike time was.
Take aways:
Consciously look just a little forward when I can, so that my head is more down to save my neck.
Bring Nuun tablets in an opened zip lock bag in my bento box, as I come up on an aid station take the lid off a bottle leaving it in it's mount and put it in my jersey pocket. Drop a Nuun tablet in, and grab a water to dump in at the aid station.
Transition 2
Something else different about a full iron is having volunteers as the bike dismount to take your bike for you. This really works well with getting your feet out of your shoes as you come in and leaving them on the bike - just hop off and guide the bike to a volunteer and run to your bags.
What went well:
I unstrapped my shoes as I came down the road between the oval and the hockey arena, putting my feet on top of my shoes. Hopping off at the dismount line worked well, and handing my bike to a volunteer was smooth.
Finding my bag was easy once again, and I hit the port-a-pottie on my way to the tent. The change tent was nearly empty this time around. I put on socks (I hadn't worn any on the bike), shoes, my sunglasses, sprayed on sun block, and ran out putting on my bib number belt.
What didn't go well:
My skin was pretty wet putting on the sun block, and I don't think it really stuck. I had a decent sun burn after the run.
I had gels for the run on my number belt, but it kept spinning and I moved them to my jersey pockets.
Take aways:
Use a towel to dry my skin before spraying on sun block in hopes of it sticking better.
Just have gels in the bag, and put them directly into my jersey pockets to start with.
The Run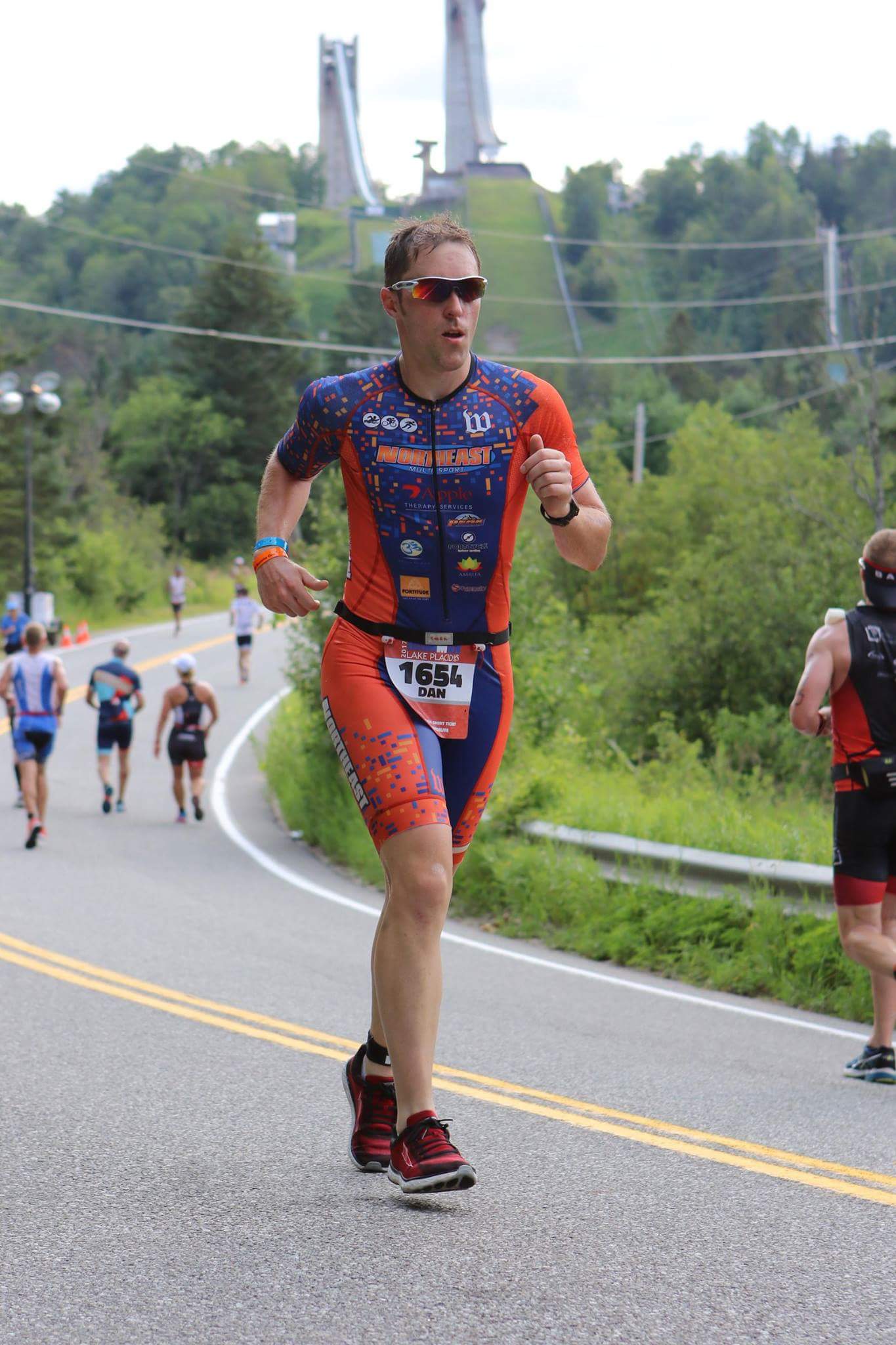 The run starts taking a right turn out of transition and running away (and downhill) from down town, towards the Olympic ski jumps. There are pretty much people all along the sides of the course cheering you on until you take a left turn around mile 2 at the ski jumps. Aid stations are every mile on the run, and most (all?) have port-a-potties. There are plenty of real food options, bananas, grapes, pretzels, oranges, along with cold sponges and ice at most aid stations. You turn around at mile 5.5 and head back out, getting back to the ski jumps around mile 9 and taking a right turn back towards transition and down town.
This is where the hills start - and you're pretty much climbing from here until you get back to the oval. When you do get there though, you take a right turn and run one more short flat out-and-back, which is also where the run specials needs bags are, before coming back to start your second loop or head into the finish. This is where the bike course runs along side the run course, and you may see folks still coming through finishing their bike at this point.
What went well:
Like I've done with some other races, and do in training on long runs, I intended to run by heart rate for the majority of the run course. Keeping my heart rate at 150 or a little under allows me to still run moderately quick while staying fresh for the last few miles. That seems to go well at first here too.
Altra Escalante shoes are just great, and continue to be my go-to road shoe.
Grapes were really good on the run, I hadn't tried them before - they were easy enough to eat one at a time and still breathe, and cool and juicy really hit the spot. They gave them out in small bunches so they were easy to grab and go with.
The course was really good for spectators - I got 4 high fives from Simon along the way, and an announcer at the out-and-back near the oval let them know when I was coming.
Simon was really excited to see me running down the same road that had been used for his IRONKIDS race 2 days earlier.
The Drink Maple water tent was a life saver, as cold maple water was a welcome change for my upset stomach that had no interest in Gatorade anymore but I really needed hydration.
What didn't go well: * My stomach started feeling upset before I got to the 5.5 mile turn around, and I started having trouble stomaching anything to drink. It was making loud grumbling noises and causing me to run pretty cautiously. I eventually had to stop at a port-a-pottie and wasn't the only one, as all 5 were in use and I had to wait in a line. Doh! * The sun came out and it started to heat up and get close to 80F. I dumped lots of ice down my shirt and stuck cool sponges in but it was still tough to keep cool. This may have also been part of the sun burn kicking in. * While I didn't go over 150 heart rate much, I was mostly way under being limited by my stomach rather than anything else.
Take aways:
Fix my hydration on the bike so I'm not going into the run with an upset stomach.
Wear a white hat on the run even if I don't think I need it. It was cloudy for most of the bike leg, and I underestimated how much it was warming up. The hat keeps some sun off me, and is a great place to stick those cold sponges from aid stations.
Grab grapes sooner - they were great!
The Finish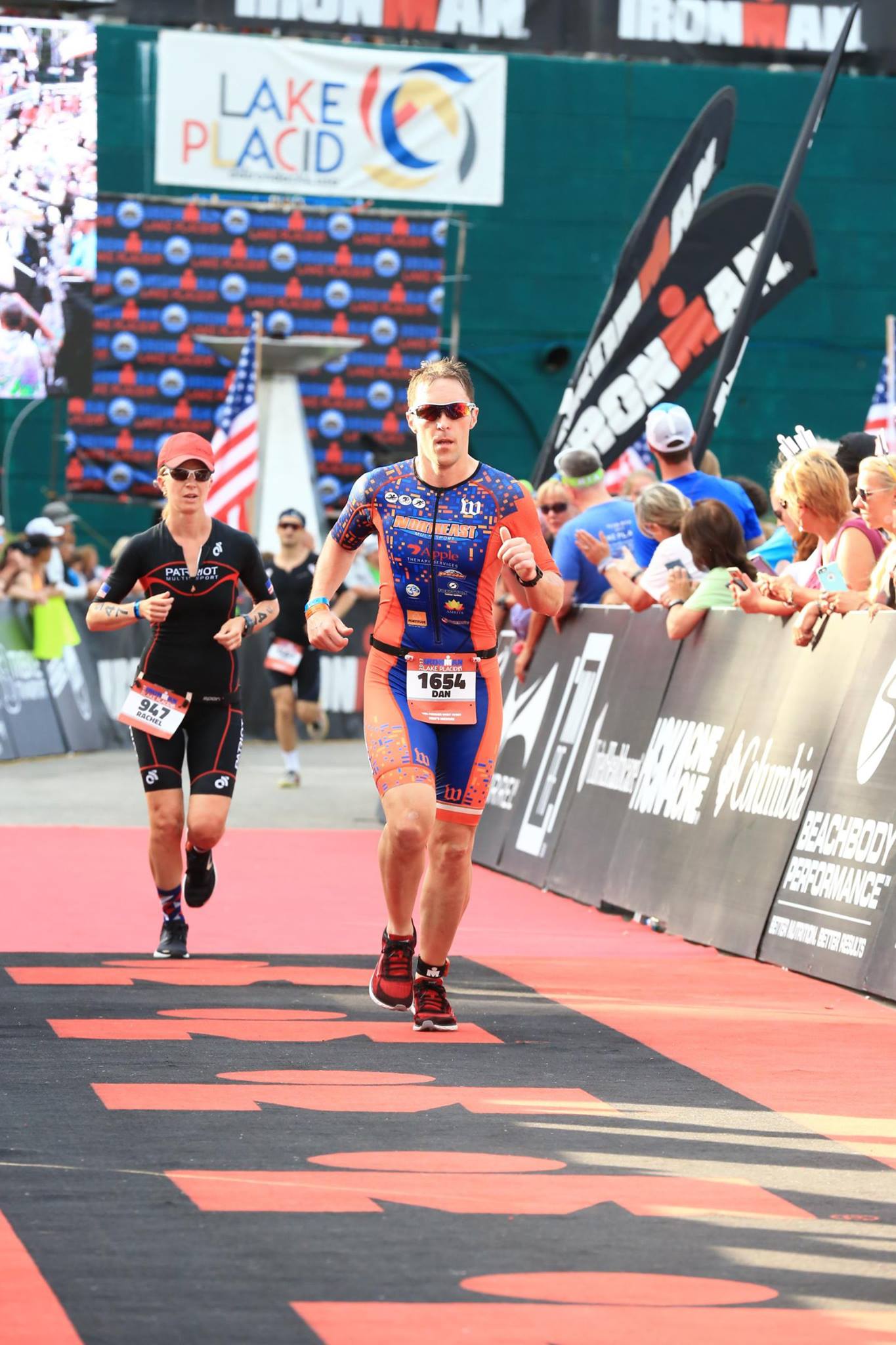 The venue itself at Lake Placid is pretty special. Biking past the hockey arena of "Miracle on Ice" fame, running past the towering Olympic ski jumps, gorgeous rivers and mountains, and a finish that doesn't disappoint. You're finishing on the Olympic speed skating oval, and you can see behind me the Olympic torch which is lit after dark.
This year the "voice of IRONMAN", Mike Reilly, was announcing the race - which is pretty cool to have him announce your name along with "you are an ironman!". I finished in 11:41:27, at around 6:30pm, beating my goal of finishing in under 12 hours, and before Simon's bed time at 7pm.
Magic Hour
After my finish, I met up with Betsy and Simon, got my things from transition, and headed back to the hotel to eat and shower. I rested a little, then headed back down to the finish to watch from 11pm until midnight. It's a pretty special time to watch people giving everything they can to finish before the cut off.
I found a clear space along the last corner going into the finish and stayed there. People came and went next to me as their athletes came in, and I talked to lots of folks as they did. The finish area was pretty electric with cheers, the crowd singing songs, and inflatible clapper sticks once they got them out.
Around 11:25pm a woman (I would guess in her 50's) took a spot next to me and seemed pretty anxious. I asked her who she was waiting for and she said her husband, and that he was going to cut it close. She showed me his live tracking and while he had slowed down, he was past mile 24 and still on track to finish before midnight.
She then explained why she was nervous - it was her husband's third attempt to finish Lake Placid. Two years ago he had finished the bike leg 1 minute after the cut off time, so he wasn't allowed to continue. Last year he made it to the run, but it was a hot year, his run fell apart and his missed one of the cut off points on the run.
So this year, he had made the bike cut off, and gotten all the way to mile 24 on the run - but he only had about a half hour left, and he had averaged 13 minute miles coming up the hills towards transition.
I let her know that I thought he was in a good spot - he was on the out-and-back that's pretty flat, and there wasn't much between him and the finish now. She hoped so.
At about 11:45pm, she saw him rounding the corner of the oval. She was in excited disbelief shouting for him, and he saw exactly where she was. He came over, hugged and kissed her with tears in his eyes, and ran across the finish line to the cheering crowd with Mike Reilly calling him an IRONMAN after 3 years of trying.
The next day early registration opened for 2017 finishers for the 20th edition of IRONMAN Lake Placid in 2018, and of course I immediately registered.
How could I not come back here?