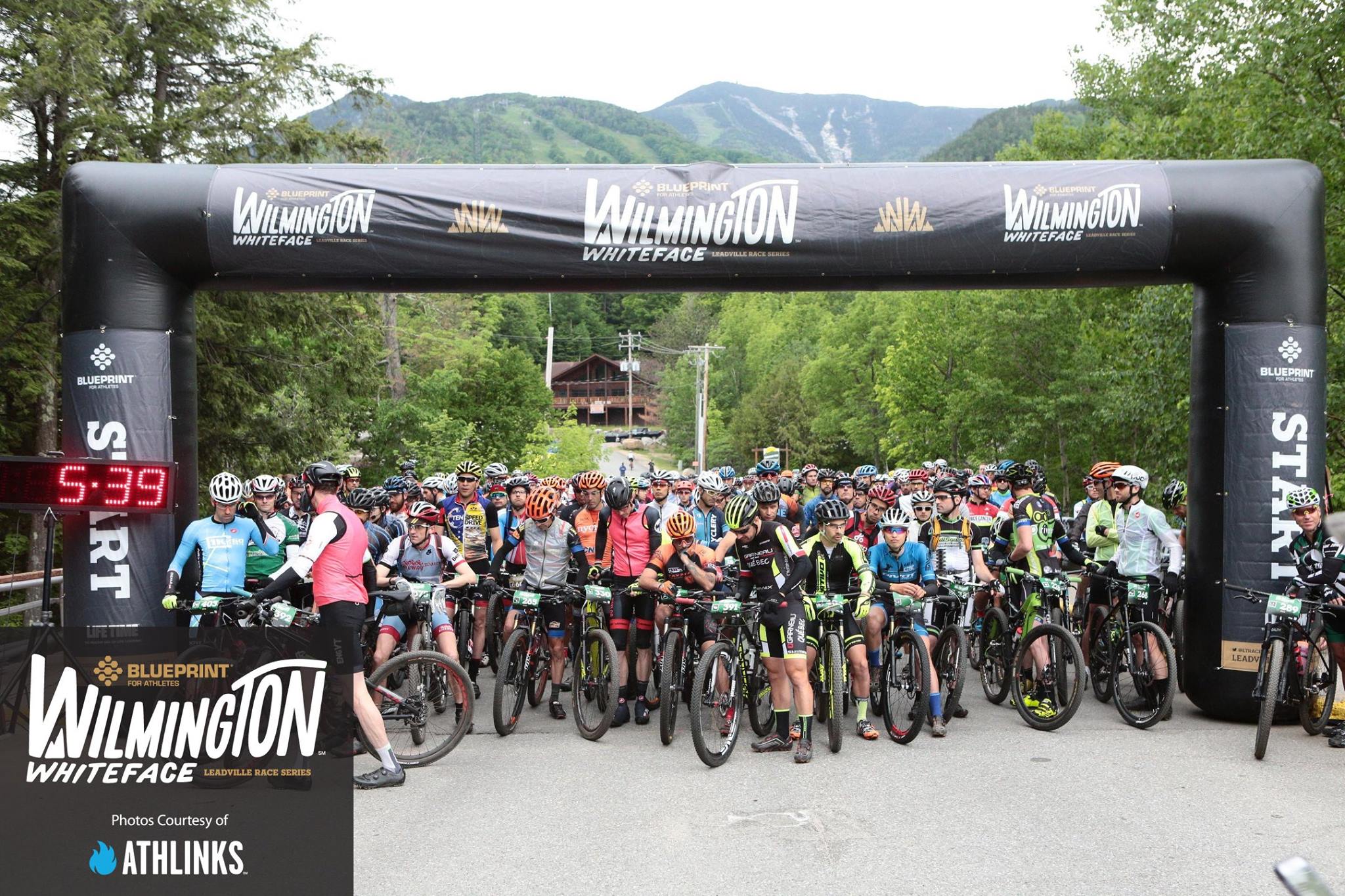 The Wilmington Whiteface 100k is a mountain bike race that is part of the Leadville Race Series and the only qualifier for the Leadville 100 on the east coast of the US. It starts and finishes just outside of Lake Placid, at the mountain that was used for the alpine ski competitions for the winter Olympics hosted there.
With Leadville already on my calendar for August due to my deferral last year, I aimed to use the Whiteface 100k as a training ride towards Leadville, and a way to get some race strategies in check as far as nutrition and hydration. Having been focused on running for the Maine Coast Marathon I had only ridden my mountain bike 5 times this year, and hadn't ridden 100k even on the road since last October, so this race was going to be a good check for how things were fitness-wise.
Pre-race Preparation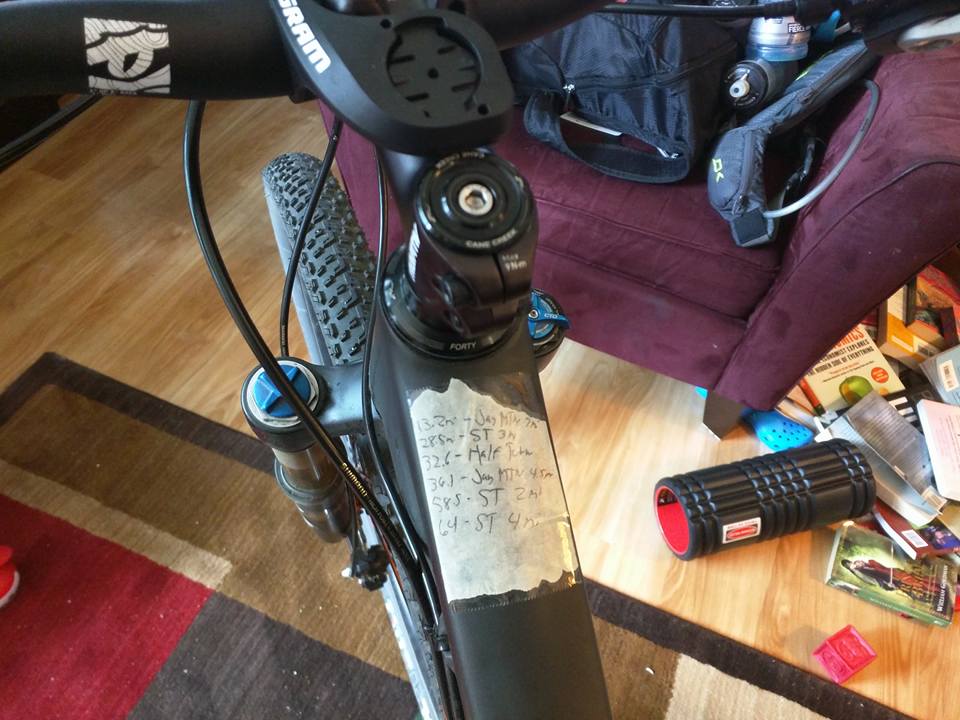 For pre-race prep I made a checklist of everything I would wear and need on the ride along with a towel and dry clothes for after the race, and a simple piece of masking tape with a few important mile markers of the course with some packing tape on it. I always find this kind of thing useful, it gives a target of the next key section and helps mentally check things off as you go along in a long race. I like to keep it fairly short and simple. I noted the start and length of the biggest dirt climbs on the course, along with the start and length of all single track sections as well as the halfway turn around point.
The Weather
So, as race day approached the weather forecast became more and more grim. Scattered light rain later in the day became light rain starting earlier in the day, became light rain shortly after the start changing to steady rain, changing to heavier rain. After a while I just stopped refreshing the weather forecast, as it got worse every time I did.
I wasn't quite sure what to wear, so I ended up bringing 3 jackets with me to decide day of - my State 9 Racing long sleeve thermal Sugoi jacket, a Louis Garneau plastic cycling rain jacket, or a Sugoi Ironman plastic running/cycling jacket with removeable sleeves. I ended up wearing the State 9 thermal jacket with no jersey underneath it and it ended up being perfect. With rain for maybe 4 hours of the race it never soaked through and was a good temperature just by zipping or unzipping it as needed.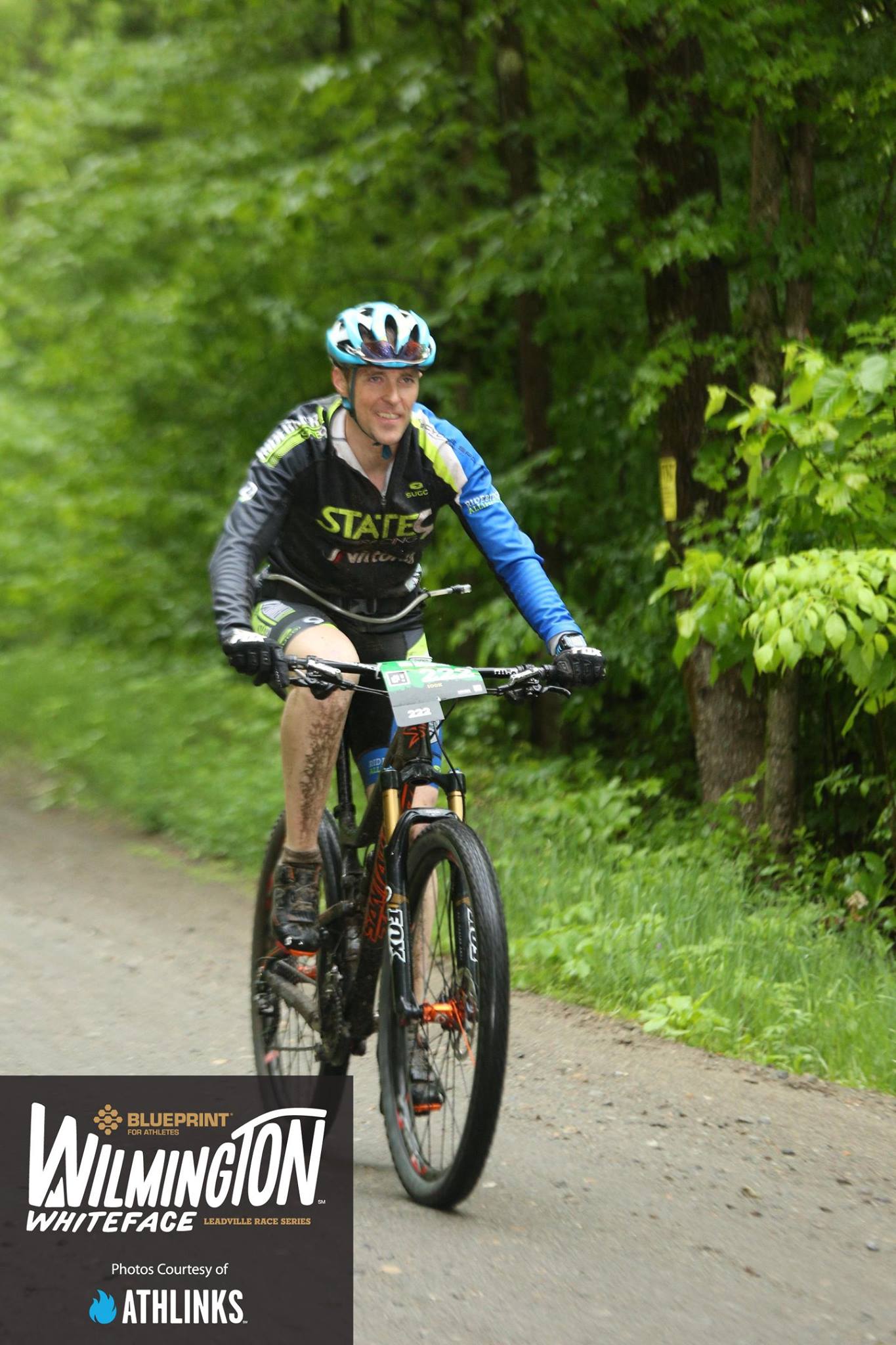 The rain started shortly after the start of the race, but didn't really start raining heavier until almost an hour later - unfortunately that was just in time for one of the steepiest fastest jeep trail descents on the course just before mile 20. It got extremely muddy and slippery with lots of standing water and the more tires that chewed it up the worse it got. I was very cautious and rode the the brakes on any straight less muddy sections. While that hurt my overall time (I was 25 minutes slower than 2 years ago), I never had any crashes and that's more than many can say. Someone had crashed a little before me on that descent and was getting helped but had clearly broken their collarbone.
The rain and mud also made glasses useless, as they were covered immediately, but taking them off and getting eyes full of mud wasn't a whole lot of fun either. My Vittoria Mezcal G+ tires handled the mud really well while still being fast in other sections. When I did start to slide out in mud with them I often got traction when the side knobs grabbed as the tire angled over.
Overall I was pretty comfortable, the conditions just made climbs slower, along with descents and single track if you were cautious. I didn't crash at all and only stepped off my bike a few times due to the mud, which is more than many can say.
Nutrition and Hydration
For nutrition I went with something I've used many times with good luck - Blueberry coconut rice cakes out of The Feed Zone by the folks over at Skratch Labs. They're tasty real food that's easy on the stomach and provides plenty of quick energy with the high glycemic index white rice. I took 4 with me and ate 3 during the race, keeping 2 in each of the side rear pockets of my jacket and storing the empty wrappers in the center one. They're easy enough to open and eat while riding as long as you're in a non-technical section.
For hydration I used a Dakine Sweeper Hydration Pack slightly modified in that I took off one of the hooks that holds on the tube and replaced it with a magnetic clip to make it easier to use on the bike. I don't like wearing a hydration backpack and having weight on my shoulders and that high up on me, but my bike doesn't have good places to mount water bottles. This worked great, with weight low that I hardly noticed, the ability to still use the pockets on my jersey easily, and I drank a lot more than I would have otherwise. I used Hammer Perpetuem in my water for a little something extra. I did stop to refill once at an aid station around mile 40, and spinning it around my waist to refill it was easy. The only change I need to make is stitching the adjustments on the belt - they slowly loosened up over the course of the race and I had to stop to tighten it back up.
Family Time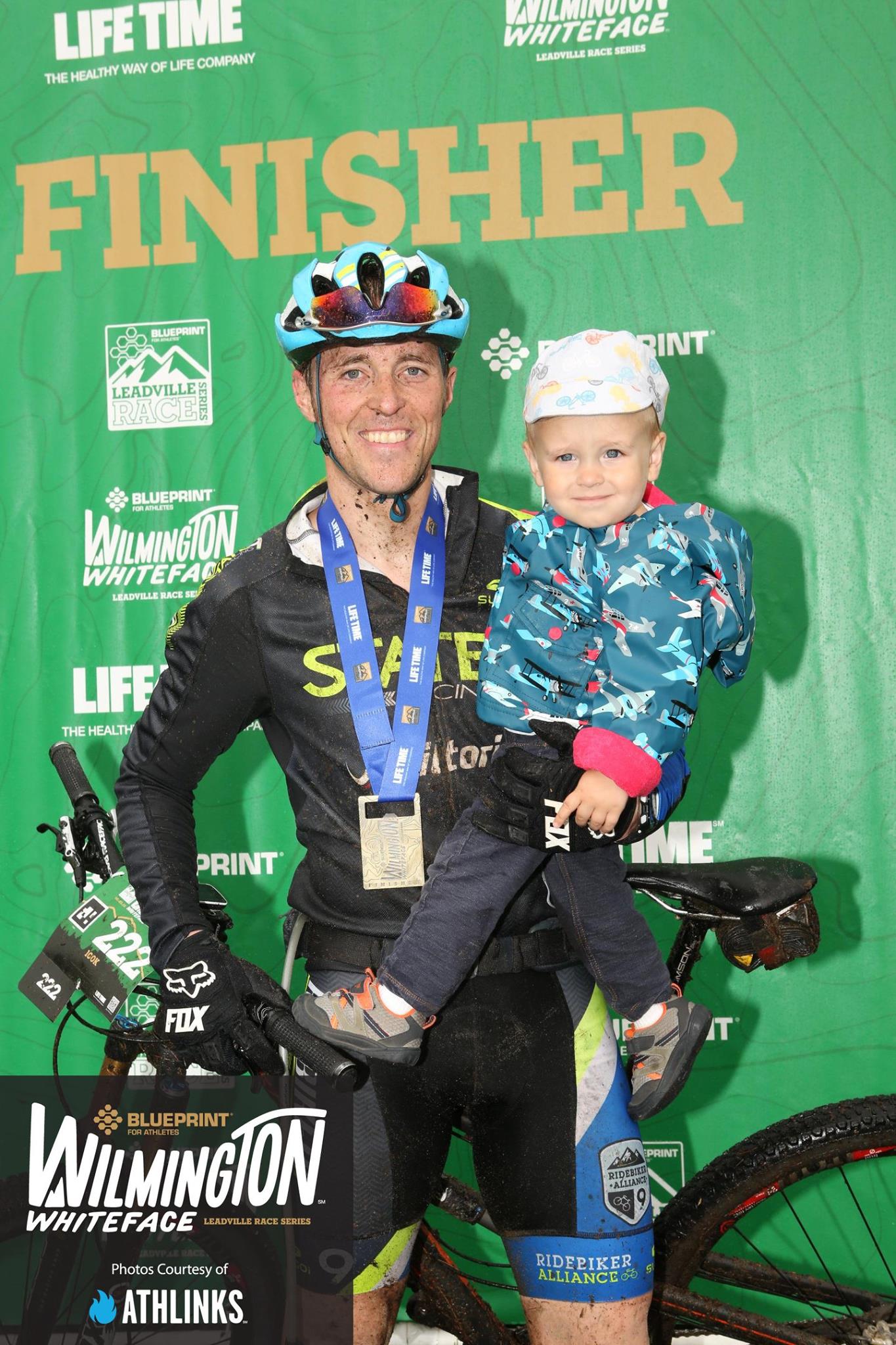 My wife and 2 year old son came along for the race, and even with the rain there were enough other kids around to keep them entertained. The mountain has an adventure park with a bouncy house that he found pretty interesting.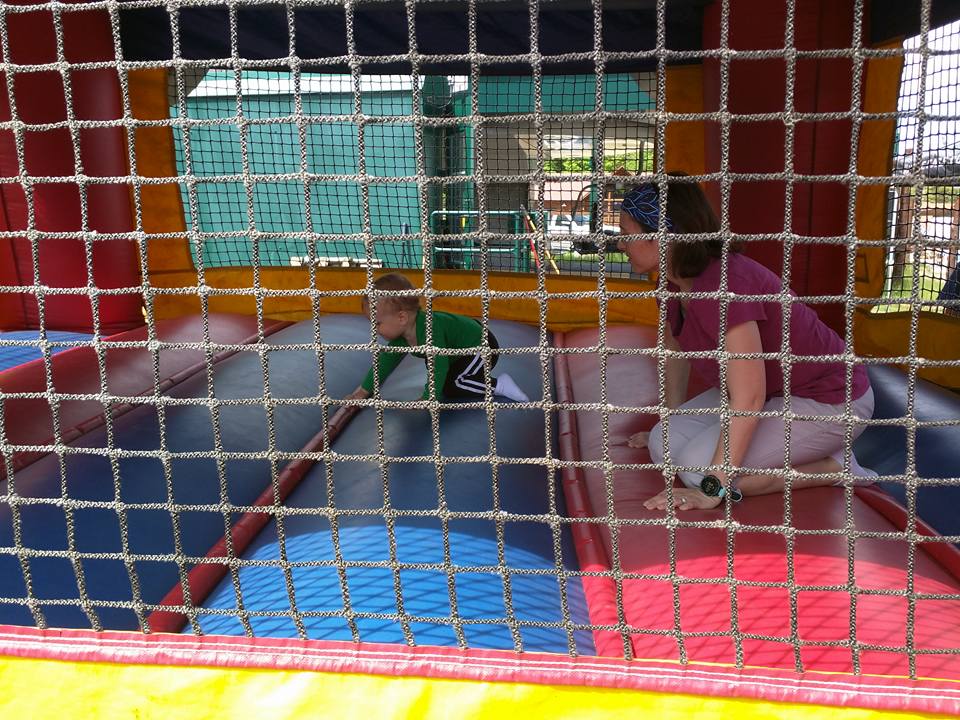 He was also pretty interested in watching the gondola going up the mountain, and Lake Placid itself had plenty of people watching to be done. In the future we'll probably plan to go up a day earlier to have more time to explore.
Overall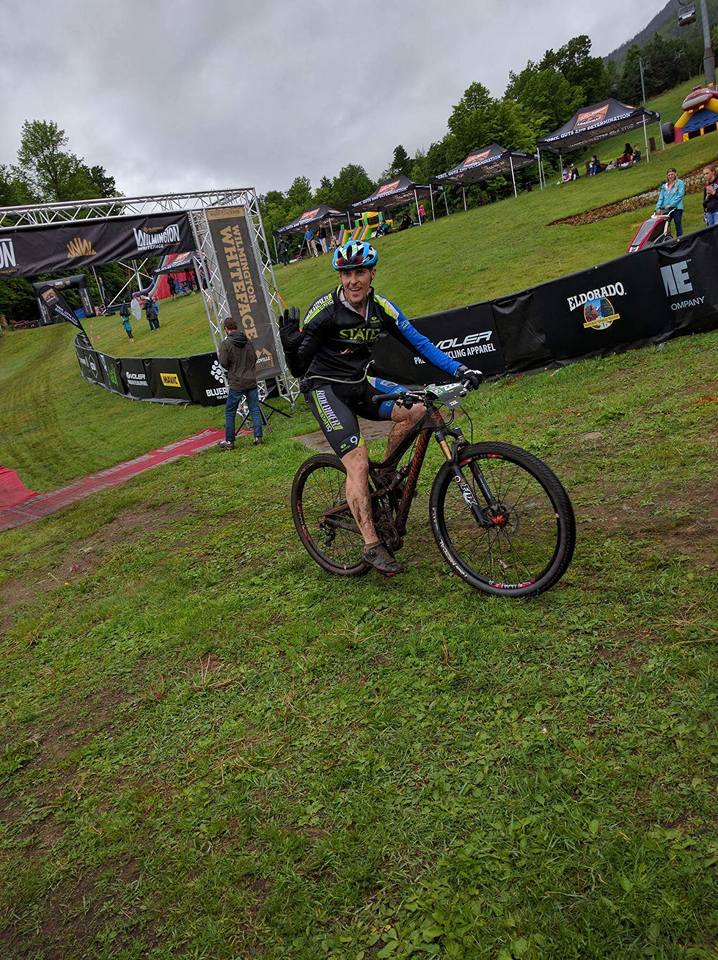 Overall it's a fun race that I'm sure I'll be back for again in the future. The course changed a bit since I raced in 2014, no longer having 2 laps up and down the mountain at the finish, just a longer set of trails on it before coming down some rooty single track to finish. I liked it better this year especially with how messy that single track was from the rain at that point.
Personally I felt really good - confident and probably the freshest I've felt after a 100k race at the finish. I finished in 5:55 for 145/323 overall. I feel could have easily PR'd if I was pushing in better conditions, but treated it as a training ride. It was good to know my fitness from running translated well, and makes me feel good looking towards Leadville. The sore part of me was my sit bones - having not been on a bike much lately even at 30 miles it was getting noticable, but some more time in the saddle over the summer should help that.
If you're a mountain biker in New England and like long suffering rides and lots of climbing like I do, definitely check out Whiteface at some point. Just, hopefully it'll be a year it doesn't rain.