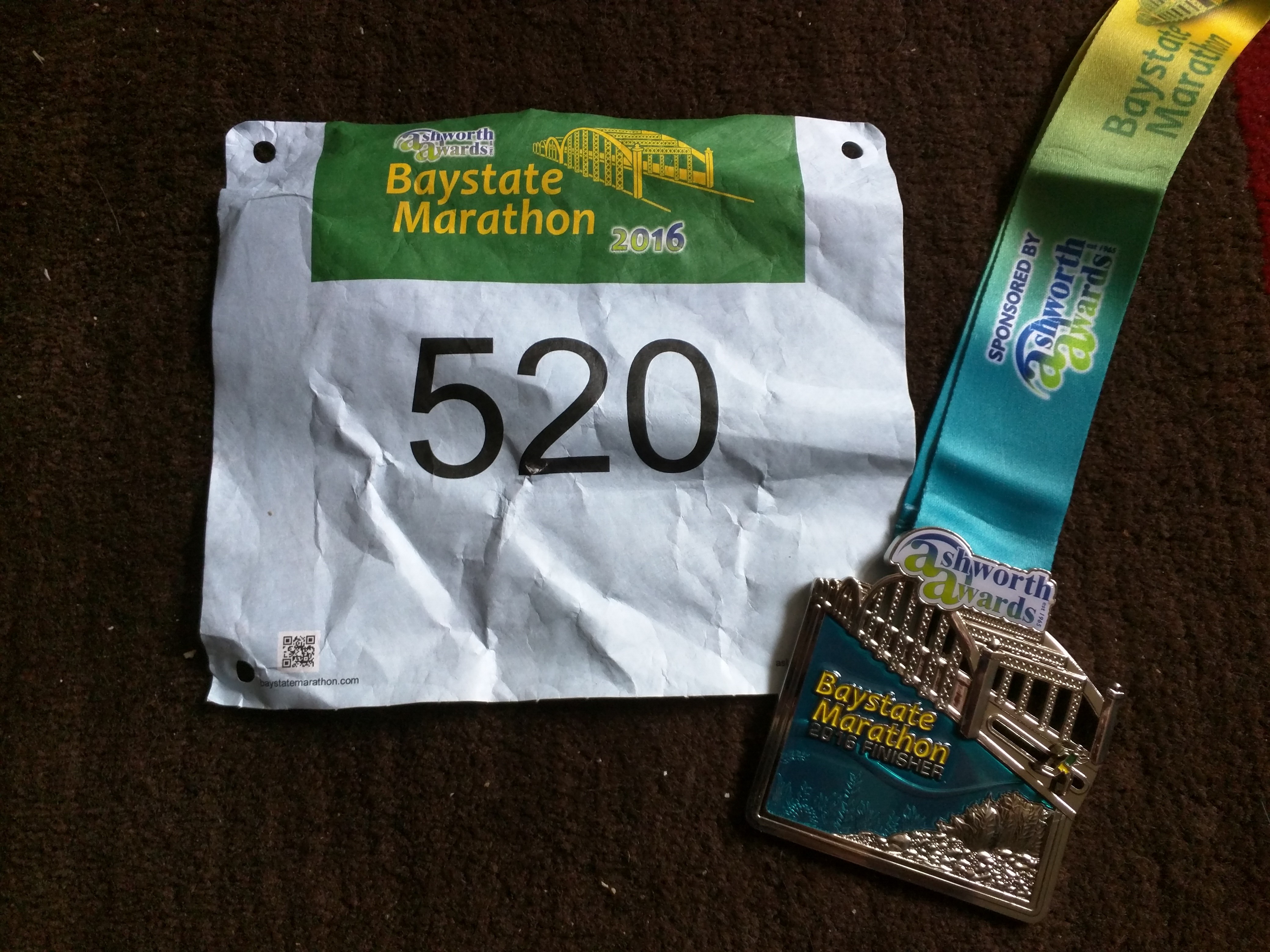 The Baystate Marathon is a great race to set a PR at or pick up a Boston qualifier. It's a well run race on a flat course, with well stocked and run aid stations, and plenty of clocks along the course to keep track of just what pace you're on officially.
It also has a number of pace groups, from 3:05 upwards in 10 minute increments to make it easier to BQ without constantly checking your watch. Just zone out and stay with the group.
Due to what the cut off has been for registering for Boston the last couple of years, those of us needing a 3:05 qualifying time will also have to go ahead of the pace group to buffer a few minutes for the cut off time at some point.
All in all, I was targetting it as my best chance to BQ this year, though I wasn't super confident based on splitting a lot of my training with some other events, but figured I'd give it a shot.
What Went Well
Even though I was training for other events recently (like Leadville, Reach The Beach, Timberman 70.3, and Pumpkinman 70.3), I was able to get in five 50-60 mile running weeks followed by two weeks of tapering under 20 miles each. That included some speed work, and a 19 mile long run with 13 of it being the Smuttynose Rockfest Half Marathon at a 6:40 pace that felt pretty good.
I felt I learned from running Baystate in 2014 and had a solid plan for this year. My goal was to stay with the 3:05 pace group, knowing they were aiming for 3:03:50, through at least mile 20 running at as conservative an effort as I could while staying with the group. At that point, depending how I felt, I would go ahead of the pace group somewhere after that point to add some buffer for the registration cut off, or if I wasn't feeling it just stay with the pace group through the finish and at least PR.
Using the bag drop worked really well, I kept some pants and a fleece on until 20 minutes before the race to stay warm, then dropped my bag at the truck (which is very close to the starting line) along with my car keys to pick up afterwards. After the race, the bags are at a tent just past the finish line which made it easy to grab and put back on some warmer clothes.
Adding a reminder to my calendar to hydrate the day before and taking a gatorade to the start line with me to drink the hour before the race start worked well too, hydration was not a problem. Thankfully they had port-a-johns close to the starting line.
As always, some steel cut oats worked fine as my breakfast a couple hours before the race, with no stomach issues.
My feet did great with my Smartwool socks and Altra Paradigm shoes. My legs felt as good as they ever do after a marathon, a little stiff, but nothing major. I also used ChafeX on my chest, and had no pains from rubbing there.
What Didn't Go Well
I'll start with the more minor things.
For a while I've tried the trick of safety pinning the gels I want (in this case, 4) to the waist band of my shorts and then flipping the gel packet inside so it doesn't bounce around. This way I don't need a separate belt or anything to hold them.
It's worked OK for 1 gel for a half marathon, taking it 45 minutes to an hour into the race. But I've had problems with the packets rubbing my skin and cutting me, so today I put body glide on my hips where they touched to try to avoid that and it didn't help. I have cuts all over my hips from the edges of the packets, especially the ones that I used later in the race and were rubbing longer. I'm not going to do that in the future, it's not worth it. For half marathons I can put a gel in a zipper pocket on the back of some of my shorts that doesn't move around, and for marathons I'll just have to use one of the simple fuel belt bands that can hold your race number and has loops for gels.
This was the first race I tried using a Turbine nose piece for after trying it for a few training runs. It certainly seems to help making it easier to get more air in breathing through your nose, but I found that when I was pretty sweaty 10+ miles in it kept easily slipping out. It might just be that I needed to use a slightly bigger size. It also takes a little more thought to clear your nose so you don't shoot it out onto the ground. I ended up sticking it in my pocket rather than dealing with it. I'll play with them a little more in the future.
The other minor thing is that I really should have found time to fit in a couple other longer runs in training leading up to the race - stuff in the 20-22 mile category. When I ran Baystate last time I had done that and felt pretty good going in. This time my longest run was 19 miles, and I was worried that was going to affect me later in the race. Of course, it turns out that wasn't the limiting factor.
The major thing that didn't go well is that I had woke up on Tuesday this past week - my second week into tapering and not doing a whole lot - with my back sore and stiff. The muscles on either side of my spine mid back were not happy, and I didn't know why. I chalked it up to sleeping in a strange position or something, and while it felt better and loosened up over the course of the day, it returned every morning this week. I haven't changed anything with my bed or how I sleep, so I'm really not sure what's causing it, and need to figure it out sooner rather than later.
In any case, I had written it off early in the week as a fluke that would go away, but when I woke up the day before the race and it was as bad as it had been all week, I started to worry.
I did some simple drills - some butt kicks, skipping, carioca, and strides and it seemed to feel OK. At least, it was still there, but didn't seem to get worse.
So, I went ahead and did the race. My back felt fine at first, and I thought all was well. I was near the front of the pace group running relaxed and keeping my heartrate in the 150's.
Around mile 10 my back became noticeable. Uh oh. At first it was just a little discomfort and manageable, but by mile 17 it was getting a lot stiffer and I was having trouble leaning forward or keeping my stride length, so I had to up my cadence running more upright to keep close to the same speed, but I still started falling off the pace group.
By mile 20 that had all gotten worse, and it was also hurting to breathe, awesome. I couldn't take anything more than shallow breaths and there wasn't much I could do to compensate for that. Within a few miles my form had devolved to a shuffle, and in the last couple of miles I even had to walk just to catch my breath. Not something I've ever experienced before. My abs are super sore from trying to compensate for it in some way.
Hindsight
In hindsight, I really shouldn't have run this with my back feeling the way it did, but now I know I guess. I should have just targeted the Manchester Marathon in 3 weeks instead, giving me some time to get my back normal again.
I'm guessing that running this is just going to cause it to take even longer to feel better, though I still need to figure out what's causing it to begin with.
Update: Once I looked at an image of back muscles and realized it was my erector muscles that were sore and stiff, it made sense that the first thing I had to stop was leaning forward, as that's what those muscles are responsible for. It also made sense that this started Tuesday morning, as I had pushed Simon in the stroller longer than usual (10 miles) on Monday while he napped, which is probably what stressed them to begin with. Pushing the stroller messes up your form unless you're very conscious about it, and I was distracted that day, likely contributing to the back problem. No more sudden long stroller runs during tapering.
Next Year
I'm not sure if I'll run Baystate next year or not, I'll be focusing on Ironman Lake Placid and will figure it out in the fall after that.
I'm looking forward to moving up an age group though, with a 3:10 qualifying time I'll be able to just run with the 3:05 pace group and have enough buffer to make the registration cut off, that'll be nice. Though, this year apparently everyone was dropped or went forward from the 3:05 pace group before the end - there were only 8 of us left when I went off the back, and a few that had went ahead I saw later on, so I'm not sure how many were successful at going sub 3:05 from that group, but the pacer finished by himself.
In any case, some lessons learned for future races, and that's the main reason I'm writing this - for myself - but if it helps anyone else, great.
For now I'm just hoping I didn't cause my back to take a whole lot longer to get better.