Baystate Marathon 2014 Recap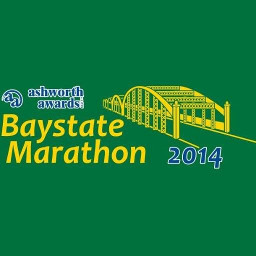 Baystate was my 3rd full marathon, just over a year past my first at the Smuttynose Rockfest last October. My earliest memories of any kind of running race are of watching the Boston Marathon each year at my Grandfather's house. I started "running" (and by running, I mean mostly walking) a couple 5k's a year 6 years ago, and gradually got more and more into running. When I got to the point where I decided to run a full marathon my longer term goal was to qualify for Boston. My Grandfather passed away this spring so I didn't manage to get there in time for him to see it, but I will get there and run it for him.
Baystate is well known for being perhaps the best course to qualify for the Boston Marathon on, and it was with the intention of taking a first real stab at qualifying for Boston that I signed up for Baystate back in June. The trick however is that since Boston moved it's registation earlier in the fall to September, the following year's Boston marathon is full by the time Baystate takes place, meaning any qualifier posted can only be used for the Boston Marathon after next, a year and a half away. Still, if you're looking to get into Boston this is a great place to do it - it just takes a little longer to pay off.
My first marathon last year was a 3:32, and I posted a 3:14 earlier this spring at the first Earth Rock Run Marathon in North Andover, MA on a more challenging course in the rain. I didn't feel I had trained my best for either of these races with a 16 mile run being my longest training run before the first marathon, and a cold, snowy winter hurting my motivation to train as much as I wanted to for Earth Rock Run, though it was still more than my first.
With that in mind and some experience under my belt, I felt that getting down to the 3:05 qualifying time for my age group (and a couple minutes lower to get in to registration) was within my reach in the near future. The question was, could I do it at Baystate this year?
I've been using myasics.us to create training plans which I mostly follow for marathon training. It's a free service and pretty well designed, though it doesn't offer much in the way of fine tuning that more advanced runners might be looking for. I find it to be a pretty good rough guide to what I should be doing, and that it's prediction of finish time based on a previous race and the planned training to be pretty accurate. When I entered my training plan for Baystate it predicted a 3:09 marathon - while a great would-be PR, that wasn't going to get my to Boston. Keeping in mind that my training hadn't been 100% for the previous two marathons where it predicted my time fairly accurately, I wasn't too worried about it.
With better weather and more dedication I put in more miles late summer and got in many more long runs than I had previously. My friend Katy was training for the Chicago Marathon around the same time as Baystate, so I went on some long runs with her to make sure I got out of the house. The one trick is that my son Simon (our first child) was born September 6th, which meant that some of those runs were on little sleep and started at 3am just to make them happen. But nevertheless I got in a couple of 20 mile runs, a 22, and a 24 mile run. Even though I was going into the marathon a little tired from the changes at home, I felt better mentally having gotten more long runs under my belt this time around.
A few weeks before the race my training plan had me running an 11 mile race pace run on the same day as the Smuttynose Rockfest Half Marathon took place, so I decided to sign up and use that race as a training run as well as test out some planned negative splits while running by "lap pace" on my watch rather than real time pace. I had been thinking about this and figured I could better target my splits and stick with a plan by knowing exactly where I was in each mile. Going into Smuttynose my half PR was 1:32, and I wanted to see if I could break the 1:30 barrier so I planned my splits accordingly. My plan was to run the first 4 miles at a 6:57 pace, the second 4 at 6:47, the third at 6:37, and then use whatever was in the tank for the last 1.1 miles. It took some will power to hold back early, and while I had a couple of splits early that were a little too fast, I did a pretty good job of sticking to the plan and felt great speeding up all race like that. It also helped mentally break up the race for me by breaking it into chunks like that. I spent the last 5k passing many runners who I had watched go ahead of me early in the race while I stuck to my splits, which was a great feeling. I ended up finishing in 1:27:02 - well below my target 1:29:59, and good enough for 39th out of nearly 4000 runners. It was a great confidence builder in my race day strategy for going into Baystate.
Back to Baystate - part of the reason it's such a good qualifier for Boston is not only the course itself, but that the race really taylors itself to that. They have pace groups you can run with, digital clocks every 2 miles to keep track of your time, and some of the best volunteer water stations around. The Baystate website lists the pace groups - going down to 3:05 at the lowest. Since I hadn't run with a pace group before, and since I needed to hit more like 3:03 and change, I decided to stick with my own plan of my own negative splits like I did for the half marathon. That is, until race day.
I picked up my number the day before, so I arrived the morning of the race, parked, and hung out in my car for a while. It was around 40F and windy, and I aimed to wear as little as I could for the race to keep from overheating and had no interest in standing at the start line freezing for an hour. I waited as long as I felt comfortable, then headed down to the start line which was a couple of blocks away in my singlet and shorts. In hindsight Baystate had a bag drop that looked to run pretty smoothly and was right near the start, in the future I'd wear pants and a jacket to the start and drop them as close as I could to the race start. I hid in the shelter of a building to keep the wind off me as much as I could, and jogged around a bit to stay warm. With about 15 minutes until race time, I headed to the start line to make sure I could get a spot towards the front.
And it was at the start line where the doubt in my plan crept in. I met the 3:05 pace runner (the first one anyway, they had a team of 3 runners trading off throughout the race) and his shirt listed his planned mile splits on the back of it - a really smart idea. Turns out, the 3:05 pace group was aiming for a 3:03:21 marathon. Hmmph, so I could run with these guys after all if I wanted to. They were planning to run a flat pace all race though, which was contradictory to what had worked so well for me recently. I decided to stick to my plan. Sort of.
The race started and I was in the 3:05 pace group to start - my planned splits for the first 5 miles were 7:10, dropping by 5 seconds every 5 miles. The pace group was planning to run 7:01 splits all the way through, so I planned to steady fall behind them at first and catch back up with them later on in the race. But as we started, the wind picked up a little and I realized how better I felt if I tucked in the group and hid from the wind, so I broke from my plan and ran with the pace group - who were running slightly under 7:00 pace for the first 5 miles.
All went well until mile 10 where I made a poor choice. Rather than commiting to running with the pace group all race, I decided that now since my planned splits were faster than the pace group I should go ahead of them and "stick" to my original plan, even though I had not stuck to it so far and had been running faster than I intended for the first 10 miles. By going ahead at this time I was basically going to be banking time. Banking time never works. This is really where I feel I went wrong, I should have stuck with the pace group through 20 miles and if I had anything more in the tank at that point I could have went ahead for the final 10k. But, I instead went ahead and mile 10 and did my own thing, and this was fine for a while.
At mile 20 my legs were getting a little tighter. I still felt pretty good energy-wise - I had been having a gel every 30 minutes using a time alarm on my Garmin 910xt watch, which has proven to work pretty well for me. Coming around a bend I heard a spectator behind me yell "Go 3:05!" so I knew the 3:05 pace group wasn't far behind me and I realized I had made a poor choice going ahead at mile 10 and being exposed to the wind for the last 10 miles. However, I was still on track for a 3:03 finish and decided to ease up a little bit and get back into the 3:05 group. At this point, the group was a LOT smaller. It was only a half dozen runners or so down from the 40 runners that were in the group at mile 10. Some had certainly gone ahead (and had passed me along the way) while others had gone off the back. I tucked in behind someone and matched my pace to the group.
Baystate is a mostly two loop course, and at mile 22 we passed the bridge we had crossed earlier to start our second loop and were now on new road for the first time in an hour or so. It's mostly a straight away for a few miles with some rolling hills. It was a little after mile 22 that I started going off the back of our pace group - I felt OK as far as energy still, and was keeping a cadance of 90, but my legs were getting stiffer and stiffer shortening my stride and I didn't have the energy to up my cadance higher than it was to make up for it. I'm not sure if it was entirely hydration or salt loss, or a combination, but I couldn't get my legs to loosen any. At mile 22 I had been on pace to qualify, and in the last 4.2 miles managed to lose 6 minutes off my pace finishing in 3:09:09. Recognize that time? It's what the myasics.us plan had predicted.
The end of the Baystate marathon takes a road alongside the finish line and loops back to finish - so in the last mile you can hear the finish line announcer. Depending how things are going for you that can either be amazing or crushing. For me I got to hear the 3:05 group finishing and thought about how I let it slip away in the last few miles.
The finishing chute and the area immediately around it is for racers only, family are allowed in a separate area after the finish to keep things from being too crazy. Past the finish you keep walking to pick up your medal and foil blanket, and then there are a number of tents with food, drinks, and some with massages. The food tents are orderly with a clearly marked entrance and exit to keep things going smoothly and a pretty wide range of foods, both pre-packaged and freshly made items like peanut butter & jelly sandwiches. I collected my stash of things but was afraid if I sat down for too long I wouldn't be getting back up, and was going to get cold, so I headed back to my car 2 blocks away to get the walk over with and get some dry clothes.
I usually like to hang around the finish line and watch others and take in the experience, but after a hard marathon I wanted nothing more than food, a hot shower, and a couch. The drive home was filled with planning the next attempt. I'll likely do the Hyannis Marathon in February or Earth Rock Run again in April to make another attempt, but neither are as good as Baystate for qualifying. Either way, I'll do Baystate again next year just because it was such a fun and well organized race.
I've worn Altra Instinct shoes for my past 2 marathons, but I'm considering trying the Altra Olympus for some extra cushioning next time around to see it helps reduce the beating on my legs. This time my myasics.us training plan is predicting a 3:01 marathon for March. I hope it's streak of accuracy continues, but it's a long cold winter of training ahead.
Here's a link to my Strava activity for the race.