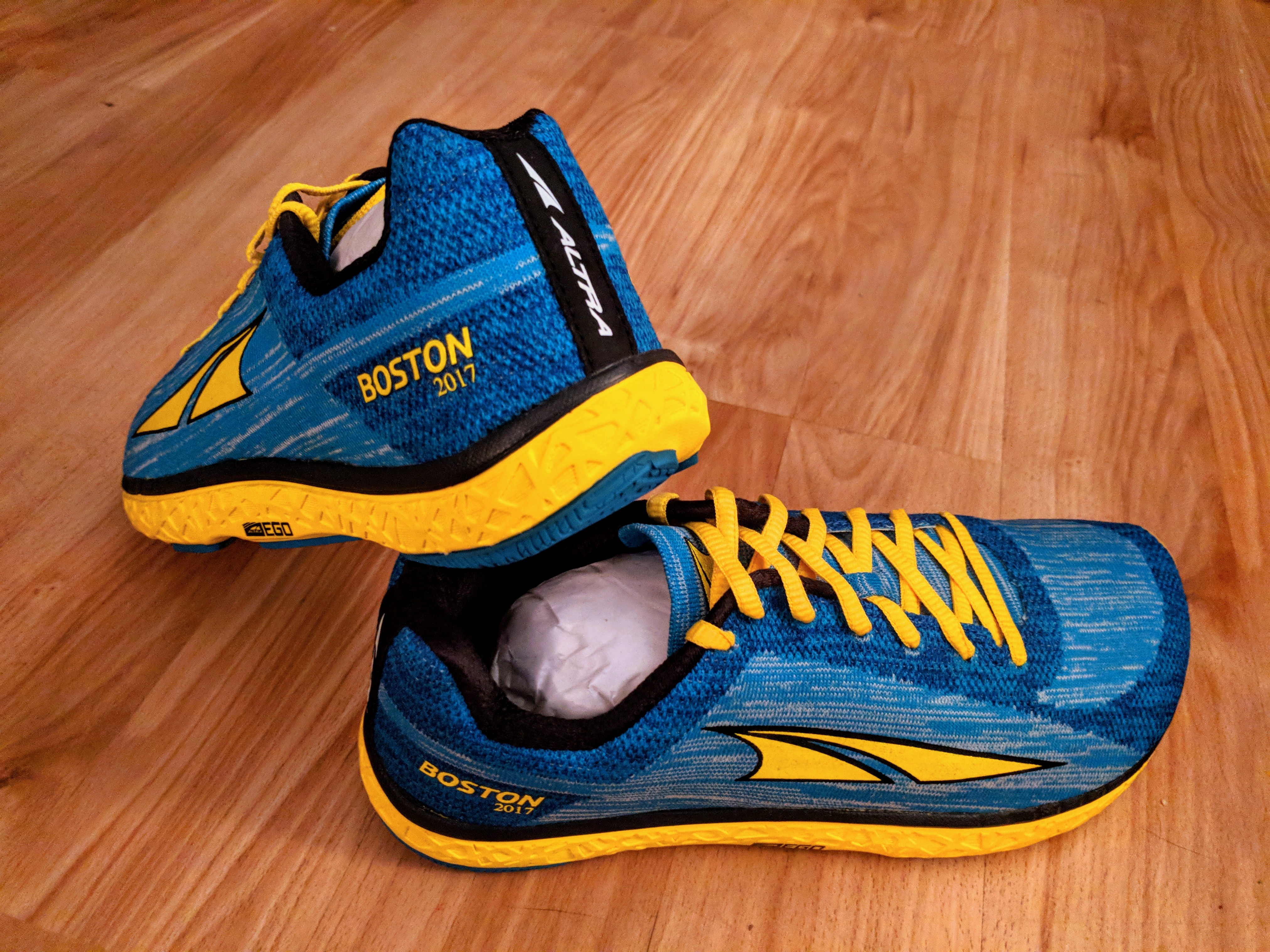 When I was growing up in Rhode Island in the 1990s, my first, and most consistent, real exposure to any kind of distance running was the Boston Marathon. I remember being at my grandparents house each year with it on the television, often with my grandfather grumbling about how the Kenyans were taking over the sport.
Still, that was just something we watched, not something I ever thought to try.
In 2008, the company I worked for, Dyn, wanted to enter a team into the Cigna Elliot Corporate 5k Road Race which ran past our office to help promote healthy lifestyles.
I was new to the company and wanted to be part of things, so I signed up and ran/walked it, and was hobbling around for days. Over the next few years I started running a little more, doing a couple of 5ks a year. My father asked at one point then if I was training for a marathon, which I laughed off as an impossibility.
Flash forward to 2013, when I ran my first marathon at the Smuttynose Rockfest in Hampton, NH. It was a rainy, rough, second half that I was very under trained for. Finishing it did put the thought in my head of returning to my first exposure to distance running, and I thought it would be pretty neat if at some point I could tell my grandfather I was running the Boston Marathon, who had unintentionally introduced me to it. But, because of that, I only wanted to run it if I qualified rather than through a charity spot. I wanted to earn it through running.
Bumps in the Road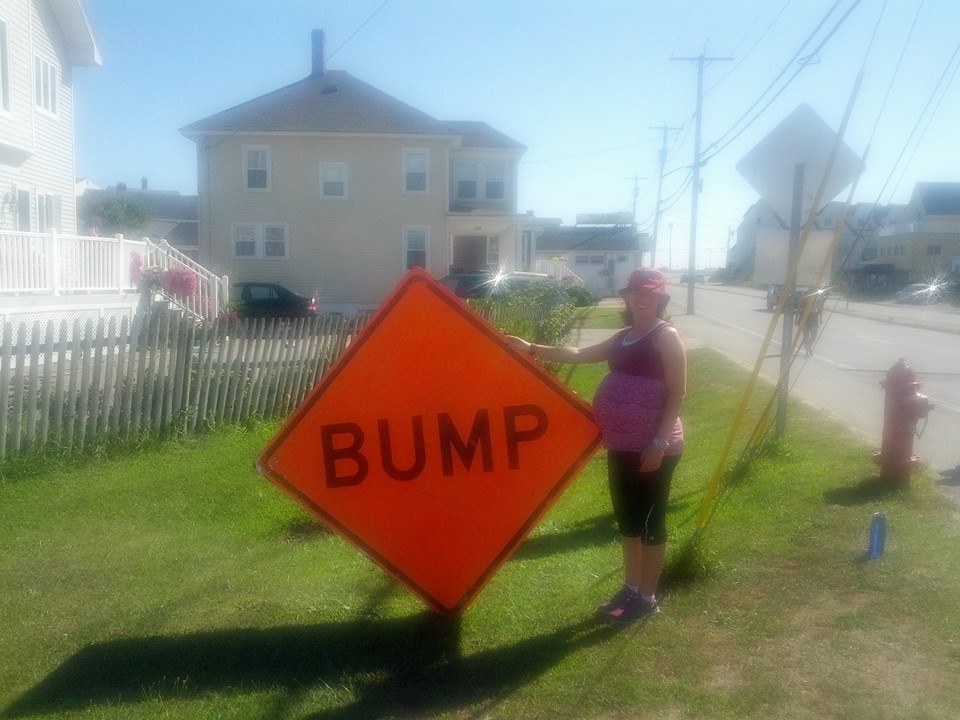 The next year had its ups and downs. My grandfather died in spring of 2014, so I was never able to complete that circle back to his introduction of the Boston Marathon to me, but more importantly, he wasn't alive to meet his great grandson Simon when he was born later that year. He did know he was coming though, and I had some happy chats with him about it.
I ran 2 more marathons in 2014, getting steadily faster, but not enough to qualify in my age group, and not without blowing up in spectacular fashion towards the end of them. I still hadn't figured out exactly what amount of training would work for me, and how to fit it in, especially with a newborn that I wanted to spend every moment I could with.
I was working towards the Maine Coast Marathon in 2015 when I crashed in a bike race and took quite a while to recover. I ran a couple of marathons later that fall, but not with any real purpose other than getting back into it.
Goals for 2017
It took about a year to fully recover from my crash, then the rest of 2016 to get mostly back into things physically. So, by 2017 I was ready for a reset and I had 2 goals:
1) Complete my first full IRONMAN triathlon in Lake Placid in under 12 hours
2) Qualify for the Boston Marathon at the Baystate Marathon, and hopefully PR by enough to have a chance of actually get into registration for 2019
The Baystate Marathon is where I ran my best previous PR - my 3rd marathon in 2014 with a 3:09:10. I ran it again in 2016, but fell apart pretty badly with back problems to 3:22:55.
Baystate 2017 would be a qualifier for Boston 2019, which meant I would be up an age group, giving me a qualifying time of 3:10:00. It seemed like the perfect place to go to try to re-run my PR, and hopefully beat it.
So.. what about these shoes?
So, for years I've worn Altra brand shoes, and in February 2017 they came out with a new model called the Escalante. It took all the things I liked about other models (the zero height difference toe-to-heel, the wide/roomy toe box) and added new things I loved, like a one piece all knit upper with no seams, and a shorter stack height with really responsive cushioning. It almost immediately became my go-to road shoe for both training and racing, at every distance I tried it at.
For April, Altra released a Boston Marathon themed blue and yellow version of the shoe, and I had an idea. For motivation I bought them, but I didn't wear them. I put one of them on my desk at work, and one on my desk at home so that they were always in view when I was working to remind me what I was training towards. If I was having trouble motivating to go out for a lunch run, there they were. If I was craving a weight-gaining snack I really shouldn't have, there they were. I made a deal with myself that I wasn't wearing them until I ran a qualifying time.
Training
The first half of the year was all about training for IRONMAN Lake Placid, and while a lot of that was focused on getting the fit of my bike dialed in, there was still plenty of running, just at more of a base building goal. It included 2 marathons in the spring that were more or less used as long supported training runs with fun atmospheres with friends.
After Lake Placid it was tough to immediately re-focus on marathon training, and it was later in August before I really got going on it. I ran 50 miles a week at a moderate pace, with at least 1 longer run each week, until my body felt like a had a decent base built up. I also continued doing some maintenance strength exercises with a resistance band (side steps, clam shells, etc.) that had helped when I had IT band syndrome, and has kept it away ever since.
With how late I started, it was about 4 weeks before the marathon when I started feeling like I had a good base, and only gave me a couple weeks to start working in some more speed-focused work. I kept my 50 mile a week total but traded some runs for work at the track twice a week. 3 weeks out from the race that included "Yasso 800s" - running ten 800m intervals as consistently as you can with easy 400m in between, which can help predict your marathon time - I averaged out to 3:03, which made me optimistic that it was possible to hit my goal.
My goal! Right. With a 3:09 PR, and a 3:10 qualifying time this year, and needing to be 2.5 minutes under qualifying time in order to get into registration last year, I decided to target 3:07. Then September came and Boston registration was the fastest it's been since the age-graded qualifying times, needing to beat qualifying times by 3.5 minutes to get in. Yikes. I changed my target to 3:05, pretty late in the game.
My last long run included the Smuttynose Rockfest Half Marathon, running 5 miles before it and 2 miles afterwards along a beautiful coastline. The week before Baystate were two memorial 5k races I try to do every year, and I ran my second fastest 5k ever at the first one, missing a PR by 16 seconds on a much harder course than my PR is set on. That really helped boost optimism as well, and my Garmin watch agreed with how I felt.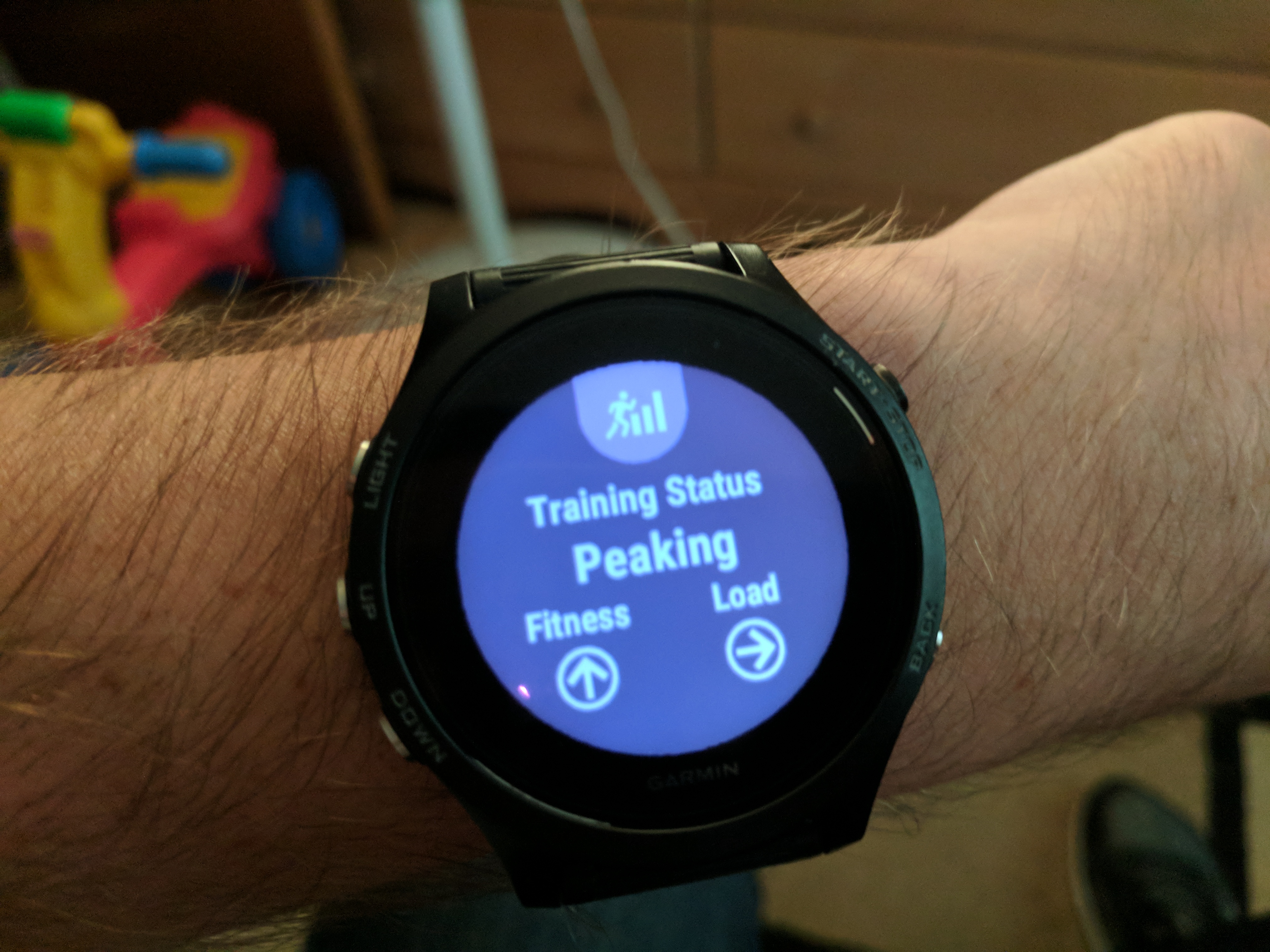 I took it pretty easy the week before Baystate, with just a few shorter easy runs, and a sports massage 3 days before. I made sure to hydrate plenty the days leading up to the race, as well as the morning of.
Total run training stats up to this point in the year:
Miles: 1285
Time: 160 hours 10 minutes
Something else I should note - while it's kind of hard to describe, I want to try to put it out there in case it helps anyone else.
There's the whole result of running faster of your feet kicking up more towards your butt, and there's plenty of people with the misconception that actively spending energy pulling your feet up once they're off the ground somehow makes you faster.
Something I started noticing only recently that helps me mentally recruit all the muscles I should and relax them to recover at the right time is this: as soon as my foot lands I start thinking about firing the muscles to lever back and kick my foot up to my butt, like I'm scraping mud off the bottom of my shoe. But, as soon as my foot comes off the ground, I relax it and just let the elastic response go, and guide it up (rather than to the side) without actively doing anything else.
It's something I wasn't really trying to figure out, but just something I noticed in races - if I started thinking about running that way, I'd start passing people I had been running with, without my heart rate or effort going up. Hopefully I described it well enough and someone finds that helpful.
Baystate Marathon 2017
In the interest of keeping things from getting too long, I'm not going to go into lots of detail about Baystate. If you haven't run it before, it's a pretty flat (for New England, just under 600ft of gain) 2-loop course around the Merrimack River in Lowell, MA. It's a very well organized event with a focus on qualifying for Boston. They have a number of pace groups starting from 3:05 going up in ten minute increments, label results with BQ or not, and have keychain souvenirs for those who qualify or PR.
This year Baystate was also the USATF New England Grand Prix Championship, so there were lots of runners for teams competing in the series.
Overall we had good weather this year, a little warmer than I'd like ranging from 50F at the start to 67F when I finished. The first half of the race was cool and cloudy (nice running conditions), the second half of the race the sun was mostly out and things got steadily warmer.
I started out running with the 3:05 pace group, though they were aiming to run a little under 3:05 and I was aiming for 3:05 even, it's generally good to run in a group. At the half way point a fresh pacer came on, and after a while started pushing the pace more.
I was very happy to be using the Race Screen data field on my watch, because it not only gives you your overall and recent pace, it gives you your estimated finish time based on your time so far along with your recent pace. You also can press the lap button at mile markers if your watch doesn't match up, and it rounds off your distance to the nearest mile - so you're not caught surprised having to run further than you thought at the end of a race.
With the way the estimate is calculated by Race Screen, it gets more and more accurate the deeper into an event you are. Just after mile 19 I was working harder than I wanted to be staying with the pace group, and noticed we were running a 6:36/mile pace putting us finishing around 3:00 rather than 3:05, so I backed off a little and ran by my watch the rest of the way. Having that estimate field really helped me, otherwise not staying with the pace group would have done some damage mentally. At that point there were about 10 people left in the pace group of the maybe 40 that started.
My previous PR was Baystate in 2014. That was my 3rd marathon, and this was my 11th. I was really happy with how consistent my splits were this year, in 2014 I had really slowed down in the last 4 miles.
Here's my pace graph from 2014:

And here it is for 2017:

It was easily the best I felt running a marathon at speed at miles 20 and 22, which made the mental game all the easier to deal with for the last few miles.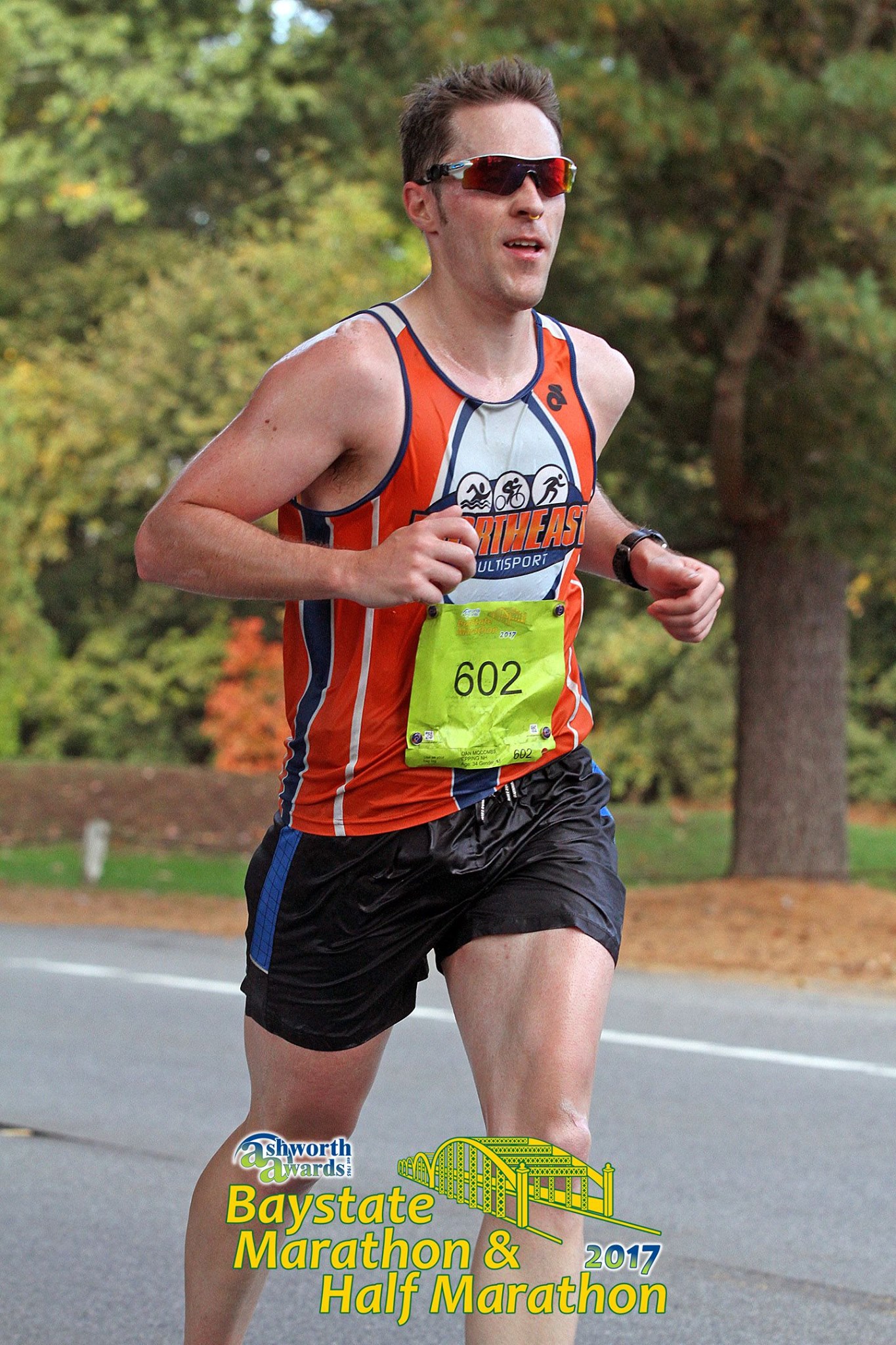 I saw some friendly faces from my triathlon club, Northeast Multisport, spectating around mile 20 which always helps. I wasn't passed by anyone in the last 4 miles, and passed maybe a dozen others - most of which I recognized from having been in the 3:05 pace group earlier, so that was a nice change from other marathons I've run. I finished 128th out of 1354 overall with a 3:05:06, 4:54 better than my qualifying time.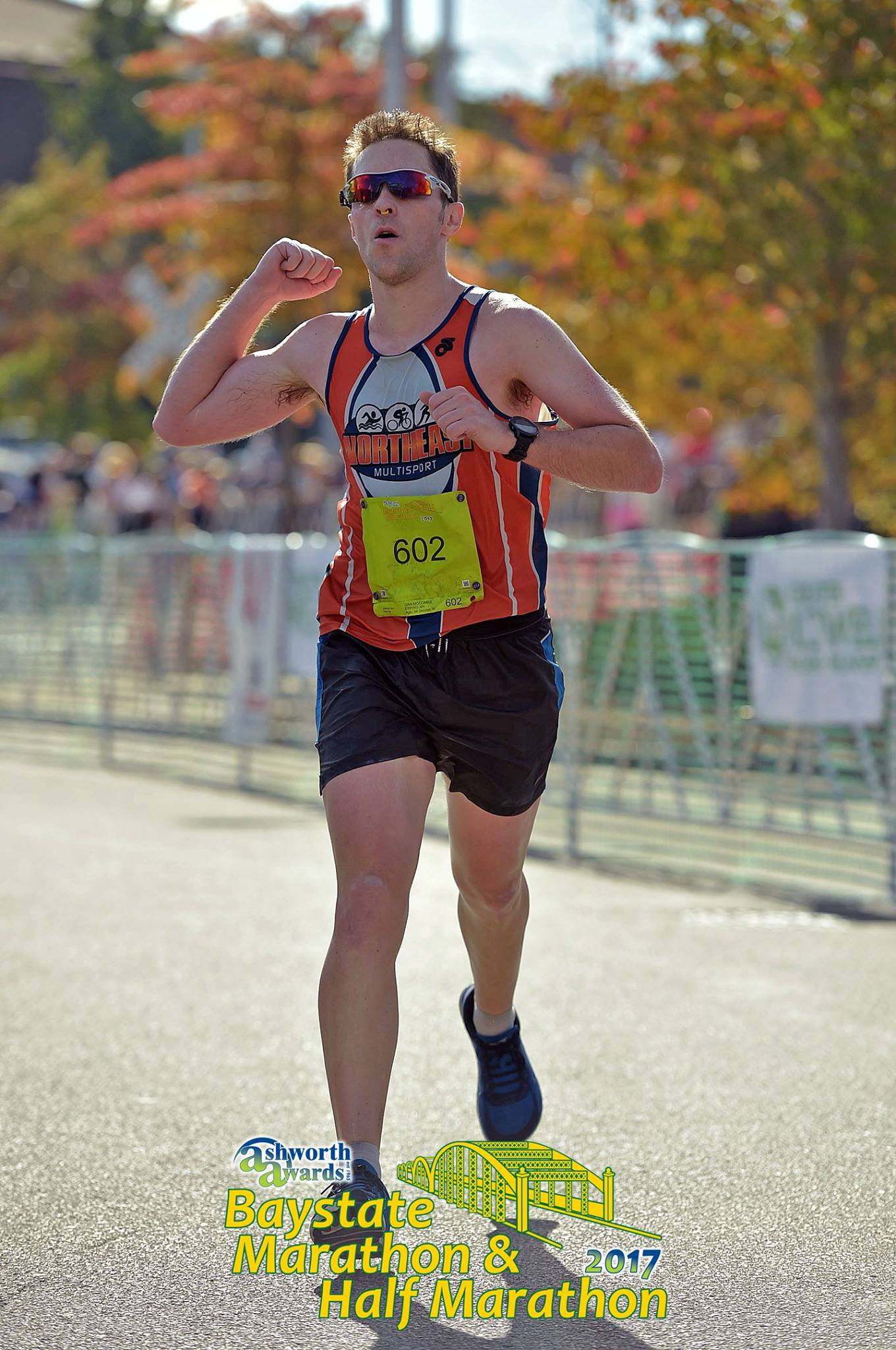 With all that hydration in the morning and days leading up to the race, I had been fighting the urge to stop at a porta-john since about the 10k mark - so that was also helping urge me to the finish. ;)
Post Race
I hit about as close to my goal of 3:05:00 as I could, running a 3:05:06. While that qualifies me for Boston 2019 by almost 5 minutes, and I'm optimistic of getting in, I'm not claiming victory until registration next year with how the past few years have gone.
While I wasn't enjoying the warmer temperatures while running towards the end of the race, it was nice to not be freezing afterwards and not feel the need to do a very hurried shuffle to the car.
Baystate always puts the results tent down some stairs on a platform near the river. It's cruel, but it probably helps reduce congestion as only the people who really want to see their official results right after the race groan their way down those stairs. They also had a larger display to show your time and whether you BQ'd for pictures which is nice to have.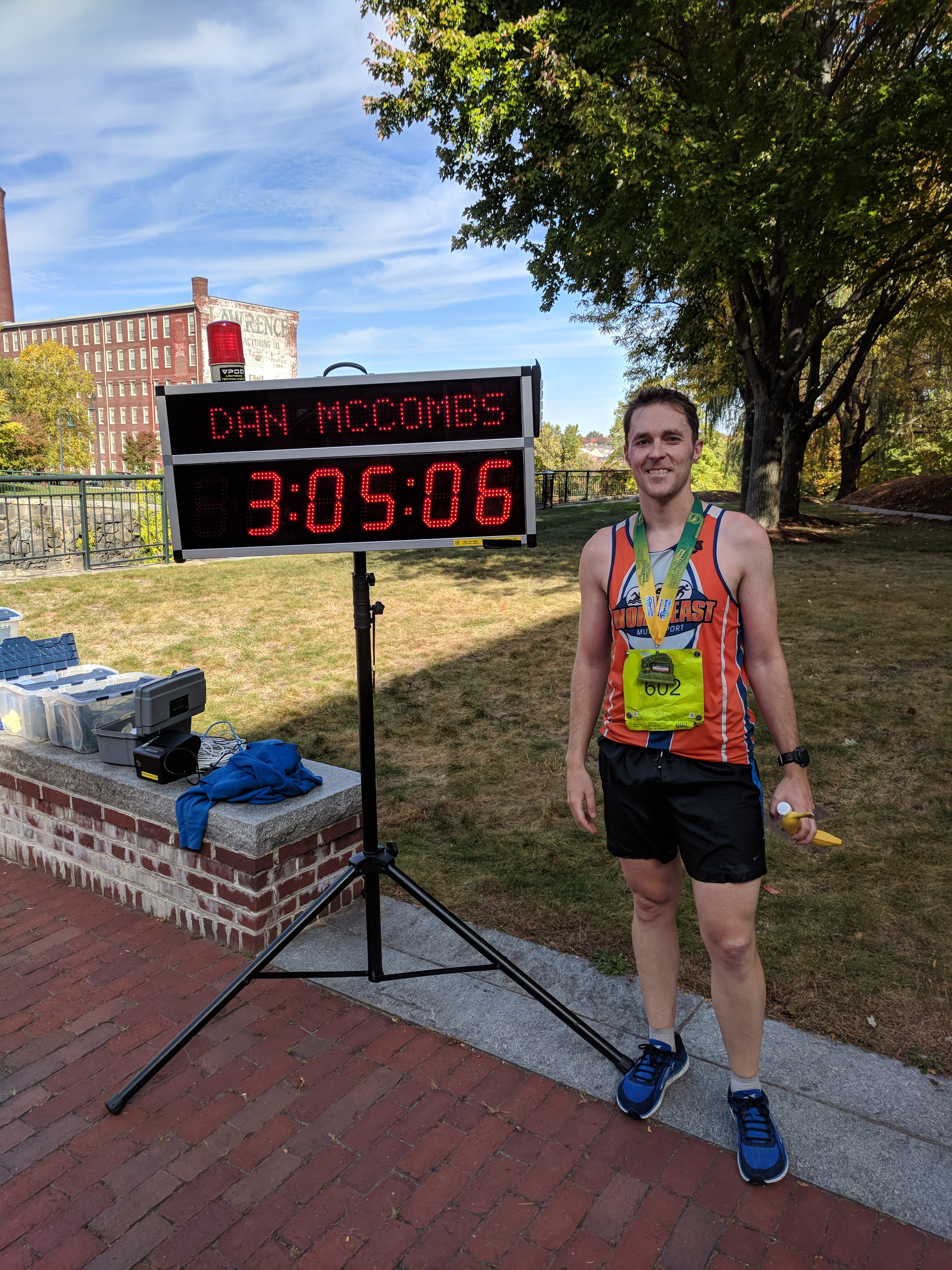 So, while I have to wait until September of 2018 to find out if this time was fast enough to get in for Boston 2019, I can use the time to get into some other marathons like Chicago in 2018, and after 11 marathons, I completed the deal with myself to qualify. I can finally let myself wear those shoes that helped get me there.