Two marathons in a week, and a new pair of shoes
Coming off my crash and broken neck in April, over the summer I was thinking there was no way I'd be able to get back into marathon shape when I was cleared to run by the fall. So, I just ran when I was able to, and aside from double vision wonkiness it was by far the most relaxing thing for my mind, so I ran a fair amount.
On October 4th to test where things were at, I ran the Smuttynose Rockfest Half Marathon and finished in 1:26:51 and felt very good. That made me start to wonder if I could run a marathon this fall after all, maybe not to try to qualify for Boston, but just to enjoy one and for experience.
So, I upped my weekly mileage as best I could in a short amount of time and contemplated trying to run either the LOCO Marathon or the Manchester City Marathon since they're both close to home and feel like they're on home turf.
LOCO Marathon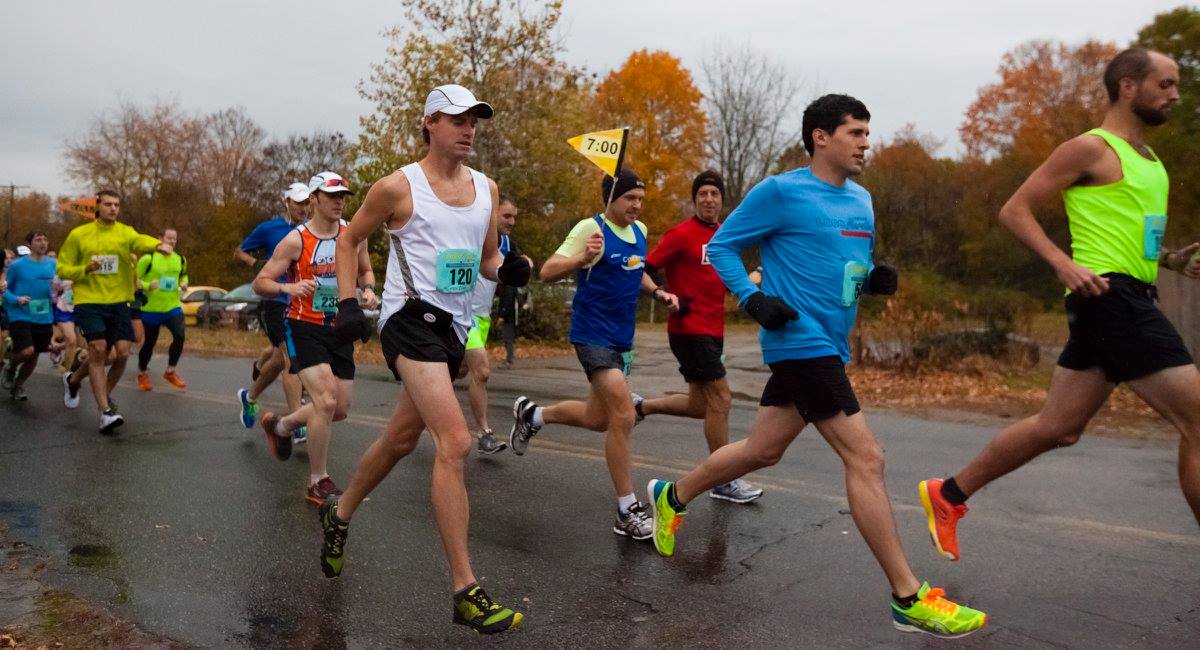 I kept checking the weather for each marathon trying to figure out which was going to end up being a better bet, but they both looked similar and it's New England, so anything can happen. I decided the night before the LOCO Marathon that I should just do it as I'd be mad at myself if I waited for the Manchester Marathon a week later and the weather ended up being worse.
So, I got up early on October 25th, headed over and registered day of. The race is a two loop course on roads (and a section of railbed) that I don't run often, but have biked on many times so I felt very comfortable with it. There's also no real climbs so you can aim to run a pretty consistent pace and effort.
For shoes I went with my Altra Olympus trail shoes. I had run most of my long runs in them and I figured with my lack of training the extra cushioning was a good idea, along with 10k of the course being on trail.
The weather ended up being rainy just before the race, and lightly raining for the first few miles, but it stopped from there out so it wasn't too bad. The only downside of the rain was the 5k railbed trail section of each of the two loops, it got fairly muddy in spots and had some puddles to avoid. It was certainly messier on the second loop after so many people had stomped through it.
I decided to run the first half at a qualifying pace and see how I felt to adjust from there. The first 10 miles felt pretty good, though a little tired even early on, but the railbed section at the end of the loop really slowed me down. At the end of the first loop I decided to just take it easy and run by feel for the second, which worked pretty well until just before mile 22.
At mile 22 on a random footfall my left quad cramped and seized up on me. Cramps aren't something that happens for me, so it was pretty strange - stopping and walking for a bit helped, and I was able to resume running but randomly it would lock up on me again. With no real goal I yielded to it to avoid hurting myself and walked the majority of the last 4 miles. It was somewhat frustrating as I was nearly on a PR pace up until then, but better to be safe.
I ended up finishing at 3:28:31 and was pretty happy with that all things considered. I ended up being probably the least sore I've been from a marathon, and I credit some of that to giving into the cramp and walking so much of the last 4 miles. Aside from that, that was my first marathon in the Altra Olympus and I think the max cushioning did save my legs from absorbing so much impact.
Manchester City Marathon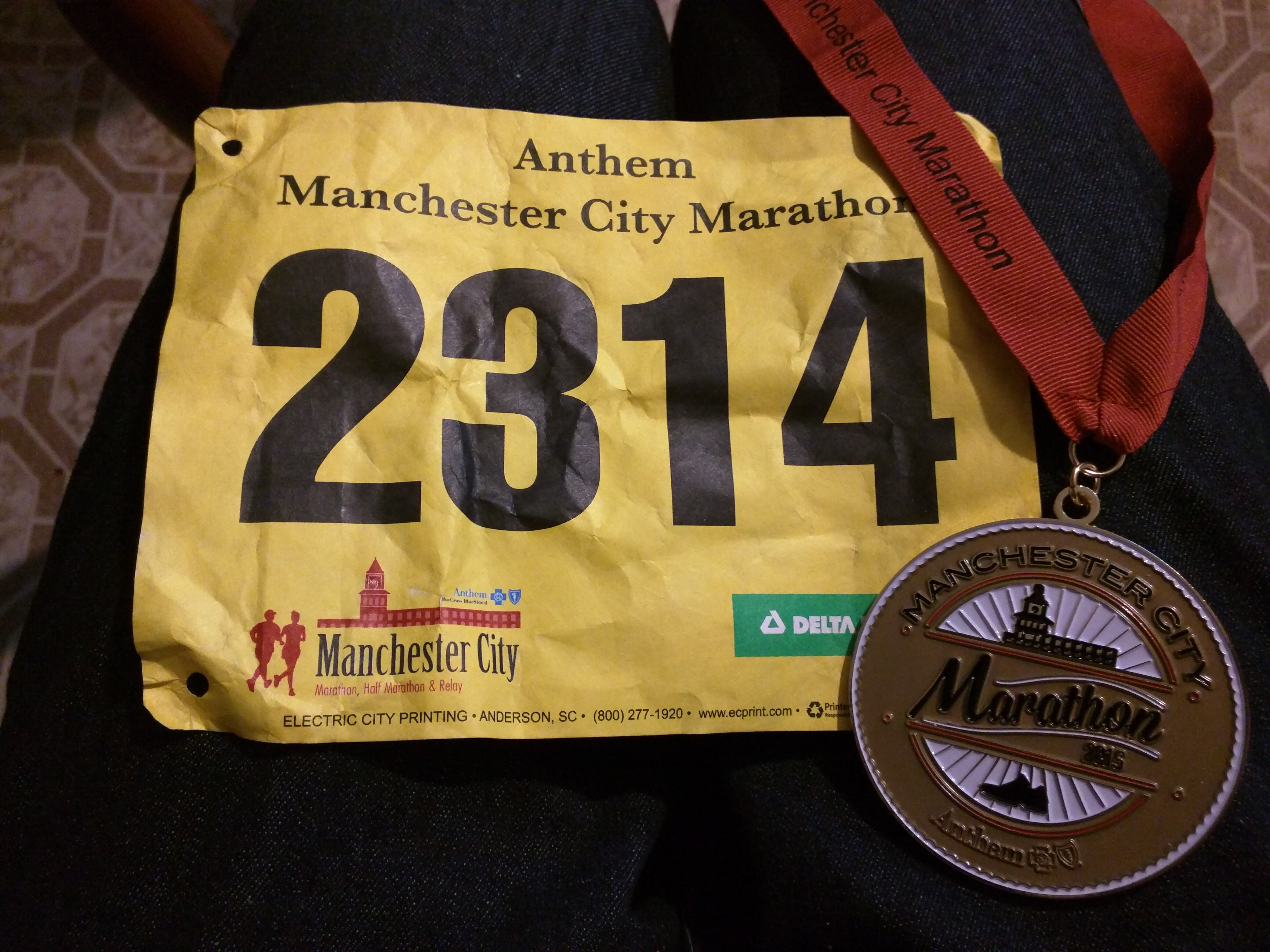 I felt good enough recovering from the LOCO Marathon that I started to wonder if I could actually do the Manchester Marathon a week later. It seems a bit crazy, but I've had a hard time lately of saying "next year" to things and this is an event I've wanted to do for a while. That, and I guess I have something to prove to myself, and sort of want to find where my line is at this point. And hey, if someone can do 50 full ironmans in 50 days, this seems way more reasonable.
Over the course of the week I kicked it around and looked at the weather - and it started to look pretty ideal. No real wind, high 40F's to start, and about 55F at the time I expected to finish with overcast skies. I ended up signing up at the Wellness Fair where you pick up your bib the day before the race, because, why not.
So, about those new shoes...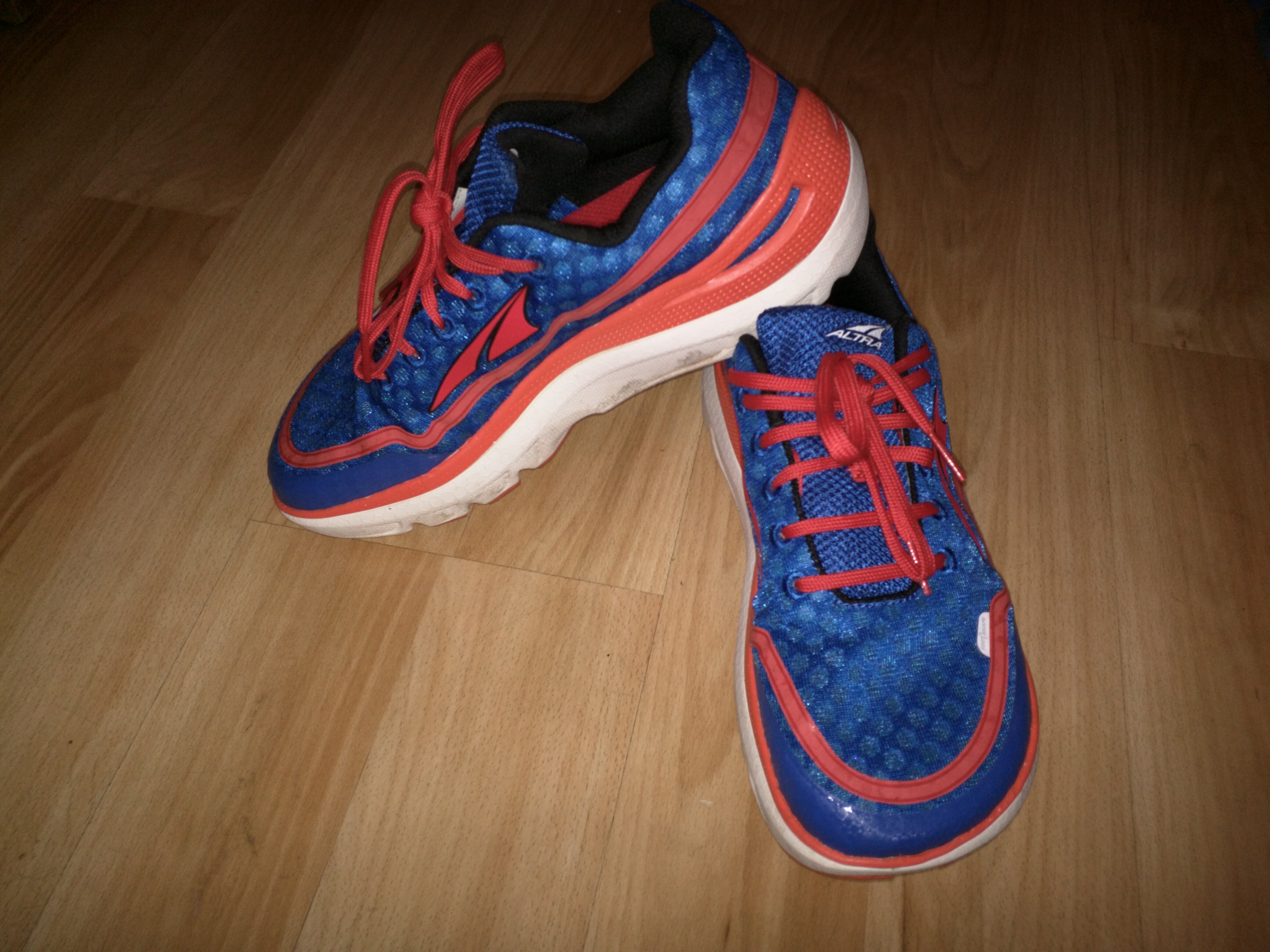 After the LOCO Marathon I started thinking that I've been doing so many of my long runs in the Olympus trail shoe on the road, maybe I should give the Altra Paradigm shoes a try. They're basically the road version of the Olympus, lighter, and with a slightly bigger toe box which makes my feet happy. So, I ordered them and received them Wednesday, and went on just a 1 mile run in them to test them out, and they felt really good.
Back to the Manchester Marathon
With the weather looking so perfect, I was able to go with my standard gear for the race - a Northeast Multisport singlet, a pair of Nike Dryfit shorts, my Garmin 920xt, my Mio Link heart rate monitor, my Oakley glasses and... that new pair of Altra Paradigm shoes I had run 1 mile in.
I know, I know, don't try new things on race day. But I had run 1 mile in them so it wasn't technically new, right?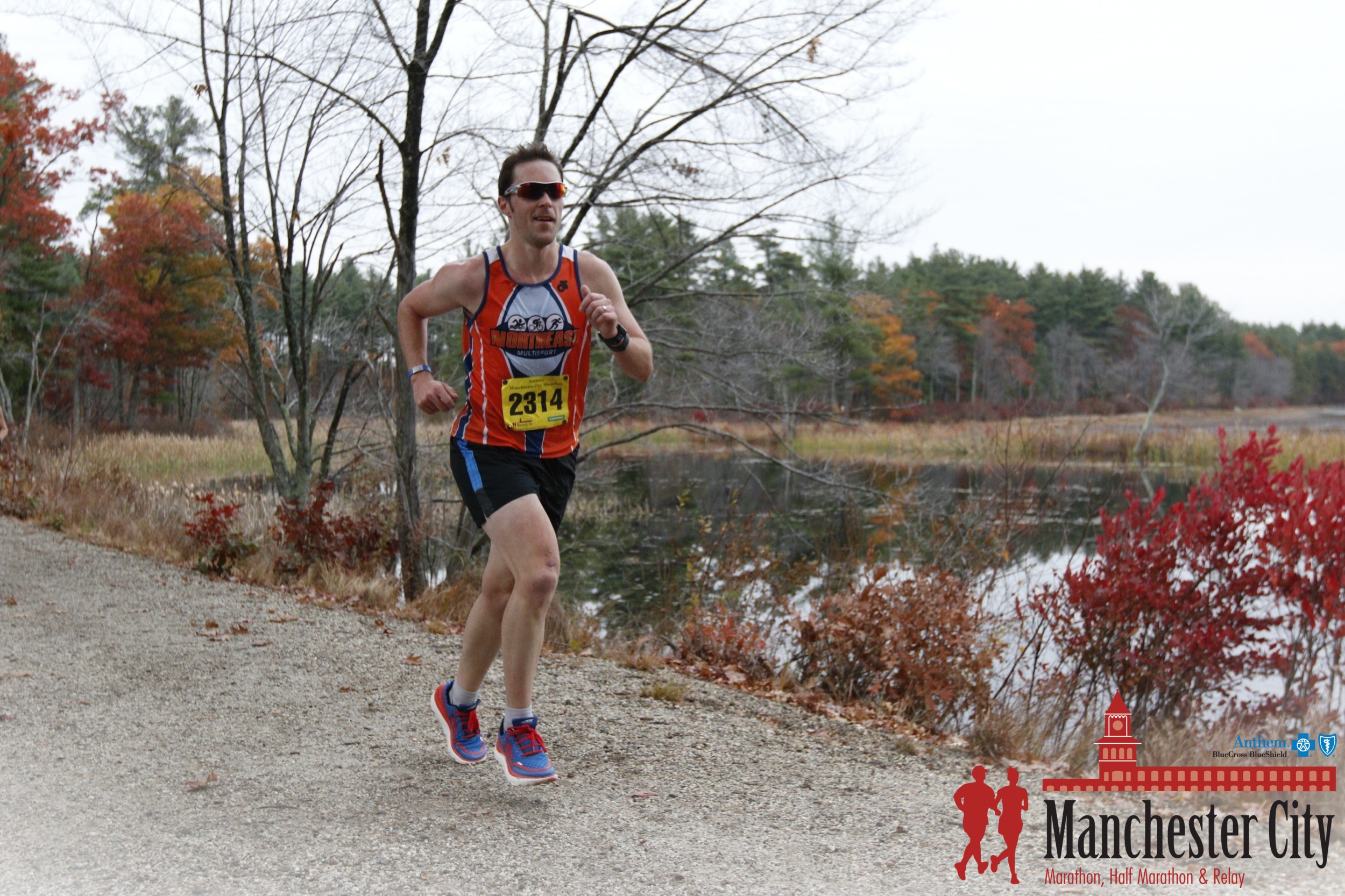 Manchester's a much hillier course than LOCO, and has a couple of shorter well groomed trail sections. It's a single loop course with Marathoners and Half Marathoners running the first 9 miles or so together, then splitting off, and rejoining around mile 17, then splitting again at mile 19. It's nice in that you see so much of the better parts of the city, but has the downside of not being able to bail after one loop if I wasn't feeling up to it after running a marathon a week earlier.
With the course having hills spread out across it you could over analyze it to death, but it was easier to just run by feel and effort rather than trying to decide what splits to aim for. I generally just took it easy on climbs, and recovered and took advantage of any free speed on downhills, so my mile splits were a little up and down.
Once the half and full marathon split around mile 9 or 10, it suddenly gets a lot more lonely. There were just under twice as many half runners as full, so it thinned out pretty suddenly. Around mile 11 the lead woman bridged up to me. I knew her name since so many spectators seemed to know it and cheer her on. We ran together and chatted for the next 7 miles or so, and it was good to have someone so matched pace with me to keep me from slacking off.
Mile 17 we rejoined the half runners, but more towards the back of the group so we were spending most of our time passing. At mile 18 probably the largest hill on the course comes up, which is a climb on Hanover street. At that point I was pretty tired and decided to walk the climb and split up from Mary (she went on to win overall!). From that point on I walked a couple of significant climbs and just ran to recover speed on the downhills. It worked fairly well and allowed me to not bonk before the finish.
The best compliment I got was at mile 26 on the climb up to Elm St. from a volunteer - he said I looked good, but then said that I looked a lot better than everyone in front of me, hah.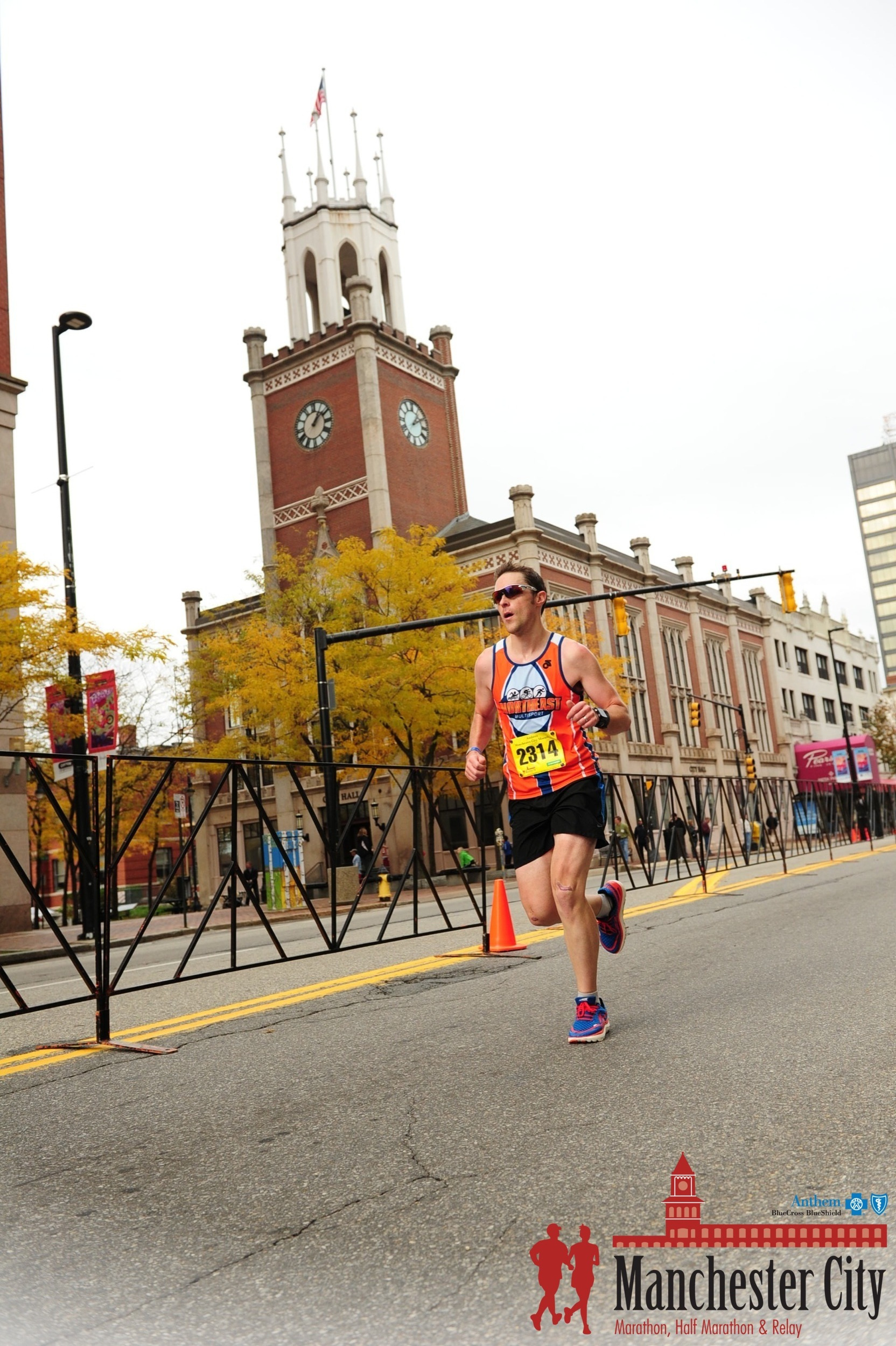 I finished in 3:23:25 - 5 minutes faster than the LOCO Marathon and 16th overall out of 199 runners. I ended up missing out on 3rd place in my age group by 45 seconds, which makes me wish I hadn't walked one of those hills. Overall I felt really good, and didn't have any cramps like last weekend. I did have a couple of Margarita Clif Bloks before the race to put a little extra salt in me in case that was the issue last week. The new shoes felt like I had run in them 100 times, and were a great combination of cushioning and weight.
3 months ago I would never have thought I'd be able to run a marathon this fall, let alone 2 a week apart. I'm so happy to have recovered well in 6 months and didn't have any double vision problems at all in Manchester today. Now, back to trying to qualify for Boston... we'll see what the spring holds.