Smuttynose Rockfest Half Marathon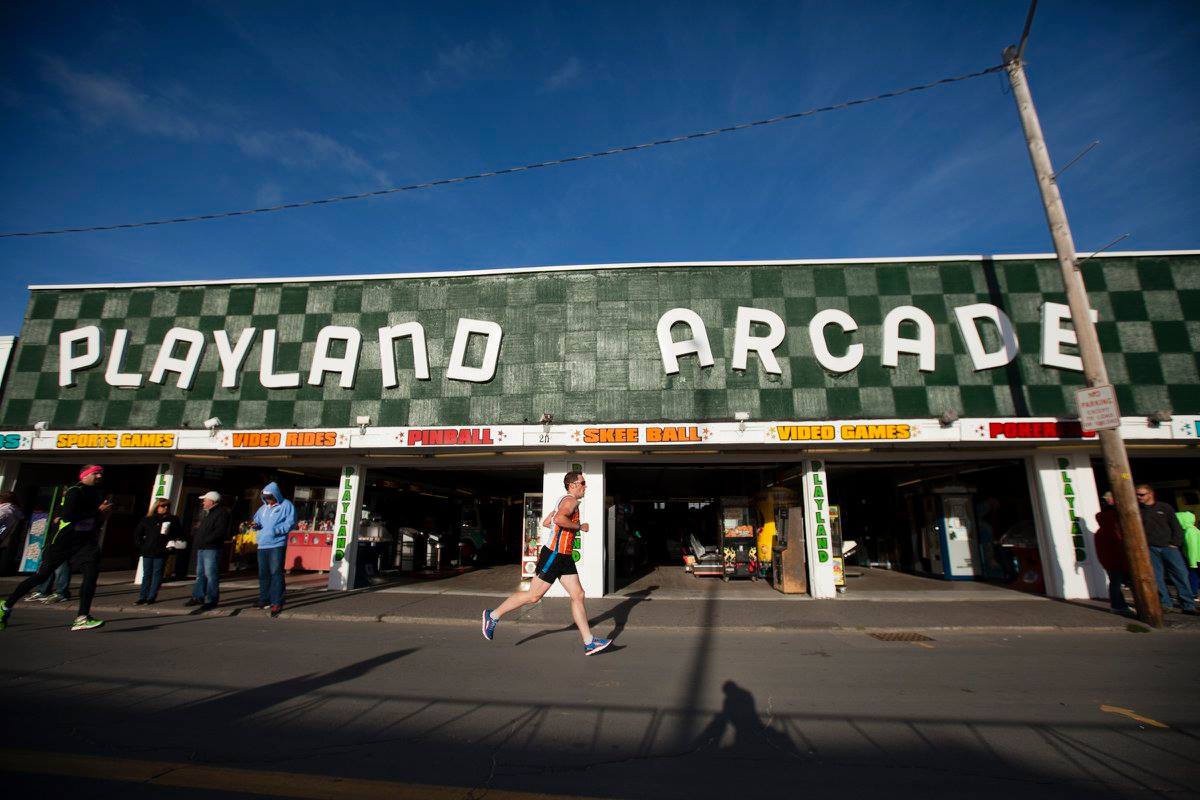 The Smuttynose Rockfest Half Marathon is a tough race to pass up, and I decided to use it to see how recovered I was physically since my crash compared to the same race last year. I was hoping to break back under 1:30 as I had for my past several half marathons and it made sense to go back to the first place I managed to in order to do that.
The Course
The course for the Rockfest is pretty ideal. It's flat, fast, and scenic along the coast and even is good for spectators since they're able to see a few different mile points of the race with just a short walk.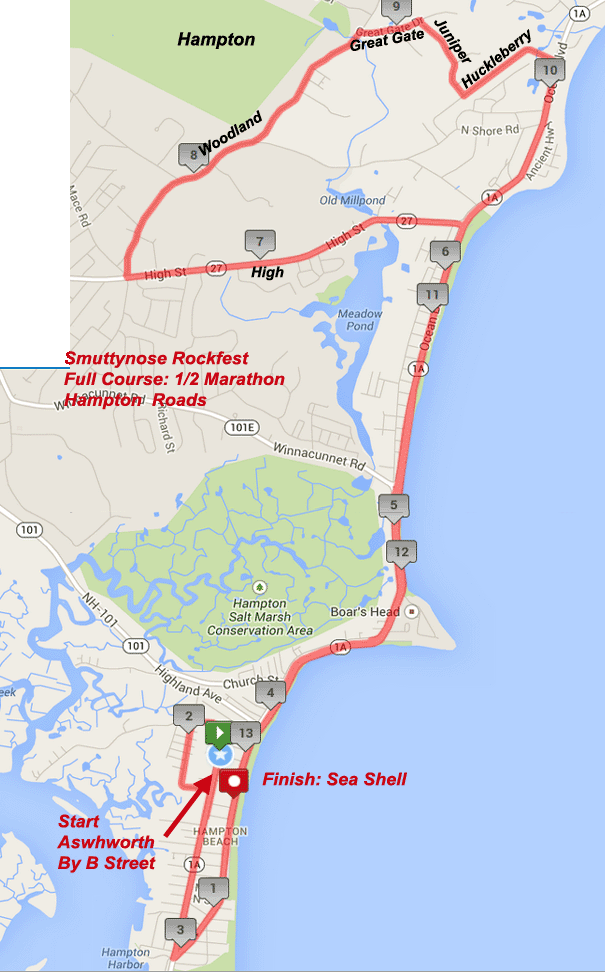 The race starts right in downtown Hampton Beach, and does 2 loops of the strip before heading up the coast accounting for the first 4 miles of the course. Now, with over 4,000 runners you have reason to be a little concerned about the 2 loops so early on getting congested, but they handle it very well. They send runners out in 5 waves which you line up for by your expected pace, and they divide the first loop from the second using fencing down the middle of the road. So, the first loop you're on the inside, and second loop wraps you onto the outside. It might seem like extra complication but it's done in a really seemless way and works well. I believe part of the reasoning for it is to minimize the amount of neighborhoods further up the coast that runners go through due to some complaints in the past (and thus the lack of a full marathon the past couple of years).
After the early loops the course goes up the coast until mile 6, then cuts inland and makes a bit of a lolipop back out to the coast to finish back the way you came. When running along the coast for so much of this race there's no shortage of spectacular views.
The Weather
Due to a hurricane coming up the coast, the weather for this year looked pretty dicey as the event drew near. The forecast went from good, to cloudy, to cold, to rainy, to really rainy and back again. I was preparing myself for at least a light rain but we lucked out and ended up with great weather day of - in the low 50's and sunny with just a few clouds.
But... it was a bit windy. Being on the coast like that amplifies those kind of conditions and miles 4 through 6 ended up being a fairly strong headwind. It took some extra work to keep pace and as I watched my heartrate climb up and up I told myself that it was worth it as it was going to be a great tailwind to the finish.
My Race & Equipment
Since overheating is my nemesis a race in the low 50's is a welcome temperature. I wore a singlet and shorts, and for shoes I went with the Altra One 2's in my longest race in them to date. I was also using the Mio Link optical heart rate monitor for the first time in a race. Aside from that was my typical Oakley Radarlock glasses, Garmin 920xt watch, and RoadID.
I also wore a Spibelt under my shirt to carry my phone with me to use the Livetrack feature of my watch, and let my wife at home see where I was at. Yes, even my aircraft carrier-sized Nexus 6 phone fits in that, but just barely. The belt itself and stretch pocket is great, it stays snug and secure while being perfectly comfortable and not bouncing around. I generally forget it's there. The Livetrack feature of the Garmin 920xt is great, showing my trek so far, pace and heartrate. You can share it just to certain people, or optionally on social media.
The Mio Link worked pretty well, I've learned to make sure it's tight enough just before I start running as being just a touch too loose allows some light to sneak under it and throw off your heartrate reading, generally in the upwards direction. It's not quite as accurate as a chest strap in some ways, but it's so much more comfortable that it's easily worth the trade off.
The Altra One 2's were generally really good, the lightness, flexibility of them, and rebound of the cushioning feels great and fast. The only downside was that around mile 10 I became aware that my right big toe was tapping the end of the shoe and by the end of the race it was a bit bruised. That fit issue is listed as corrected in the Altra One 2.5 so I hope to try those out soon.
I intended to aim for running negative splits as I've done at this race in the past, dropping my pace by 10 seconds every 4 miles, but the headwind up the coast shuffled that around a bit with my middle 4 miles being my slower ones. The funny part is that of course once back out on the coast later, there was a gust or two of tailwind, but for the most part the wind seemed to have died down.
That ended up being just fine, and I not only hit my goal of running under 1:30, I ended up PR'ing by 11 seconds and finishing 37th overall out of 4,369. That was a great sign that at least physically I've caught back up to where I was last year, and even a little better.
My favorite part of this year's race? It's kind of a toss up between the Playland Arcade photo they snapped of me, and the amount of community involvement there was. It was great to see people outside in the neighborhoods at the Northern end of the course excitedly watching the race. I got high 5'd by some small children and there was even a section of road with a fair amount of chalk encouragement drawn on the road. That kind of stuff really makes events feel worthwhile and inspiring. Looking forward to next year!