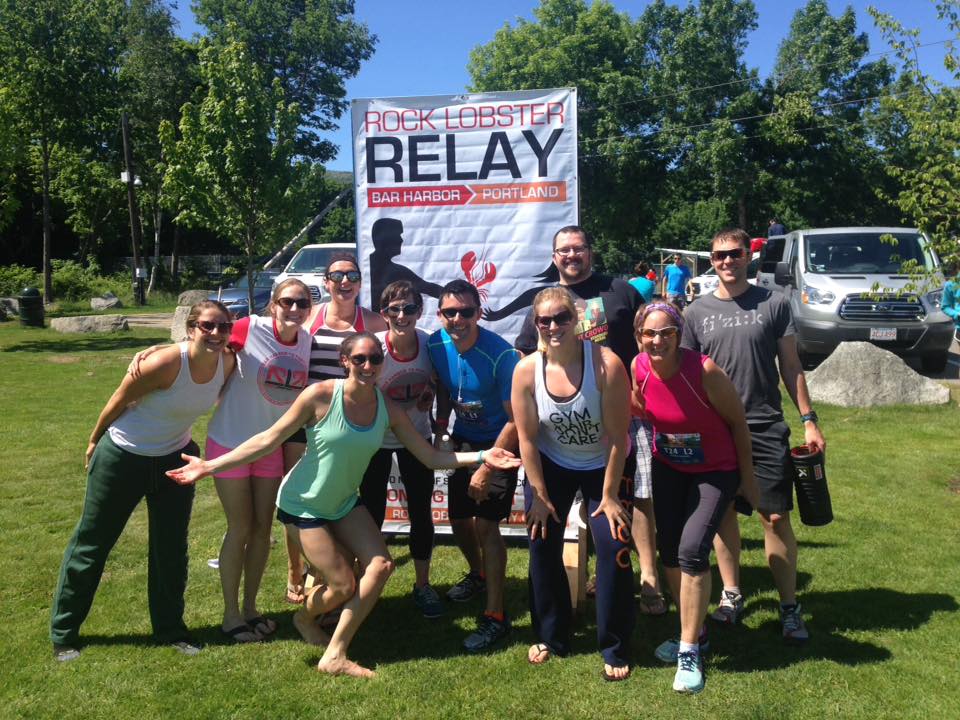 Towards the end of last year, a co-worker and friend of mine whom I had run the Reach The Beach New Hampshire relay with several times let me know a new race was starting in June 2016: a Reach The Beach style relay race along the coast of Maine. By that I mean it's a point-to-point, 24+ hour, 200 mile, 36 leg relay race that you typically do with a team of 12 people, though some do it with teams of 6 or even less. Races like that with the right group are lots of fun, a great adventure, and help you get to know people in a whole new way.
The Team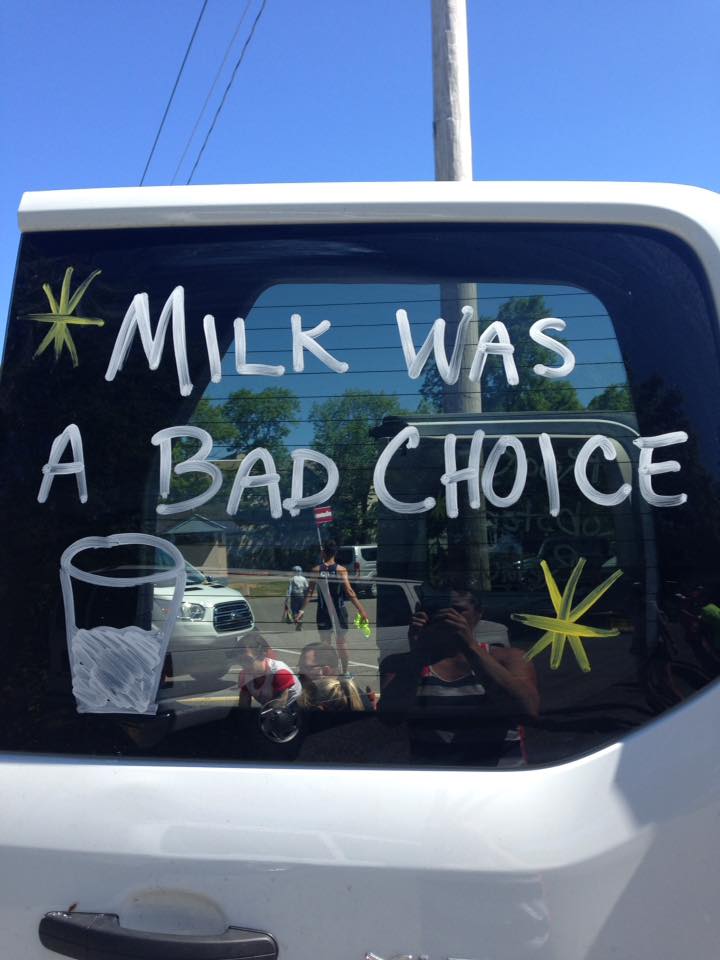 My co-worker Alex is originally from Maine, and he and his wife Becky were really interested in putting together a team. Through friends and friends-of-friends, we gathered a group of 8 women and 4 men to make up our 12 person team, with 4 having run relay races before.
While that was a fair amount of new people, we did a good job of sharing around tips for prep as well as for the race itself, and had people in each of our 2 vans who had done relays before which was great.
We also settled on our team name: Milk Was A Bad Choice.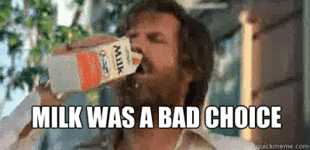 Preparation
As a team we used experience from past relay races to help with a few things. Number 1 was van rental. First, we didn't go with Enterprise. They've screwed things up more times than I can count. Second, we got Ford Transit XLT vans. They get decent gas mileage for their size, are current technology-wise, have loads of space, and are easy to drive. They're tall enough that many people can stand up almost all the way in them making clothing changes easier too.
We also had a handy Google spreadsheet that my friend Dave created for Reach The Beach that we borrowed. We share edit rights around for that, and team members are filled in along with each leg's distance, elevation gain, and the team member's estimated pace. That calculates how long it will take for each leg, and when you've entered your team's start time estimates when each person will be running. As the race goes on you can fill in real start times and runners past that will have their times corrected. It's incredibly handy for coordiating between vans and for just having an idea of what times people will run for estimating paces - knowing they're running at a cooler or warmer time of day is important.
It also meant we had good tested checklists like the one below to share around for people to use to make sure they had everything they needed.
Clothing
Sunglasses
Running shoes x 2
Running shorts x 3
Running shirts x 3
Running rain jacket/vest
Running tights if possible cold weather
Running long sleeve if possible cold weather
Running hat and/or visor
Jeans & shorts
Socks x 3
Jacket/fleece/sweatshirt
Gloves if possible cold weather
Underwear x 3
Shirts x 3
Long sleeve shirt
Recovery compression socks
Safety Gear
Running headlamp
Extra batteries for headlamp
Night running reflective vest
Red blinking lights (if not built into vest)
Running Accessories
Waist belt for phone (like a Spibelt or Flip Belt)
Number holder belt or Race dot magnets
Muscle roller
Body glide or Chafe-X
Cooling arm sleeves if possible warm weather
Electronics
Running watch and charging cable
Cell phone and charging cable
External battery back for charging devices
Mio HR bracelet and charger
Headphones if you wear them
Car adapter to AC and/or USB
Did I mention chargers?
Nutrition & Fluids
Gel/Gu packets x3
Water bottle, possibly one to run with
Cash to purchase food at transition areas
Other
Umbrella
Sunscreen
Bug spray
Towel
Pillow
Roll of toilet paper (in case a port-o-potty is out)
Sleeping bag
Camping pad
Newspaper or silica gel packets (to dry out shoes if wet from rain)
Baby wipes for clean up if no shower is available
First-aid kit
Gallon size zip lock bags x 3 (Pack each running outfit into one)
Fabric softener sheets x3 (one for each bag to pack used clothes back into)
Lens cleaner and cloth
Cooler
Race Day

We were a little nervous about our assigned start time - 10:30am - in relation to the time the race aimed to have everyone off the roads - 7pm the following day. Based on our estimates in our fancy spreadsheet that gave us 1 hour 30 minutes of buffer, but if we were off in our estimates or something went wrong, that could get eaten up pretty quickly (6 runners off by 10 minutes in their 3 legs total? there goes an hour).
We got more nervous when we got a call the night before the race that one of our teammates had a stomach bug and had been tossing her cookies and everything else the entire day. Her fiancee was also running with us, and we were worried about him getting sick as well so we came up with 2 back up plans for how to cover their legs with other runners if needed.
The race starts in Bar Harbor and runs to Portland, so most of the team stayed up in Bar Harbor the night before the race to make things easier. That also let us get in a breakfast with most of the team the morning of the race and talk over some things.
We headed over to the start line to register, pick up our race packets, and attend the safety meeting. If you've run something as large as Reach The Beach before, you know this can be a zoo. But, being it's first year this race had only 54 teams compared to Reach The Beach's 500+ teams. With how they spread out the starts as well, registration was painless and the safety meeting was on the grass in front of the start line and couldn't have been easier.
Once our first runner was away, I was in van 2 so we headed towards the first van transition point, scoped it out, happened to see my friend Katy on another team starting her leg from there as we did, since her team had started a few hours before us. After that, we grabbed a lunch close by and then relaxed at van transition until our turn to take the baton around 2pm.
Luckily our sick runner was in van 2 giving her a little more time before her first leg the next day, and she's super tough, managing to recover and run her 6 mile first leg on a half of a grilled cheese sandwich in 24 hours at an 8:00/mi pace. Rocking it!
My First Leg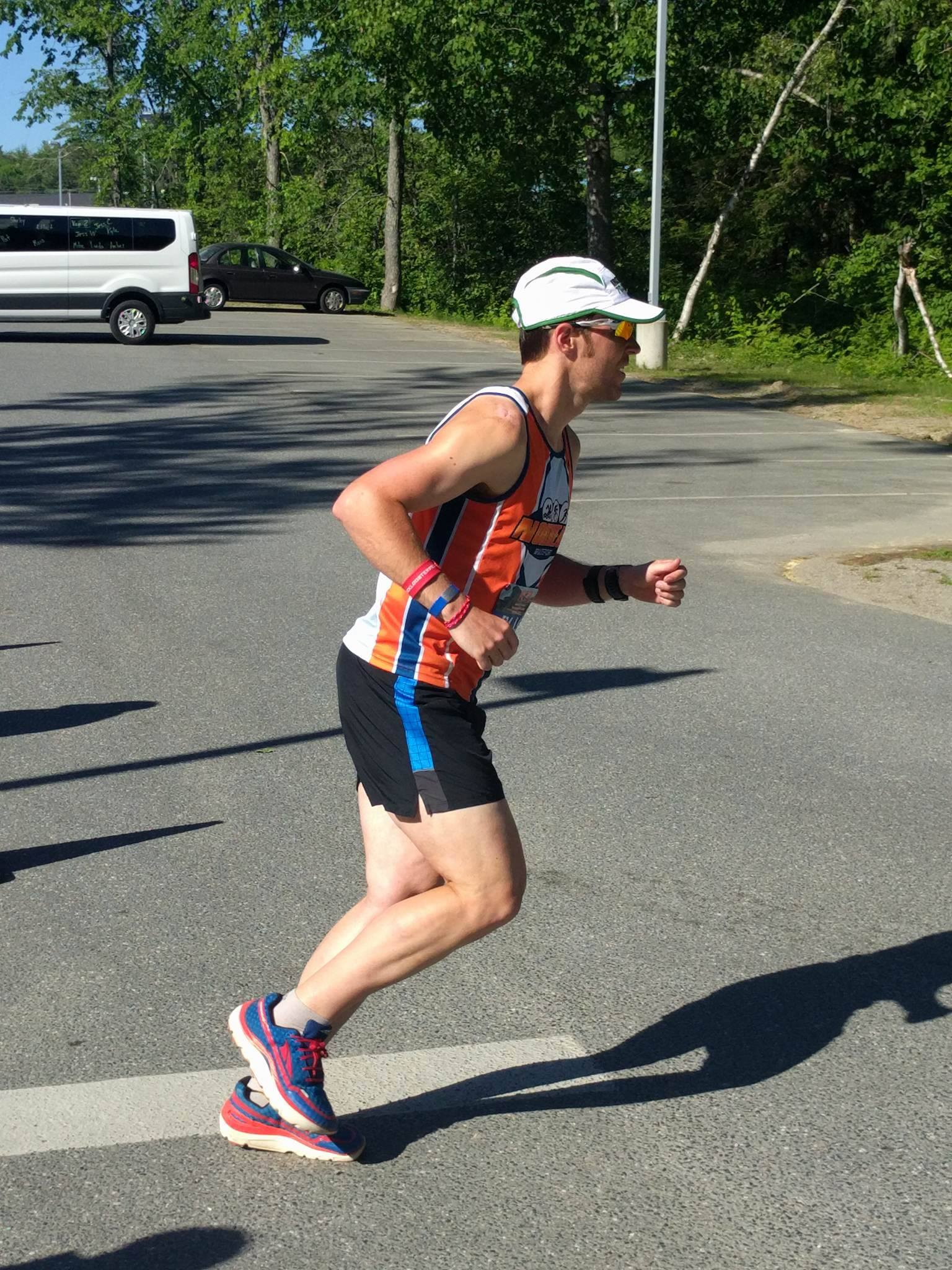 I was runner number 9, with my first leg falling around 4:40pm. It started at an elementary school in Ellsworth. The volunteers there (like at every transition area we came to find) were very friendly, great to chat with, and knowledgeable about the leg ahead. This one was manned by people on the school's PTO who were using the money donated to them by the race for volunteering towards improvements to the playground which was great to hear. They let me know that when my leg goes through downtown less than a mile in, there was a crosswalk I had to cross and run on the other side of the road to stay on the course. A runner earlier had misread the course signs and gone 3 miles off course because of it. Ouch - but it pays to be a team starting later for info like that.
It was getting in the upper 70F's at the start of the leg and starting to feel warm for running. The first 3/4 of a mile was gradual downhill into the downtown area so I was cruising along at a pretty good pace without much effort, I then turned right and saw a sign pointing straight but it was turned and at first I thought it had just been knocked that way, but as I went past it I realized it was pointing to cross the road and this is where that runner went off course. I was very happy to have talked to the volunteers at that point. Unfortunately there was a lot of traffic and the light must have just changed because I ended up standing there still for a full minute before I was able to cross and continue. It was a bummer to watch the lap pace on my watch steadily climb from 6:30 up to 7:30 before I could get going again.
The rest of the leg was on route 172, and while it wasn't a back road it wasn't terribly busy and for the most part had a decent shoulder to run in. There were a couple climbs but nothing major and mostly gently rolling. I had estimated conservatively a 7:30 pace for the 7.3 mile leg, but ended up with a 6:55 average pace including my minute stop so I was happy with that and stole a few minutes off our estimated finish time.
With how the staggered start had been, we knew we had 17 teams behind us when we started out of the 54 total. At the start of my leg the volunteer had said they were waiting for 13 more after us, so that gave us an idea of where we were on the course compared to others. I passed two runners ("kills" in relay speak) getting us back up to 15 behind us.
Van Transition and Some Sleep
We finished our van's first 6 legs around 8:30pm, grabbed some dinner together and headed to our van transition. Cassie (who had been sick the day before) and her fiancee Ryan were driving their own car because of not being able to meet up with the vans originally and wanting to not get others sick if they were contagious, so they went off on their own to sleep and met back up with us a little before their next legs.
The van transition was at a YMCA they had open for runners for showering, they had the gym set up as a sleep area, and of course had real restrooms. It worked out really well as a transition area where we intended to catch some sleep before our next legs around 2am. I slept around 1.5 hours in the van, but spent a lot of time out at the transition area watching other team's runners come through and just enjoying the environment.
My Second Leg
My second leg (leg 21) ended up falling around 4:30am. Being June in New England that meant it wasn't quite dawn yet, but was already getting pretty light out. The race had set rules that night safety gear had to be worn from 8:30pm-4:30am, so that meant that I didn't have to wear a head lamp for my run which sometimes bothers me bouncing around. I ran with my reflective vest on just to be a little extra visible to traffic.
This leg started at an American Legion close to a downtown area. We asked the volunteers there how many teams they were waiting for and that number had gone down from 11 to 4 since my last leg, and we were starting to feel the pressure of being towards the back of the pack.
The leg was another 7 mile leg with similar rolling terrian running along route 1 with no real climbs. It was of course much quieter on a Saturday morning at that time along that road, and was a lot cooler than my first leg, in the low 50F's.
It had been quite a while - maybe 5 minutes - since another team had headed out when I went, so rather than having anyone to catch I made my goal to average sub-7 miles again since I had done that on my first leg. It was cooler, so that should be easier for me, but after only having 1.5 hours of sleep it probably balanced out to feeling about the same effort as my first leg was.
Around mile 2 I caught up enough and could see another runner in the distance, so he became my rabbit and I worked on catching up to him. It was around mile 3.5 when I did, and I never know whether I should say something as I'm coming up behind someone, or just pass widely next to them, as both have spooked people in the past. I went with just the wider pass and got a "Oo! Oh!" as I went by. Another "kill" to tally on our van's window along with the "zombies" statistic (how many times we were passed) that we added overnight.
I hit my sub-7 goal but felt like I was almost running at tempo effort-wise even though my heart rate averaged at only 164. I think it was the lack of sleep starting to catch up with me.
Van Transition and More Sleep
After finishing up our second set of legs around 7:40am, we headed to the next van transition where we would pick back up and grabbed breakfast along the way. It was at a high school with restrooms and lots of shaded grass areas so we all crashed under a tree and got an hour or two more of sleep before our next legs.
My friend Katy had been through a couple hours earlier, which worked out since she realized she left her water bottle on the ground there and I was able to grab it for her. We picked back up around 1pm.
My Third Leg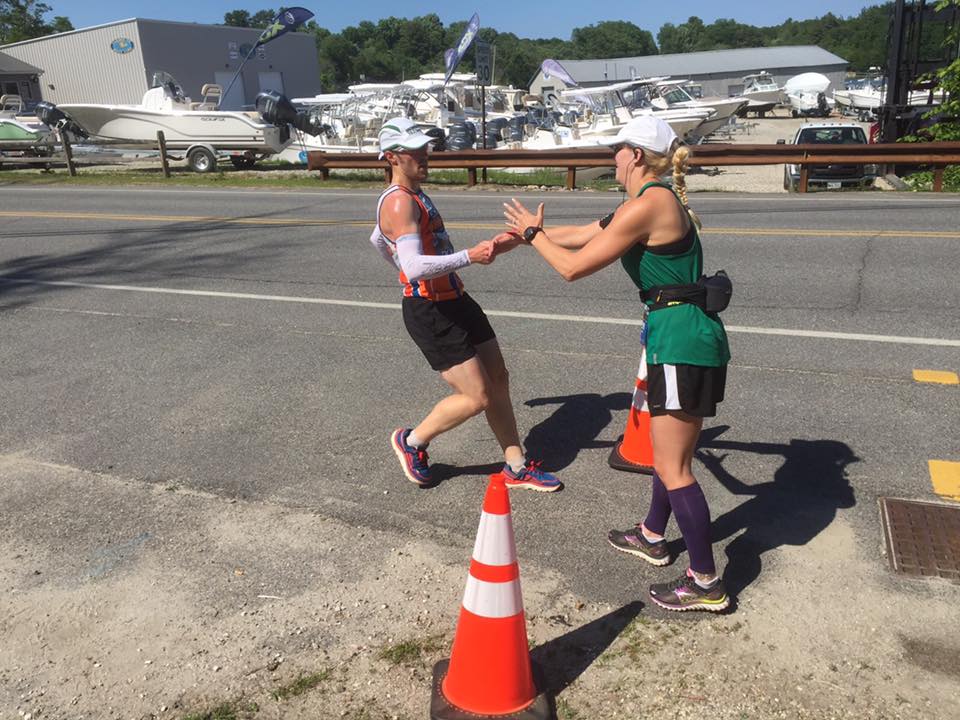 My last 6.5 mile leg started around 2:50pm from the LL Bean mothership in Freeport, ME next to the big boot. That made for a bit of a busy area to find parking, and the course notes listed 3 crossings on crosswalks during the leg which I took note of given my experience on the first leg of mine.
It was a bit busy when I started running through the parking lot and down the sidewalks with tourists and shoppers all around, but I was able to weave around people pretty well. This was another case where I hadn't seen any runners go off from transition while we were there, so rather than having anyone to try to catch up to I had the goal again to run a sub-7 average pace.
To do that though, getting stuck at a crosswalk was really not going to help things. It was fairly warm again and I had just watched the first 2 runners in my van along with other teams struggle in the heat, so I knew it would be more of a challenge on it's own. I wore some Zoot arm coolers (a thin material to block the sun and made from a fabric that gets cool when wet) and asked my van to meet up with me at mile 3 with some water so I could both drink some and pour some on myself to cool off a little.
Around mile 1 I saw the first road crossing coming up, maybe 0.2 miles away, and the light was currently red - I was not going to hit it at the right time to avoid stopping. But, I glanced over my shoulder and it was clear - and with the way the light had traffic stopped there was no traffic coming in the other direction either, so I crossed the road early and ran on the grass on the other side until I got to the light where the sidewalk started. That worked out really well and I didn't lose any time at all.
The next crossing came up around mile 2.5. This one though, wasn't going to be a problem. It was a busier route and intersection without a light, so the race had hired a police detail to stop traffic for runners. Perfect! I was wondering if the officer would see me since he was in his car and I wasn't sure how long it had even been since a runner came through but he did, stopped traffic for me, and I cruised through without a problem, still on track for my goal pace.
I was getting warm by this point, and was a little worried because I hadn't seen my van go by yet to meet me up ahead. I figured they were stuck in traffic trying to get out of that downtown area though, and worse case they would just meet me a little further up the road than we planned once they caught me. But, they ended up passing me around 2.75 miles at the perfect time, and Becky handed off a bottle to me - I got a drink, dumped it all over and felt a little cooler.
At mile 4 was the only real climb of the leg, but it definitely slowed me down and took me a bit to recover from. Around mile 5 I ran past a house with a sprinkler on close to the road, so made sure to run through that on my way by. I was feeling pretty good at that point and was on track for my goal pace, then ran through what I thought was a pretty major intersection yet it had no race course signs saying to go straight or anything like that. That made me worry that I had missed something and gone off course. A car beeped going by me a minute later, not in a very friendly way, which even more made me think I had missed something. I decided I was around 1 mile from what should be the end of the leg at that point, and that I would run another half mile before I needed to come up with a plan. Luckily, about a 1/4 mile later I saw a "straight" race sign, and relaxed. This was the downside of being so alone on the course at times - no one to follow.
I came into transition and hit my goal with a 6:51 average pace, and was excited to see a couple runners up the road on other teams - we were starting to bridge back up, woo whoo!
Legs 34-36 and the Finish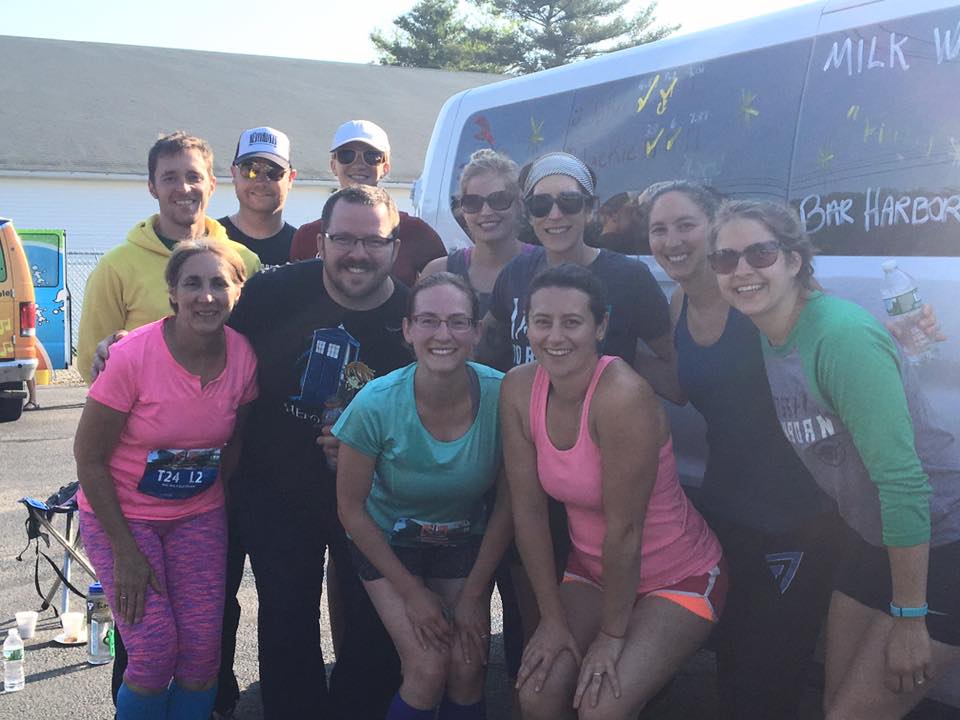 At that point, Cassie was really feeling recovered from her illness and banged out a sub-8 pace, passing another team. As our van was driving to the next transition we drove past 5 other runners along the way, and the next transition was nice and alive again. Ryan ran a solid leg next and passed around runner, then Gena finished things out catching up to another 3.
The last leg was scenic with bridges and bike paths, and looked like a lot of fun to run. We came in 3 minutes under our original estimated team finish time even with all the hiccups along the way, which was great. The race provides pizza, beer, medals, and a lobster roll for each team member at the end. There's an announcer calling out and drawing attention to the pier where the finish line was whenever a team was coming through. We ended up finishing with 5 teams still on the course, so our start time worked out just fine. We ended up finishing 36th overall on the official results.
Thoughts on the Race Overall
Especially for it's first year, the Rock Lobster Relay was very well put together and clearly learned plenty from other relay races out there. A lot of the course was really nice, it was all well marked with signs, the volunteers at each transition were great, and police details were in place where they needed to be.
There were only a few things that I thought could improve it, and many of those the race didn't even control. A simple one was some typos in the course maps PDF they provide, where a right turn said left or vice versa, something easily fixed for the future. It would also be nice to include a net elevation number in addition to the elevation gain for each leg, so you would know if the leg was overall more downhill even if it had some climbs.
There were some legs that were largely along busy roads like route 1 which weren't terribly enjoyable, but I'm not sure if there are really any good alternate road ways to get between the points. There were some transitions that were small and got a little congested, which will be important to address as the race gets bigger (I can't imagine it won't!) in future years.
I think the 2 things that would improve the race most are not really in the race's control, but will happen on their own naturally. The first is having more teams so there's less long loney runs especially for those night legs. Having a decent amount of teams around really helps with the atmosphere to everything, especially at night with everyone dressed like a Christmas tree.
The other is community involvement. Reach The Beach has been going on for 16 years, and many people in the neighborhoods it goes through know it's coming. There are stretches where lots of people come out somewhere, get a fire pit going, and cheer people on all night. My favorite relay race experience was 6 miles into an 8 mile leg at 3am after a long climb. Right where the climb levels out, 2 people had come down to the end of their dirt driveway in their wheelchairs and were high fiving every runner as they went by in the middle of the night. It was awesome.
While Rock Lobster didn't have that this year, we had a lot of people ask us what was going on along the course of the race, and everyone we told thought it was both crazy and really cool. Restaurants were floored by how many parties of 6 they were getting. Children were setting up lemonade stands next to van parking at transition areas and selling out. I think it's not going to be a problem for the community to get into it, it just needs some more years. About the only thing I can think of the race can do is put out some signs a week or two before the race to remind folks that it's coming through again.
With its' smaller local race feel compared to the larger races, it's definitely one I'll keep on the radar and look to do again. Our team ended up working really well together, so here's hoping we can reunite next year!