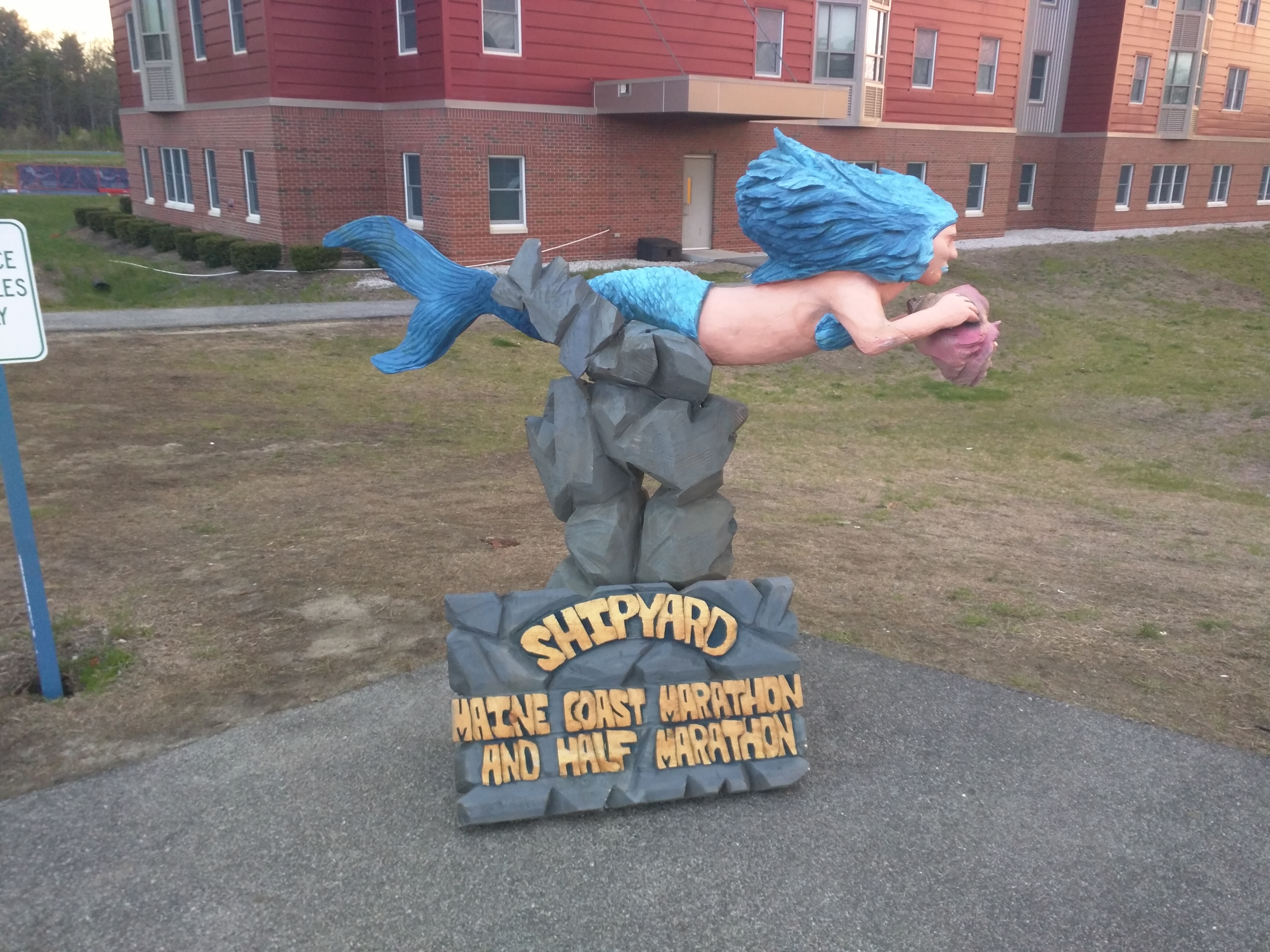 The Maine Coast Marathon is a point to point marathon running from Kennebunk to Biddeford along the Maine coast, along with a half marathon the day before and a 39.3 option for running both races.
It's a race that was around back in the 1970s but had a hiatus for many years and has along recently come back. It's a fairly flat spring marathon taking place in mid May which can really go either way on temperatures. It can of course be used as a qualifier for the following year's Boston Marathon.
Race Preparation
Leading up to the race I started tapering 3 weeks out. I generally only taper when something is a real goal race for me, for most I train through them taking only a day or 2 off beforehand. I intended to take a stab at qualifying for Boston at the Maine Coast Marathon this year and while I wasn't terribly optimistic based on training and my weight being a little higher than when I PR'd, I wanted to do all I could to get things aligned. I figured I had a chance if everything under and not under my control went perfectly for race day.
It's a 2 hour drive for me, so I left at 4:30am to drive to the finish and take the bus to the start. The finish is on the UNE campus, so parking wasn't a problem. Registration was a short walk from where I parked, so it was easy to pick things up and drop them off at my car before jumping on one of the buses.
I wore a Spibelt as I tend to do for longer races. I keep the pocket against my back with my phone in it, and use the loops on the sides for 4 gel packets. It's pocket is stretchy and holds for phone snug so it's comfortable and doesn't bounce around. Pretty much the only reason I bring it is to use the Live Tracking feature on my Garmin 920xt watch so my wife can see how I'm doing.
Weather Conditions
The temperature for the race was a concern as it had been pretty hot in the past and that really takes me down in long races. This year the temperature ended up being pretty ideal - hanging in the low 50Fs for much of the race. It was warm enough that it wasn't terribly uncomfortable to wait around at the start in a singlet and shorts before the race, which was important as there wasn't anywhere you could go inside to warm up leading up to the start.
The tough thing about this year was the wind. It was extremely windy for running in, with winds around 18mph. Obviously with a point to point race direction plays a big part in that, so as one of those things I couldn't control I was really hoping for the best.
Game Time
The start had markers for runners to stage themselves based on their projected finish time. I was aiming for 3:05, but expecting more around 3:15, and the lowest marker was < 3:30. I lined up at the back of that section but it hardly filled in leaving me in the second row for the start. Not a bad thing, but felt like more pressure than necessary.
The start of the race was fast with a tailwind. I was aiming for an average pace of 6:50 as my stretch goal and that was easy to maintain with little effort for that first stretch. At mile 5 however, the course took a sharp right turn into a headwind. It took a lot more effort to maintain my pace in that stretch but I held on to see what would happen as the course made more turns.
Mile 7 turned and started heading NE out along the coast. Being exposed along the coast like that made for some pretty strong crosswinds, making it difficult to even keep running in a straight line. Oof.
By mile 10 I was already feeling a little tired fighting the wind, so I eased up a bit and waited to see if things improved much. By mile 17 I was resigned to not hitting that stretch goal as the things I couldn't control, in the wind, hadn't gone perfectly as I needed.
From there out I relaxed and enjoyed the scenic course along the water. It winds through several downtowns with lots of folks out cheering everyone on. The race had a great atmosphere.
Aid Stations
The aid stations were well set up, with all of them consistent as far as food being first, then water, then Gatorade. It's always helpful to know exactly where you need to go to get what you want. Aid stations are about every 2 miles and every third one has some sort of food - everything from jelly beans to peanut butter pretzels and fruit to M&Ms. The volunteers at the aid stations were really helpful with some really getting into it with costumes and the like.
The Finish
Not on track to come close to PRing, I didn't have a lot of motivation to push much in the last few miles and really slowed down, walked through aid stations, etc.
The last mile or so winds along the UNE campus on paved trails and finishes on the track. It was a really enjoyable last mile, and there were plenty of people cheering everyone along at the finish so it was hard not to finish strong.
The race provides water in branded race waterbottles to each runner, as well as a finisher's medal and and assortment of post race food. The finish was nice and close to the parking lot where the buses picked up in the morning, so it was a short walk back to the car after the race.
Race Video
A really neat feature of this race that I hadn't seen anywhere else yet is video of runners along the course through a company called iRewind. They have cameras as the start, a couple places along the course, and a couple at the finish. They pick out runners by bid number and then splice the video clips all together for you. A lower quality version on their website is available for free, though you can also download a higher quality one for $15. It's really nice to have from a training perspective in that you can watch your form and how things look at different points all long the race. Here's mine below.
Overall
Overall the Maine Coast Marathon's a really fun, well run race. I'll very likely do it again in the future and if I'm not trying to qualify for Boston I'll probably do the 39.3 challenge to do both races over the weekend.
As far as a qualifier it's not bad, but not as favorable of a course as Baystate Marathon or even the Loco Marathon. Both of those also have faster pace groups to run with that might help as well.