Inaugural Harborside Half Marathon

Here's a quick recap of the first year of the Harborside Half Marathon put on by Loco Races.
I only noticed this race because of a promoted Facebook post by Club Loco, so there's some ad dollars at work. ;) It's a new race this year with a finish on the water in Newburyport, with much of the race going through Newbury. It finishes with some of the same pedistrian path that the Newburyport Half Marathon uses, so if you've done that race it'll feel pretty familiar at times.
The Course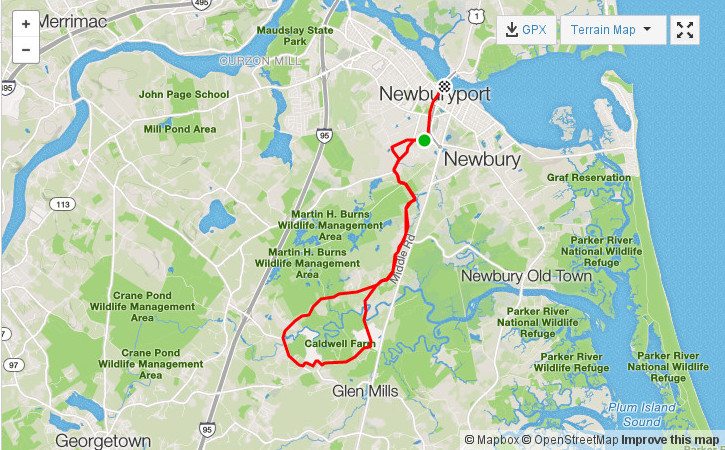 The course is largely a lolipop, though with different start and finish points. Registration and the finish is located at Michael's Harborside restaurant in Newburyport, but there are shuttles to the start about a mile away, which was in more of an industrial complex with more room for a large starting crowd.
It was a bit chilly, but one of those borderline mornings that was going to warm up a little, and it's always better to start cold for a running race rather than overheat later. The swag for this race was a gym bag rather than a t-shirt, and Loco had a U-Haul truck at the start line so you could take some clothes off at the last minute before the start, throw them in a bag and on the truck, and pick them up at the finish line which works out well.
The course is pleasant and scenic, running through neighborhoods and along nature preserves out in Newbury. There's a chunk that could be two-way traffic on your way back later in the race, but I was in the front 15 people and only saw 1 person heading the other way on my way back out of 714, so it wasn't a problem.
While there's no real climbs, this isn't a perfectly flat race. We'll call it New England flat. There's more or less constant gentle rollers adding up to 433ft of elevation gain over the course according to my Garmin 920xt watch. It's not a bad thing, just enough variation up and down to give some variety to your legs.
The Race... and a deer?
The race itself went mostly as expected for me, and almost unexpectedly a PR. With the lack of any big descents (putting more banging on my legs) I decided to wear my Altra One 2.5 shoes which are super light and fast, but I generally limit them to nothing longer than half marathons.
My only real goal was to run under 1:30, and just planned to run by feel. With as chilly as it was, that meant I ran my first mile fastest with a 6:14 pace as I was trying to warm up. I then mostly leveled out to a 6:30 pace or so, running a 1:27:00 and coming within 10 seconds of my PR. I probably could have run tangents a little better, as I ended up with an extra .1 miles on my watch by the finish which would have been more than that 10 seconds.
So running around a nature reserve is pretty peaceful and scenic, except that around mile 8 I was about 50ft behind the runner in front of me, and they apparently startled a buck as they went by. It started to run, tripped and stumbled, and then bolted out of the woods across the road about 20ft in front of me. He wasn't small, and I wouldn't have come out on the winning end of things if he had run into me. So I'm glad I wasn't running that 10 seconds faster at that point.
I'm frequently near the 1st woman in many races, so I assumed the woman I was running near towards the end of the race was 1st overall, and was surprised to hear she was 2nd as we came across the line in 13th and 14th overall. A woman had won the race overall with a smoking fast 1:17, somewhat uncommon, that might be the first race I've been at in 70 or so that a woman has won overall. Awesome job!
Next Year
This is definitely a race I'll keep on the list for next year, and if you're looking for a later-in-the-fall race to keep you training, keep this one in mind. I'm fairly close by, about a half hour drive to and from, which made it really doable even with a 1 year old at home. Looking forward to next time!