The New Balance Reach The Beach Relay is one of those races that, with the right group of people, is an amazing experience each and every year. One of the things I've most appreciated about living in New Hampshire is the diversity within a relatively short distance - mountains to my North, the bigger city of Boston not too far to the South, the ocean to the East and a whole lot of trails, farms, dirt roads in between if you're looking for them. Having a relay race that ties much of that diversity together makes for a great way to experience this state in 24 (or a little more) hours.
The Right Timing
The timing of Reach The Beach this year couldn't have worked out better for me, as it gave me enough time to be recovered enough to participate after this spring. A couple weeks before hand the double vision I was having since then was starting to be a lot less noticeable when running at times, which was really encouraging. Running on unfamilar roads, especially at night, while having trouble seeing, was one of my biggest concerns about the event.
I had been cleared and able to run on local roads near me for a little over a month leading up to RTB, and with that being one of the most mentally relaxing things for me I was doing it a fair amount. That at least made me feel I had a reasonable fitness base recovered as well.
The Team
I've done RTB 3 out of the last 4 years, skipping last year with my son being born a week earlier. For those 4 years the company I work for, Dyn, has entered a standard 12 person team. The team has changed each year with some returning faces and some new ones, and as the company has grown it's been a great way to connect to people in other departments that you may never interact with otherwise.
The 12 person team divides into two 6 person vans, to make the logistics of dividing up the legs and resting work. This year the van I was in included 4 people I've done RTB with before, and one new one as a last minute replacement when someone had to bail. It worked really well, and our van had great cohesiveness.
Having so many people to drive the van works out well normally, but this year I was extra thankful for it since I was uneasy about driving an unfamiliar vehicle on unfamiliar roads with my vision issues, and could just be a passenger.
Gear
I put together a list to reuse for RTB this year based on my teammate Dave's and found it really handy, so here it is. I skipped some of this based on the temperature not being cool and no forecast of rain, but it's good to have on the list for the future. This all fit into a single backpack for me, aside from the pillow, sleeping bag, and second pair of shoes.
Clothing
Sunglasses
Running shoes x 2
Running shorts x 3
Running shirts x 3
Running tight
Running long sleeve
Hat and/or Visor
Jeans & Shorts
Socks x 3
Jacket/Fleece
Gloves
Underwear x 3
T Shirts x 3
Long sleeve T Shirt
Compression socks
Safety Gear
Running headlamp
Extra battery for headlamp
Night running reflective vest
Running Accessories
Phone waist belt
Nathan Hydration Vest
Fuel belt number holder
Muscle roller
Electronics
Garmin Virb camera
Running watch
Heart rate strap
Cell phone
Charging cables for devices (watch, cell phone)
External battery pack
Nutrition & Fluids
PowerGel
Water bottle
Cash to purchase food at transition areas
Other
Umbrella
Sunscreen
Bug spray
Towel
Pillow
Toilet Paper Roll
Sleeping bag & Camping pad
Newspaper (to dry out shoes if wet)
Baby wipes
Gallon size Zip locks – Pack each of the three running outfits into a single bag
Some things to mention:
The number holder belt is great, so you can easily take off your number in between legs and swap between sets of clothes. I use the FuelBelt Gel Number Belt as it's small, holds your number, but also has some places to stick gels through if you want them.
The night reflective vests with built in LEDs are great, I use the Amphipod Xinglet and it's light and awesome.
I wore Altra Olympus shoes for all my legs, thinking the extra cushioning was a good idea with more mileage than I'm used to. I swapped to Altra Instinct shoes between legs to let my others dry and it worked well.
The Start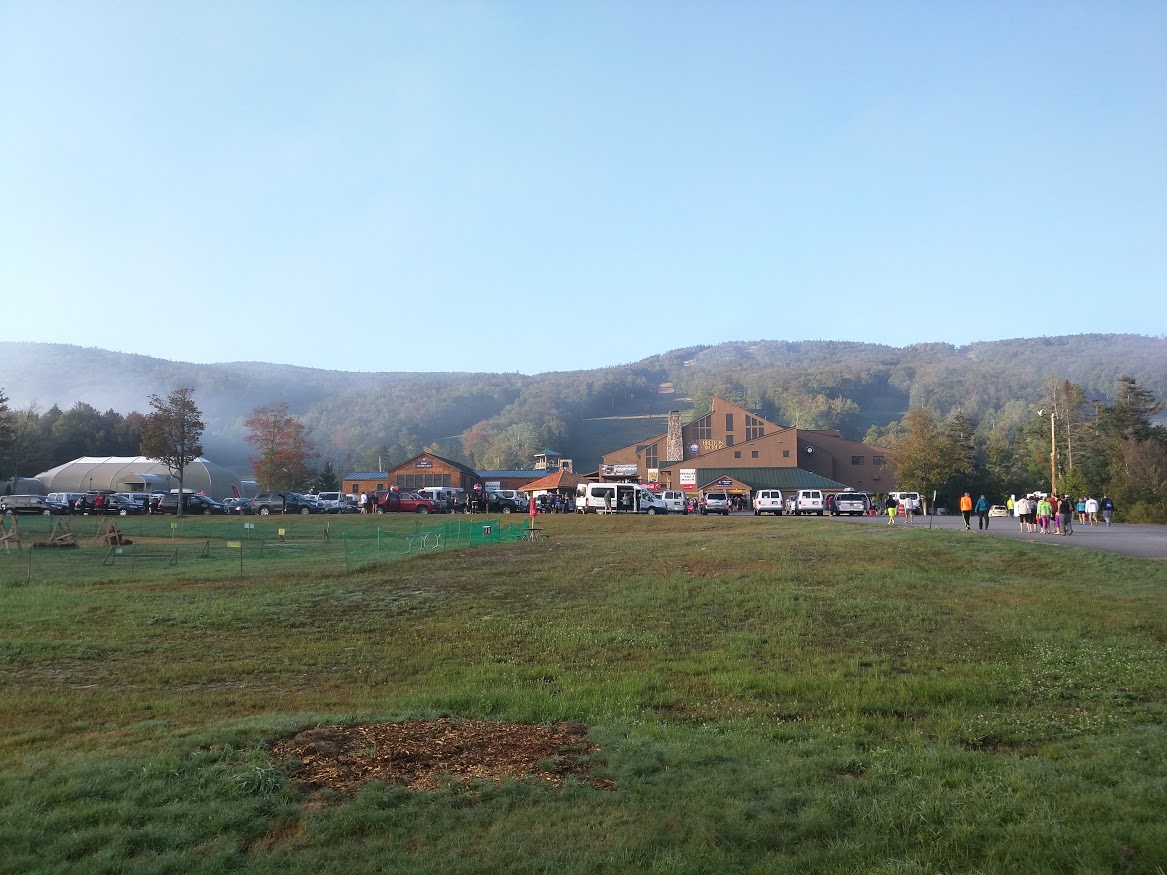 The start of the race is different from the last time I participated, where it started at Cannon Mountain. It now starts at the Bretton Woods ski resort, where it had in the past before I ever ran RTB. Not only is the start there, but the first transition is as well - since the first leg is basically up and down the mountain. We were lucky enough to have an avid hiker amoung our runners who was the natural choice for that first leg as well.
One thing that was different this year was having the entire team go through many of the registration steps, including the safety presentation - in the past only the captain would go, and would disperse the information back to their team. It made for some really crowded areas, and there were a number of teams who missed their scheduled start time.
For me, being in van 2 this year meant we saw off our first runner, then drove to the first van transition area to wait for our first legs and get some lunch.
There were a number of vendors and tents set up at both the start and the first van transition area. It worked out well, since Runner's Alley had a tent with things for sale, and we could pick up an extra reflective vest for night running there.
The craziest part was overhearing several - 4 or 5 - runners saying they forgot their running shoes, and were buying new ones at the start or first transition. How does that happen? Wow. :)
My First Leg (Leg 9)
My first leg was 6.7 miles from Conway, NH to Madison with some climbing towards the end of it. It ended up falling a little after 3pm Friday and unfortunately it had gotten pretty hot, being around 80F at that point. Going into RTB I was most worried about my vision during my night leg, but hadn't taken into consideration how it's better when I wake up and gets worse the longer I'm up - and at this point I had already been up for 10 hours. That made this end up being the worse double vision I had for the weekend, but at least it was sunny and had very few turns. One eye shut when I really needed to did the trick.
I was very overheated when I hit the real climb of the leg and had to back off a lot to collect myself before I could get back to a more normal pace. The nice thing is the last half mile of the leg is downhill and lets you spin out the legs a bit.
My Second Leg (Leg 21)
My second leg was my night leg, and ended up falling at about 3am Saturday morning. It's a 8.5 mile leg with a good chunk of climbing. We were in with a fair amount of well-lit teams at that point including the Google Flying Donuts with their Chrome-logo wheel rims.
The leg before mine was as wildcard transition, meaning there was no set transition point and you're just handing off at some point on the road, those seem even more interesting at night, especially when the first person in it is climbing up and up before finally hitting the wildcard area.
This ended up being my favorite leg for many reasons, but I had also slept for a couple of hours right before it and I had no double vision at all which was great. There was a fair amount of climbing and it's always fun to see climbs coming by the trail of blinking red lights of other runners going up into the distance. The temperature was in the high 50's which was welcome after the warm first leg as well.
I'm very much someone who does better with something to chase, so having so many runners all the course was great especially at night, as I could see a light in the distance and work to catch up to it.
Something I really enjoy is when communities get into this event when it comes through their neighborhood, especially on the night legs. One of my favorite parts of this year was a couple of people towards the top of the biggest climb on this leg rolling their wheelchairs down their driveway at 3:45am to give high fives to runners as they went by - they definitely got one from me.
Between my vision, the cool weather, and just really enjoying things, I felt great on this leg. Next year I might keep track of how many people I pass and get passed by, I was somewhere around 50 passed at this point and the only person to pass me this year did so towards the end of this leg. I was running around a 6:40 pace at the time, and would guess they were right around 6:00 as they went past me like I was standing still. With the way the teams start from slowest expected to fastest for this event, you end up getting passed by faster teams towards the middle of the night like that.
My Third Leg (Leg 33)
My third leg fell around 1:30pm on Saturday, and was the easiest of the 3 at only 4.1 miles and not much climbing. The trick ended up being that this ran through downtown Exeter on the sidewalks, and by that point my double vision when looking down was back making the uneven sidewalks more of a challenge.
The best part of this leg was that I had been keeping up with my wife on what legs we were on and approximate times, and less than a mile into this leg I came around a corner to see her with our 1 year old son Simon in his stroller. She had just gotten there so it timed out well, and Simon got excited to see me as I went running past.
I was aiming for a 6:30 pace for this leg being shorter, but it had heated up again and there wasn't much shade making it harder than it should have been. I managed to keep a sub-seven pace and felt pretty OK with that.
The Finish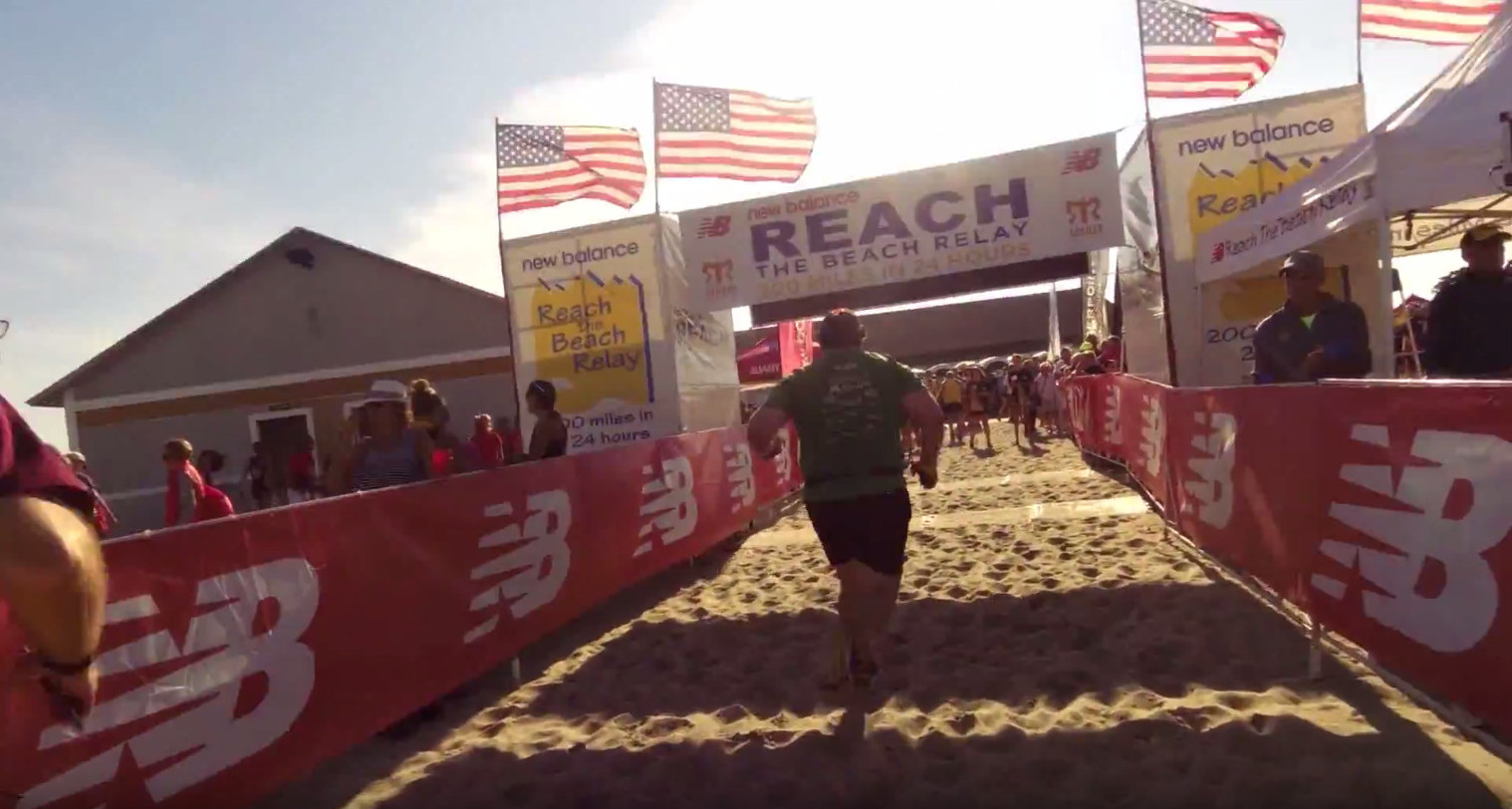 As is the tradition, we all ran across the finish line on the beach together with a time of just over 31 hours, putting us in the top 50% at 232 out of 502 finishing teams.
It was nice to finish is decent weather and in the sun, compared to our first year where transition areas were being closed as we passed through them towards the end and we finished after sunset.
Here's what my week building up to and including RTB looked like on the activity graph of my Garmin 920xt, with the 20.90 mi being the highest daily mileage for the week. It's the ActiFace Blue watch face.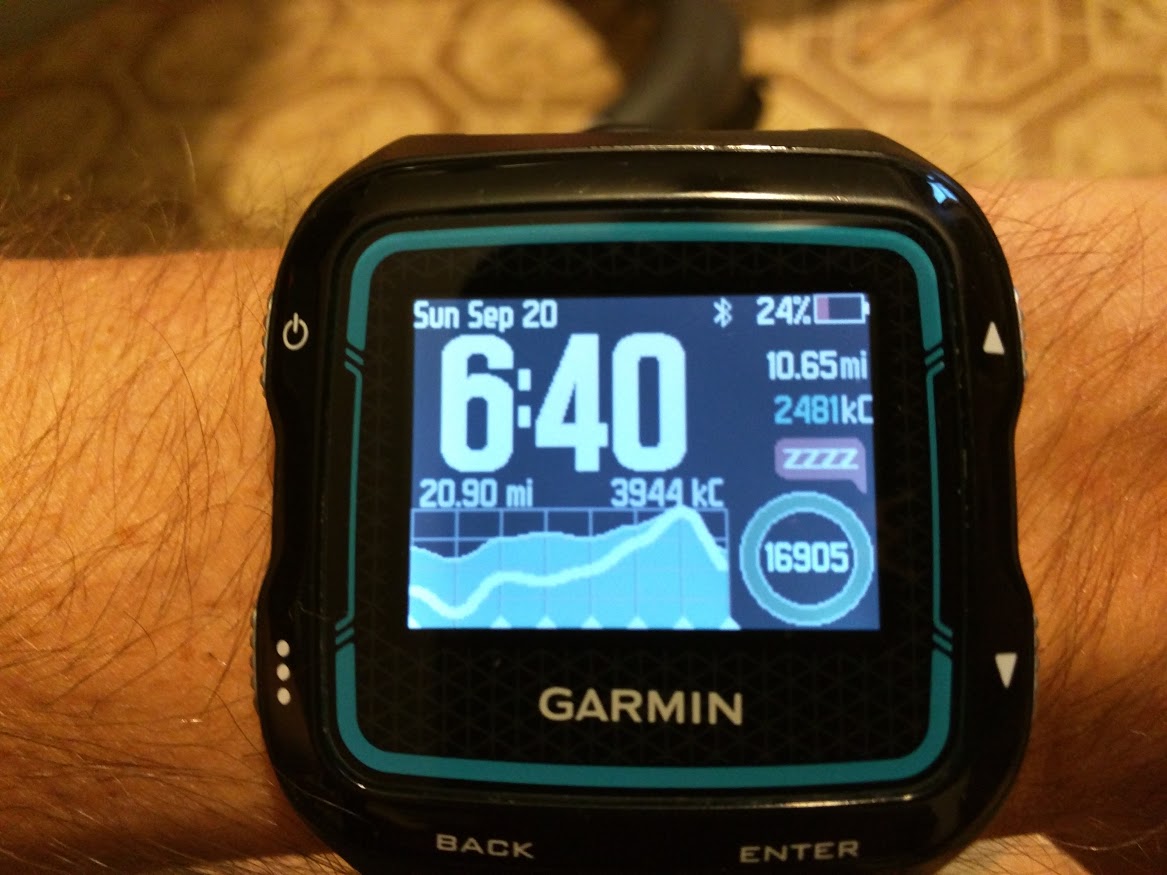 Every year's a little different, but they've all been awesome in their own way. Looking forward to be back at 100% for next year's!