Pitch Pine Challenge Olympic Triathlon Recap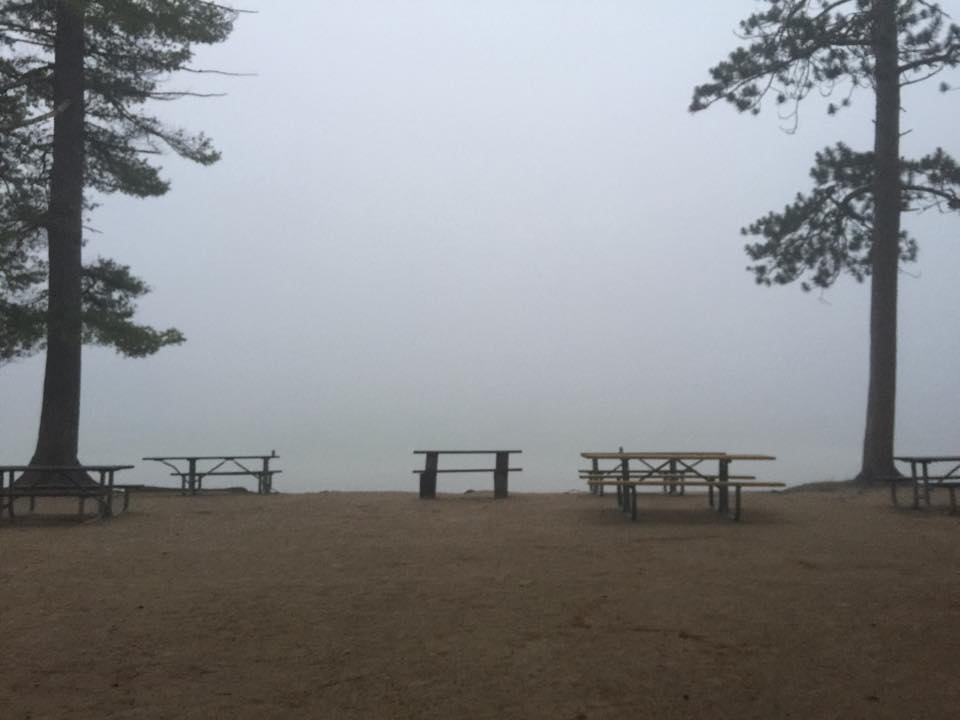 So you just swim around the orange buoys, then out to the green buoys, then back. Simple, right? What? You don't see them? You don't see a lake? Oh, well, yeah, I guess there's just a bit of fog, no problem.
The start to this morning's Pitch Pine Challenge triathlon in Tamworth, NH got off to a chilly foggy start, but with the race organizers having the option to just hold off a bit we were able to just push the race start back an hour or so until the fog burned off and were still able to complete the race as intended.
In the interim, the majority of folks put on their wetsuits to stay a little warmer and got into the lake since the water felt warmer than the air did. Add in a boat cruising around generating waves and you've got one heck of a hot tub party.
Little by little the fog burned off and slowly revealed the buoys, and before you knew it we were underway. My friends are I were a little concerned at how cold we were likely going to be on the bike after the swim, wishing we had brought warmer bike wear.
The swim went pretty well - the lake is pretty clear, nice and sandy on the bottom, and shallow pretty far out - it's nice to see something other than nothingness when you're swimming along. The swim was a counter-clockwise loop with some extra buoys for the olympic distance vs. the sprint. It was also an in-water start which I always appreciate rather than running down a beach before jumping into the water.
The swim was a mass start, so you have your typical feet-in-the-face type moments early on, but it spread out before too long. My only real suggestion for the race organizers for the swim is to use different colored swim caps compared to the buoys - they were fluorescent green for men, bright orange for women, and matched pretty exactly the two colors of buoys being used. That made it a bit difficult to filter out peoples' heads from distant buoys when sighting.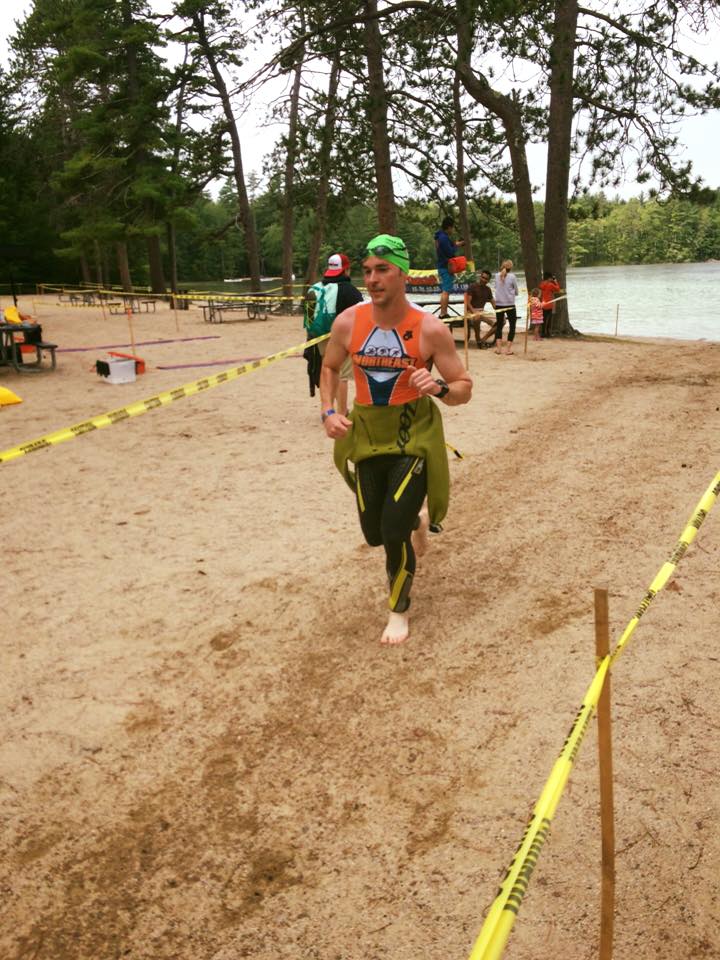 My swim ended around 29 minutes, which was OK but still my weakest discipline. Having just recently done Timberman I found myself missing the wetsuit strippers - those folks were pretty handy to have rip off your suit for you. My first transition was pretty slow at 2:30, partly from taking off the wetsuit but also because of the sand and woodchips between the water and the transition area that took some extra time to clean off.
The bike course was a loop around the roads outside of the state park and pretty straight forward. The loop was around 13.5 miles with sprint athletes doing one loop and olympic doing two. It's kind of nice to do loop courses so you know exactly what's coming up the second time around if it's not an area you usually ride in.
I felt pretty good on the bike, the temperature out of the water ended up being fine, and I went a little harder than at Timberman. Route 16 had fresh pavement which was nice, but some of the roads on the back side of the loop were a little more rough. There was only 1 real hill at mile 7.5/20 that went up and plateaued for a couple of miles but had one heck of a downhill which was more comfortable on loop 2 after you found out there were no sudden 90 degree turns at the bottom of it or anything.
I completed the bike in 1:13 with a 21.4mph average and felt pretty good. The only real sketchy piece of the ride was when an RV passed me on Route 16 giving me less than a foot of clearance - which was startling in and of itself, but also knocked me around with one heck of a breeze as it went by. The race organizers had also warned about folks at a particular farmer's market going on along the course, and sure enough some of them wandered out into the road right in front of some riders so it was a good warning. I rode that section upright rather than in an aero position just to have access to my brakes.
After the bike leg the 10k run works it's way out of the park on some camp roads and out to a nearby side street. It then does a couple of out and backs to cover the distance. There's a separate turn around point for the sprint with a further one for the olympic distance. It's a pretty straight course without just some moderate gradual elevation change. It's also got plenty of shade aside from a one mile stretch which is nice for keeping cool, as by this point the sun was fully out and shining.
I ran the 10k in 44:23 not quite feeling like myself, thinking I should have ate more on the bike. My current vision issues were also acting up for some reason which normally isn't a problem on the road but the end of the run goes along some single track trail along the lake which I had to run with one eye closed to avoid double vision looking down unfortunately, but at least it was fairly short.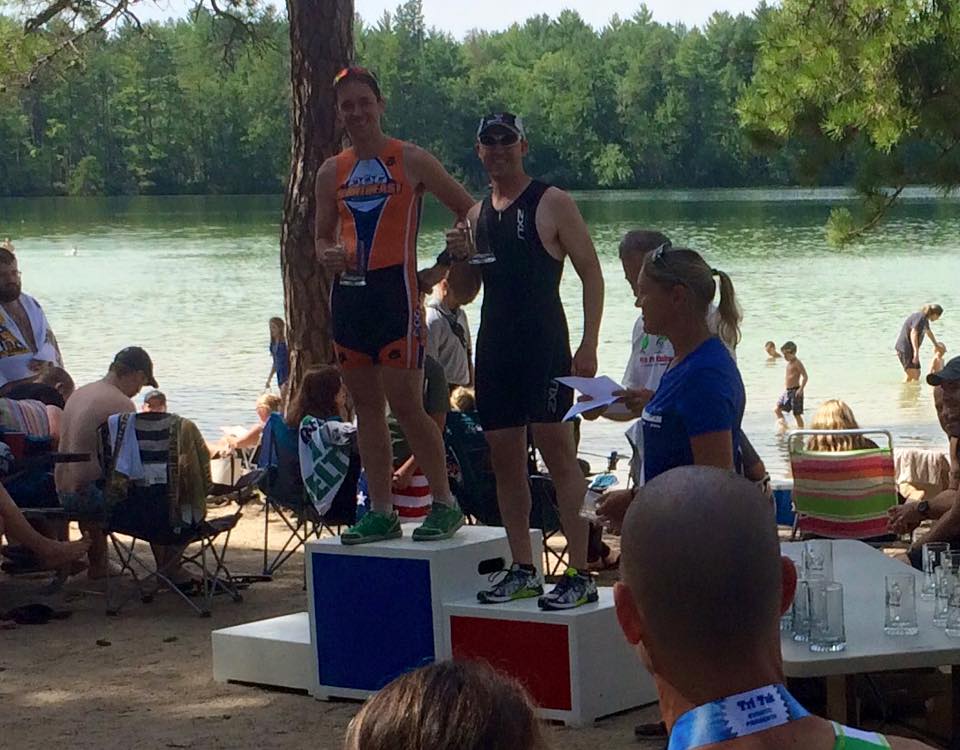 So with a 2:32 overall finish, I came in 8th overall and won my age group - though only after the original winner of the age group let the organizers know he turned at the wrong turn point and cut his run short. Kudos to him for his honesty. That bumped myself and my friend Dave Depiano up to 1st and 2nd in our age group - excellent!
On top of it all, they had a raffle at the end of the awards and I ended up winning $100, which covered my registration a while back. A great experience in a scenic location with good friends for free? Why yes please.
The only thing that would have topped it off is if Betsy and Simon had come, especially so I could have Simon on the podium with me - when I got home he was wearing his orange bike shirt supporting me (team colors, you know). Next year hopefully we can have the whole crew there.
Oh, I should also mention the swag - a shirt sans lots of sponsor logos like some is clean looking and nice. Other things in the bag included a buy one get one free lift pass coupon to Wildcat and Attitash ski resorts, as well as some sample sizes of a variety of things. The whole event offered many race options to include the whole family. The finisher's medal is quite nice, and kids get the same medal for doing the kids race which is pretty cool.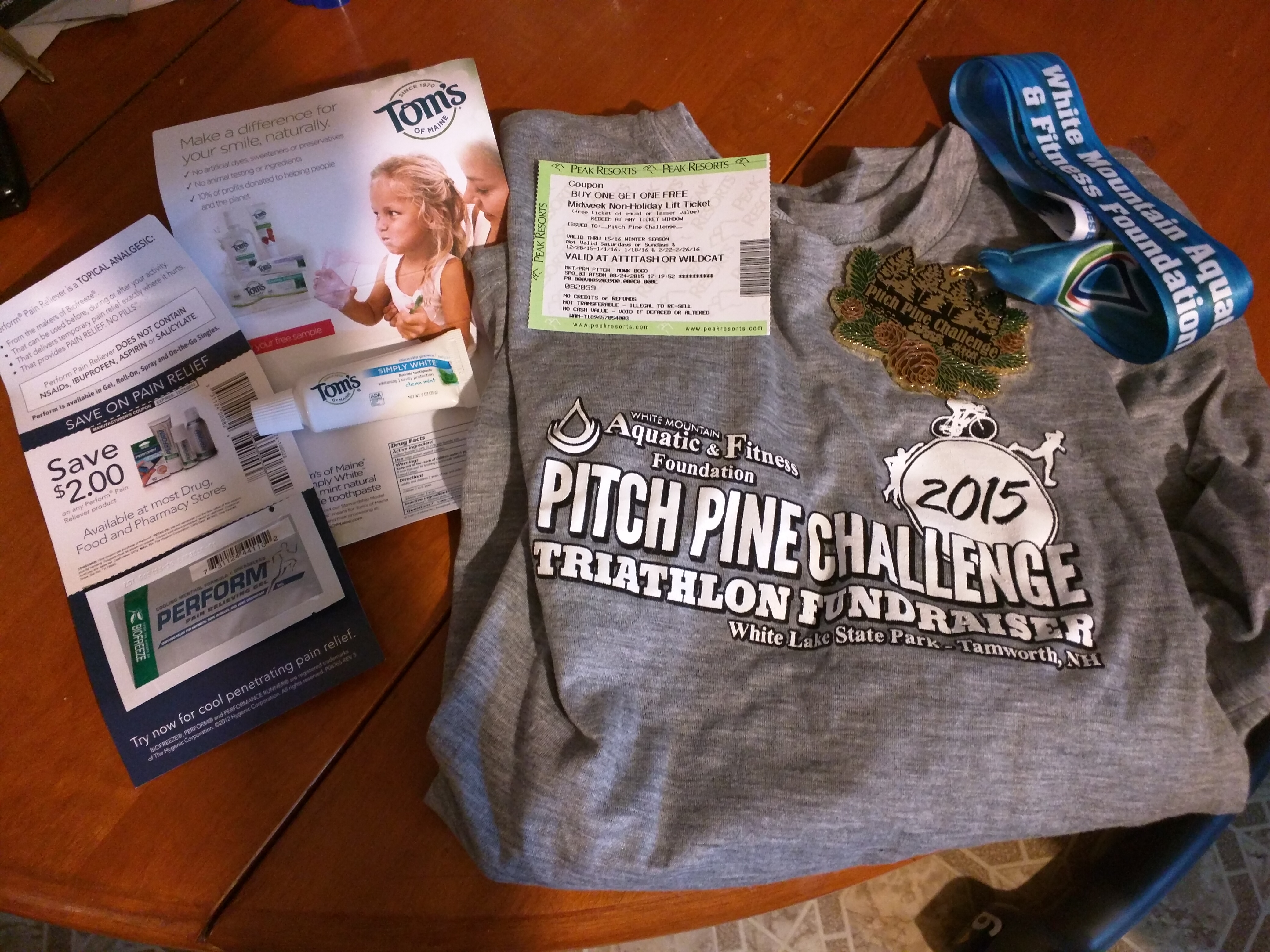 As always, here's the Strava activities for the swim, bike, and run.